Story highlights
Wake-up lights mimic sunlight in your bedroom to help you wake without an alarm
A best-seller on Amazon is Philips' Somneo Sleep and Wake-Up Light Therapy Lamp
CNN —
You might be the kind of person who sets 10 alarms in the morning to force yourself out of bed. Or maybe you're a night owl who wants to change your ways to get the best out of your mornings. Whatever your reason for trying to make waking up and actually getting out of your bed a less arduous process, there are some simple hacks that can help.
One of those is a wake-up light, also known as a sunrise alarm clock. These devices gradually emit light, starting about 30 minutes before your alarm is set to go off, mimicking the morning sunrise. By the time you get to your desired wake-up time, your room will be filled with about 10,000 lux of light, which is approximately 20 times the strength of your standard indoor lighting. The idea is that the gradual light in your bedroom will wake you naturally, sans any disruptive and jolting alarms. (But if you're shopping for a wake-up light, we'd advise choosing one that has a backup alarm – you know, just in case.) Other things you'll want to keep in mind are price and overall functionality.
Smartsleep and Wake-Up Light Therapy Lamp ($199.99; amazon.com)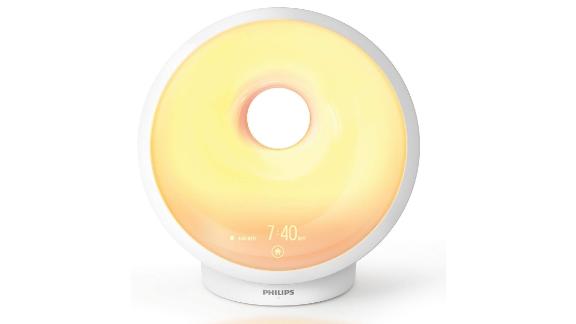 If you're willing to spend some extra money, Philips makes a number of best-selling lights that fit the bill. Its Smartsleep and Wake-Up Light Therapy Lamp features seven different sounds – some to help you fall asleep and others to help you wake up – and also includes a USB outlet to charge your phone, an FM radio and an AUX dock. Philips says 89% of users feel the device helps them fall asleep and wake up more easily after four weeks of use, meaning it works just as well for those who have trouble falling asleep as for those who hate waking up.
Wake-Up Light Alarm Clock with Sunrise Simulation and Radio ($89.99; amazon.com)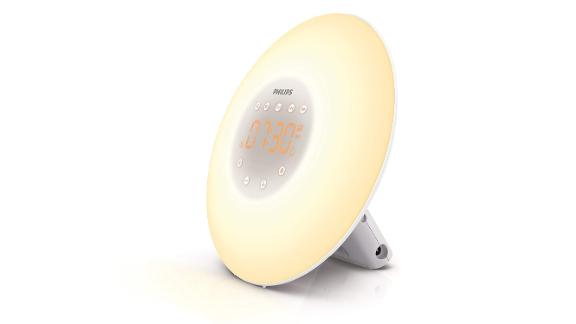 Another popular product from Philips is its Wake-Up Light Alarm Clock with Sunrise Simulation and Radio. This essentially functions the same way, but with somewhat more limited capabilities (for example, there are fewer natural sounds to choose from) for a fraction of the cost.
For those hoping to spend even less money, other Amazon favorites for under $40 include myfree Wake-Up Light Digital Alarm Clock ($23.79; amazon.com) and Joyful Heart's Sunrise Alarm Clock ($29.99; amazon.com).
The hope is that after you incorporate one of these lights into your morning routine, you'll feel more refreshed and ready to the start the day. And who knows, they may even turn you into a morning person for good.
Note: The prices above reflect the retailers' listed price at the time of publication.