The leaders of three major players in Syria – Russia, Iran and Turkey – ended a summit Wednesday with a commitment to achieving a "lasting ceasefire" in Syria, even as the future role of US forces in the country remains in doubt.
The meeting in the Turkish capital Ankara brought together two of Syrian President Bashar al-Assad's strongest supporters – Russian President Vladimir Putin and Iranian President Hassan Rouhani – with President Recep Tayyip Erdogan of Turkey, which backs some rebel forces.
At a joint news conference, the three leaders reiterated the need to drive "terrorists" out of Syria, to find a political solution to the seven-year-old conflict and to aid Syria's beleaguered civilian population. They also stressed their respect for Syria's sovereignty.
"We should help the future of Syria. No country has the right to decide the future of Syria. The future of Syria belongs to the Syrian people," said Rouhani.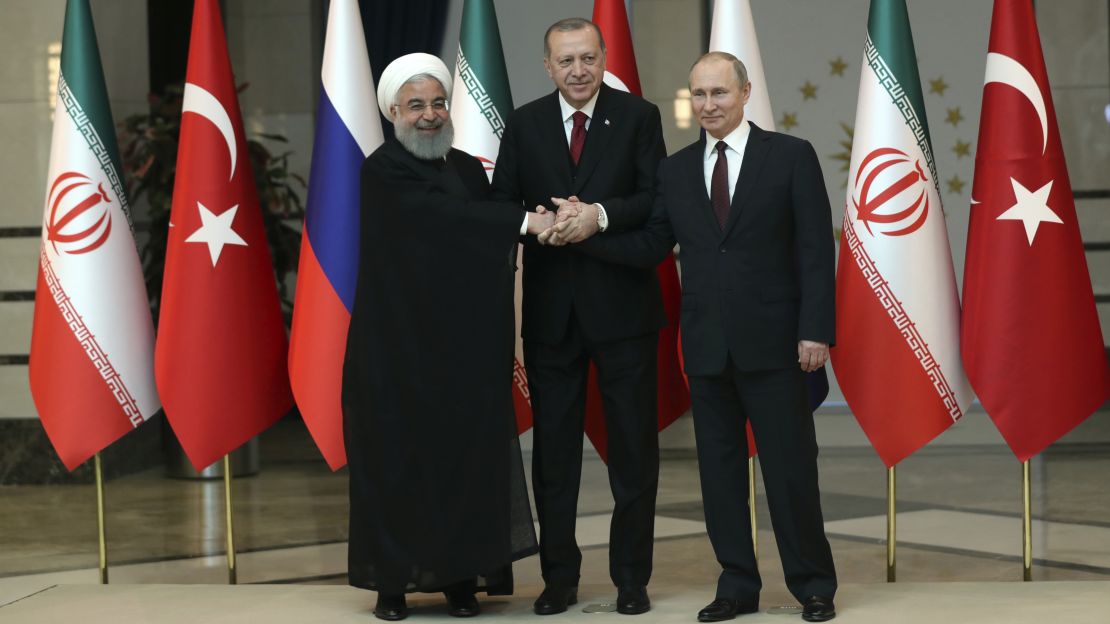 Notably absent from the talks, which followed on from a trilateral summit in Sochi last November, were representatives from Syria itself and from the United States, another important player in the conflict.
US President Donald Trump surprised military leaders last week when he said the US would "be coming out of Syria like very soon," just hours after the Pentagon highlighted the need for US troops to remain in the country for the immediate future.
Conflicting messages from US
In remarks at the White House on Tuesday, Trump reiterated his desire to pull US troops from Syria, telling reporters that "it's time" for them to come home. "I want to get out. I want to bring our troops back home. I want to start rebuilding our nation," he said.
The US President also suggested that if Saudi Arabia wanted US forces to remain in Syria, it should help meet the cost.
Tuesday's remarks came only minutes after Brett McGurk, the special presidential envoy for defeating ISIS, delivered a contrasting message at the US Institute for Peace in Washington. "In terms of our campaign in Syria, we are in Syria to fight ISIS. That is our mission. And our mission isn't over, and we're going to complete that mission," he said.
Trump told his national security team in a meeting on Tuesday that he was willing to keep US troops in Syria in the short term, but made it known he wants US troops to exit soon, a senior administration official told CNN on Wednesday.
During the meeting, Trump said he wanted to defeat ISIS but that the costs of stabilizing Syria must be borne by regional players.
Officials have warned Trump that the likes of Iran, Turkey and Russia could use a US withdrawal to advance their own strategic interests in Syria.
As Rouhani, Erdogan and Putin met Wednesday, the UN humanitarian adviser for Syria, Jan Egeland, warned against losing sight of the awful plight of Syria's civilians as its intractable civil conflict grinds on.
More than half a million people have been displaced this year alone in and around Eastern Ghouta, Idlib and Afrin – where the fighting has been focused – Egeland told a news conference Wednesday in Geneva, Switzerland. "This is the very wrong time to turn our back on Syria's civilians," he said.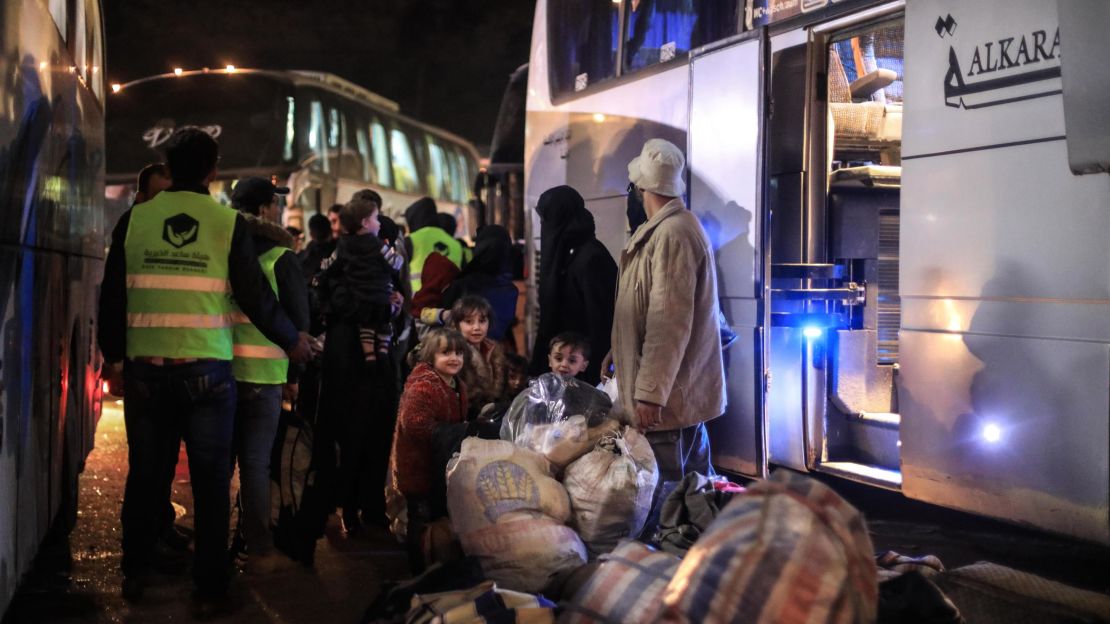 The humanitarian operation in Syria is "acutely" underfunded, he added, as he described the "terrible" living conditions faced by some 80,000 people who fled Eastern Ghouta for shelters in government-held areas.
The Syrian government has claimed that members of the last remaining and most powerful rebel group in Eastern Ghouta are in the process of leaving, though that account was disputed by an activist on the ground who said those evacuated this week were humanitarian cases.
On Monday, the state-run Syrian Arab News Agency (SANA) reported that 20 buses carrying 1,065 Jaish al-Islam fighters and their families had left Douma, the enclave's largest city, for al-Wafideen crossing. SANA said the buses were headed to Jarablus in northern Syria.
On Tuesday, a CNN crew in Syria witnessed half a dozen buses leaving Douma. The government said the passengers were Jaish al-Islam fighters.
The state media reports have not been confirmed by Jaish al-Islam. The group's representatives previously told CNN they were negotiating with the Russians on a deal that would allow them to stay in Douma.
The removal of Jaish al-Islam would be a milestone for the Syrian regime, which has assailed the rebel-held area for weeks to regain control of the battered region.
CNN's Barbara Starr, Sarah Sirgany and Nada Altaher contributed to this report.