Story highlights
Chefs emphasize the importance of good knives, pots and pans
Their go-to gadgets include stand mixers, potato ricers and even wooden spoons
CNN —
When you're outfitting your kitchen, it's hard to know which tools are a good investment – so we checked out what professional chefs find the most valuable. Chances are, these experts have already tried many of the kitchen goods out there, so when they land on a gadget or tool that they love, you know it has to be good.
If you're hoping to incorporate more professional-grade devices into your cooking arsenal, these nine tools are perfect for you. Ahead, a list of celebrity chefs and their favorite gadgets that you could be using, too.
Anthony Bourdain's favorite chef's knife
One of the most important tools a chef can have is a good knife. A solid and sharp knife means you'll retain more flavors in your fruits, vegetables and herbs instead of losing them to your cutting board. An ergonomic option also helps you chop faster and with more comfort, making the overall prep process a breeze even for hard-to-cut ingredients like tough proteins and root vegetables. And the sharper and better the knife, the safer it is to use, as it makes the cutting process more stable and predictable. According to Anthony Bourdain, in his documentary "Wasted: The Story of Food Waste," his go-to chef's knife is Global's G-2 Chef's Knife ($124.95; amazon.com). Bourdain says it's a great option for both beginners and experts. He's not the only person who is a big fan of this stainless steel tool; currently the knife has a 4.8-star rating on Amazon from over 500 customers.
Rachael Ray's extra large cutting board and go-to shears
Another kitchen necessity is a cutting board, and not all options are equal. For Rachael Ray, an extra-large cutting board with ample space for all your ingredients is key. In an interview with People, Ray said that "a giant cutting board is a must. I put it over the sink and work next to the stove so I can chop and drop everything right into the pot." A product that fits the bill is Catskill Craftsmen's Cut N' Catch Over Sink Board ($53.99; wayfair.com), which features wooden feet with rubber pads that can help it stay in place. It also has three removable plastic trays so that you can cut and drop your ingredients into a organized spot until you're ready to throw them into a pan.
During the same interview, Ray also shouted out her go-to strong kitchen shears, made by Wusthof, which are ideal for spatchcocking poultry for your favorite meals.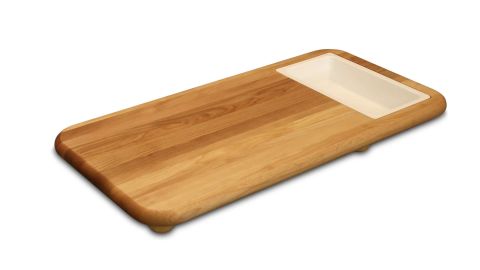 David Chang's stunning pots and pans
The mastermind behind the popular Momofuku restaurant group, David Chang knows how important it is to have good pots and pans. In an article for GQ about how to best outfit your kitchen, Chang wrote that aluminum sets aren't a great choice. "Aluminum warps and scratches easily – bad for your decor and your health – so for other pots, you should treat yourself to Mauviel copper," he wrote. "These pieces look stunning, heat evenly, and are so worth the investment." Copper, as Chang mentioned, heats more evenly and faster than other metals. And while tools from Mauviel aren't cheap – its skillet alone will set you back about $200 ($199.95; amazon.com) and a full set is over $1,500 ($1,599.95; amazon.com) – they do come with a lifetime warranty. It's an investment that many chefs swear by.
Giada De Laurentiis' favorite spoons
Food Network star Giada De Laurentiis is all about multifunctionality when it comes to her favorite kitchen tools. Two of her top choices that she singled out during a "Today" show interview were spoons that can handle many different types of recipes. The first was the classic wooden spoon. "They're great for risottos or stirring anything on the stove, really, but put two together and you also have salad tossers," she said. An Amazon best-seller and a favorite of over 1,000 customers is OXO Good Grips Wooden Corner Spoon and Scraper ($5.99; amazon.com).
De Laurentiis' second go-to spoon in the kitchen is GIR's Silicone Ultimate Spoonula ($13.38; amazon.com). "This guy can be used for something as simple as scrambled eggs but also for getting every last bit of cake batter from the bowl," said the chef. Not too shabby for 13 bucks.
Yotam Ottolenghi's professional masher
The secret to ultrasmooth mashed potatoes is all in the potato ricer, according to New York Times best-selling author and professional chef Yotam Ottolenghi. Ottolenghi told The Guardian that Kitchen Craft's Master Class Deluxe Stainless Steel Ricer and Juice Press ($33.13; amazon.com) is a device he can't live without, "For years I struggled with all sorts of mashers, then I found the Masterclass potato ricer. It fits in a drawer, it's easy to handle and clean, and creates a mega-smooth mash. I now use it for mashing all my root veg." It's an easy and hassle-free way to create creamy mashed potatoes, fish cakes and more.
Dominique Ansel's seriously good scale and stand mixer
When it comes to pastry chefs we adore, Dominique Ansel tops the list. Ansel, the brains behind Dominique Ansel Bakery and the cafe's delicious creations (cronuts, anyone?) told Food52 that two major devices he relies on daily are a digital scale and a sturdy stand mixer. The scale, he said, is "so much more accurate" and more efficient for measuring, compared with a collection of cups and spoons. And the name of the game when it comes to baking is precision. There are many digital food scale options, such as Sur La Table's Stainless Steel Kitchen Scale ($19.99; suralatable.com), that are super affordable.
Another product Ansel loves is stand mixers. These appliances help cut down on time and effort when you're preparing desserts. As he notes, "I've whipped creams and meringues with only a whisk and a sturdy forearm before, but after a while, it gets a bit painful. While you can make cookie batter with a bowl and a spatula, a stand mixer allows you to really dive into more serious recipes (and it saves you from a muscle ache)." One of the better-known appliances out there is KitchenAid's Stand Mixer ($279; target.com). This gadget isn't just for the serious bakers. Stand mixers can also help you craft pastas, ice cream and bread dough with far less effort.
Note: The prices above reflect the retailers' listed prices at the time of publication.