Egyptian President Abdel Fattah el-Sisi on Monday secured a second term in office after winning 97% of the vote.
In a widely expected result, Sisi, who ran against just one other candidate, won more than 21 million votes, according to Egypt's National Election Authority.
There was 41% turnout of almost 60 million registered voters.
Sisi's only rival for the presidency was Mousa Mostafa Mousa, after several other candidates quit the race. The opposition blames Sisi's government for squeezing potential rivals through what they see as a strategy of intimidation or coercion, but the President says he is not to blame.
Detractors have accused Mousa of being a stooge candidate, sanctioned by the regime to give the election a veneer of legitimacy.
Mousa said he was a supporter of Sisi before he decided to run, but insisted his election campaign was genuine.
"It is not my fault," Sisi said in a recent TV interview. "I swear to God, I wished there would have been more candidates for people to choose who they want. But they were not ready yet; there is no shame in this."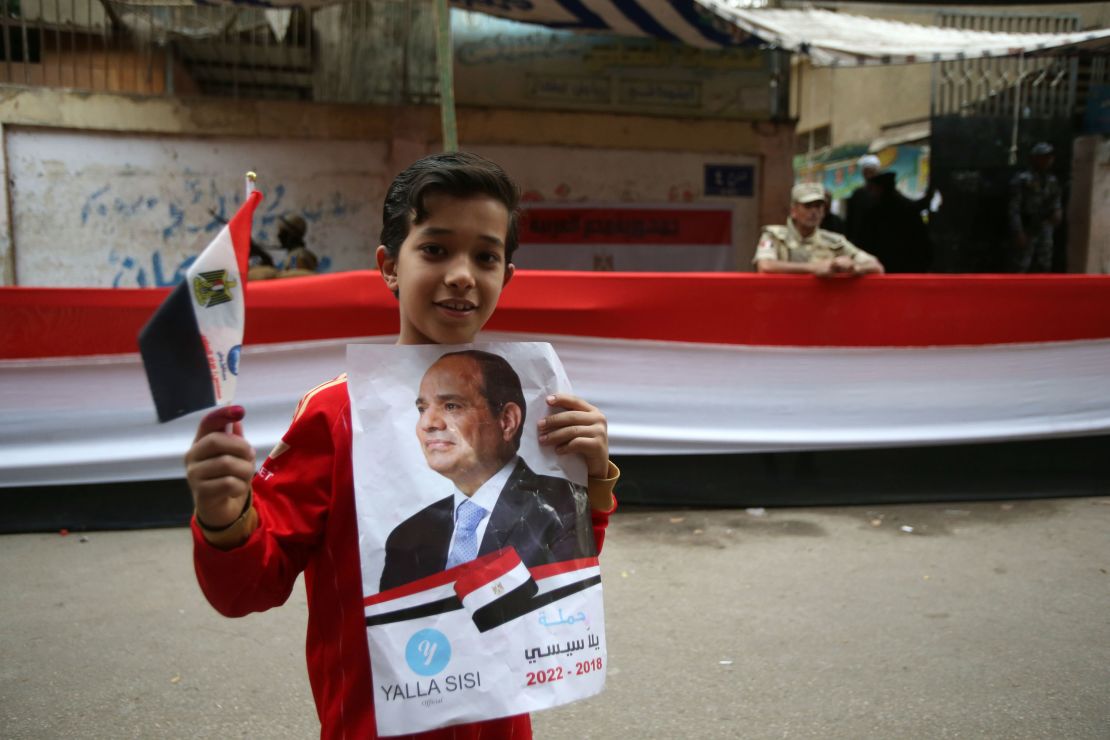 This year's presidential race was the third since former President Hosni Mubarak was ousted in the Arab Spring protests of 2011, throwing the country into political turmoil.
In June 2012, Mohammed Morsy, political prisoner and former member of the Muslim Brotherhood, became Egypt's first democratically elected president.
A year later, after violent crackdowns on protesters, Morsy was ousted in a military coup led by Sisi, the chief of the army at the time.
Life for Egyptians since the 2011 Arab Spring has gotten worse. The cost of living has increased, inflation has reduced the value of salaries, liberties have been curtailed and the rise of terrorism has led to greater insecurity.
In June 2014, Sisi was declared to have won the presidential election with more than 96% of the vote. He has since come under fire by human rights groups for clamping down on civil liberties and dissent.
However, Sisi's supporters say he has kept Egypt from slipping into further instability during his first four years in power.
Speaking to CNN ahead of the election results, Egyptian MP Dalia Youssef said she was happy Sisi was likely to remain in office. "Egyptians understand that the seven years we've gone through (since the 2011 Arab Spring) were harsh, that we had to go through economic reform and that we're on our way forward and we still have a long way to go," said Youssef.
CNN's Salma Abdelaziz contributed to this report