Story highlights
Simple swaps like reusable coffee cups over paper ones could help the planet
To celebrate Earth Day, we've rounded up 7 eco-friendly products to shop right now
CNN —
Earth Day is right around the corner, making it the perfect time to take a good look at the more wasteful products you use in your everyday life, like plastic toothbrushes, paper coffee cups or single-use straws. They may be small, but if you use enough of them, your environmental impact adds up.
Luckily there are genius, more sustainable swaps that can eliminate some of your everyday waste. And these eco-friendly products are also pretty affordable — many of them are under 30 bucks. It makes doing the right thing for the environment also cost-effective. Sounds like a great way to celebrate Earth Day.
Sure, your plastic toothbrush is small, but when you think about how many you'll use over the years, the problem becomes clear. According to Slate, the average person will toss about 300 plastic toothbrushes into landfills in a lifetime. If you're trying to cut down on your overall waste production, this is a simple place to start. The easy swap is a bamboo toothbrush that's biodegradable. Bamboo is a great material, because it's more durable than wood and healthier than plastic. This affordable pick from Sprmal ($9.97; amazon.com) features soft bristles that are ideal for those with sensitive gums. And for under 10 bucks for a pack of five brushes, they're just as affordable as their plastic counterparts.
Picture this: In the US alone, it's estimated 60 billion paper cups end up in landfills every year. What's worse? They take about 20 years to decompose. If you're the kind of person who needs a caffeine fix every morning, go reusable. A reusable coffee mug gives you the opportunity to carry your favorite brews from home or your local cafe to your 9-to-5, completely guilt-free. A glass item, like JOCO's 12-Ounce Glass Reusable Cup ($24.00; amazon.com), is dishwasher-safe for faster cleanup and won't impart any unwanted tastes into your brews the way an aluminum cup might.
If you thought your paper cup habit was bad, your water bottle consumption might be worse. The Water Project estimates that only 1 in 5 of these bottles are actually recycled. This results in over 2 million tons of them ending up in landfills. And unlike paper cups'$2 20-year lifespan, it takes plastic bottles over 1,000 years to biodegrade. Switching to a reusable water bottle will help you save money as well as help reduce your annual waste. Soma, the creator of one of our favorite sustainable water filters, also specializes in affordable glass bottles ($29.97; amazon.com). These are a stylish and convenient way to hydrate more eco-consciously, as the bottle is made from BPA-free, shatterproof glass and bamboo. And with each purchase, Soma donates a portion of the proceeds to the nonprofit charity: water, which is dedicated to bringing clean drinking water to those in need.
Single-use straws are more detrimental to the environment than you might think. Many of the 500 million unrecyclable plastic straws used every day in the US end up in the ocean, where they can harm marine wildlife by entangling animals or being swallowed by fish. If you can't part with straws, ditch the single-use variety and stick with steel options. This set from Onyx ($12; goop.com), is dishwasher-safe and stylish, and it won't end up in a landfill or in the ocean after one use. It will be your new everyday go-to for iced coffees, cocktails and more.
There's no escaping grocery shopping. But there is a way to avoid choosing between paper or plastic at the checkout. Reusable tote bags make your shopping trips more environmentally friendly, as well as cheaper (many shops offer incentive programs for those who bring their own bag), and they're more comfortable to carry. They're also designed with vibrant colors and patterns, making it fun to stock up on these durable and lightweight carrying cases. A favorite of ours right now is Leah Flores' Sunshine x Stripes Tote Bag ($20.99; society6.com), which has a pop of color perfect for springtime. You'll be using it for your errands, beach trips and even gym runs all season long.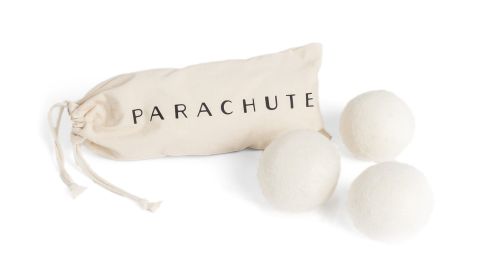 If you haven't gotten on board with dryer balls yet, let their genius design persuade you. This natural, nontoxic and affordable alternative to fabric softener sheets can help dry your laundry load faster and without producing waste. The idea is that these balls, like Parachute's Wool Dryer Balls ($19; parachutehome.com), wick away moisture from your clothing, fast. Parachute says they can decrease your drying time by up to 50%, saving you time and energy. And since they can last over 1,000 cycles, you'll be able to cash in on their money-saving and energy-saving features for many laundry loads to come.
If you're looking for environmentally sound products, be on the lookout for B Corp certification. This label is awarded to for-profit companies that meet intense standards of social and environmental performance, accountability and transparency. This means the company is acutely aware of how it affects the environment, from the development of the product to its disposal. One such company making a difference in the household goods category is Seventh Generation (starting at $1.40; amazon.com).
The company creates eco-friendly versions of the everyday items you need, like paper towels, disinfectant spray, dishwasher liquid and feminine care products. It's a smarter, more earth-friendly way to stock up on all your essentials.