When the top American inside the United Nations' sprawling system speaks on his final day on the job, it's worth listening.
Jeffrey Feltman departed the global organization after six years. A top concern? The now former UN undersecretary-general for political affairs warned that many of the leaders of UN member countries are pulling away from diplomacy.
Feltman said leaders are questioning whether the multilateral system is the right way to move forward. He described it as "quite worrying" that national leaders were questioning the value of the United Nations.
He didn't name President Donald Trump specifically, but clearly the United States was among the list of nations now led by more nationalistic leaders who have lost faith in the international institution. Trump has proposed spending cuts at the United Nations but has not denounced the organization as much as some critics feared.
Feltman was in North Korea in December, a journey that might have helped pave the way for the historic proposed summit between President Trump and North Korean leader Kim Jong Un.
Feltman's UN role stressed conflict prevention, and he said he thinks the North Korean-US relationship could be at a beginning with an unknown future. When he visited North Korea, the former aide to US Secretary of State Hillary Clinton was armed only with the goodwill and international "honest broker" stamp of the United Nations.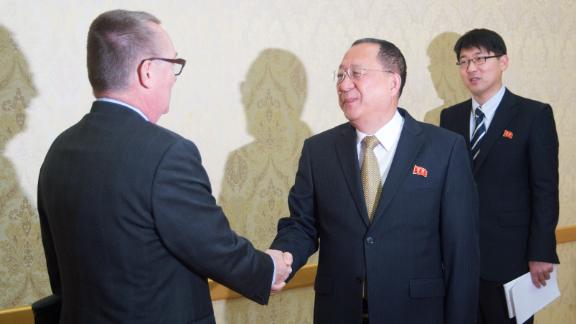 KIM WON-JIN/AFP/AFP/Getty Images
His hours of talks in Pyongyang didn't get that much attention globally. But in light of the announced summit, it does cause one to think about the impact of Feltman's journey.
He spent his time in Pyongyang explaining the state of play outside the reclusive Asian country. Feltman said he told the North Koreans, "Your problem isn't just with the US, it's with the entire world," citing the unity of the Security Council, which has voted 15-0 numerous times to punish and sanction North Korea.
Feltman said he hopes this unusual order of "summit first, process later" will turn out to be promising.
In a farewell UN news conference Thursday, Feltman said he hopes the UN efforts on his trip "contributed" to the thaw in relations. He said it was "important" to open channels. He didn't meet with Kim Jong Un, but Feltman stressed the risks of an accidental war erupting, considering how high tensions were last year between Washington and Pyongyang. He said he doesn't know whether his journey played a part.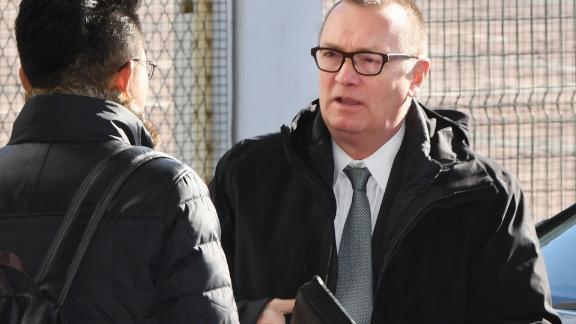 Kyodo News/Kyodo News Stills/Kyodo News via Getty Images
He did issue some guidance: "It's important to manage expectations."
Feltman said the North Korean situation is "'extremely complicated." He pointed to the issue of denuclearization on the Korean Peninsula and how that can be achieved. He said the United Nations doesn't expect to take part in the talks but can play a valuable role in the process that might begin after the summit.
The Security Council resolutions on North Korea must be complied with if there is to be any kind of agreement between the United States and North Korea, Feltman said. Those resolutions call for denuclearization and, if progress is made, could establish inspections, once again, of suspected North Korean nuclear sites.
The United Nations is not perfect, Feltman said, but no organization is. He said his department of UN political affairs is most effective when in the background. He acknowledged being uncomfortable speaking in public.
He said the United Nations must do a "better job" of getting its message out. A lot of people from Jakarta, Indonesia, to Kansas City, Missouri, have no idea what goes on inside the United Nations, he said, because of heavy jargon and complexity.
Feltman cited Syria and Myanmar as two crises that the United Nations was unable to prevent, prompting an appeal for the world to pursue peace and justice and accountability.
Feltman's departure from the United Nations was his own decision. Another American, Rosemary DiCarlo, will replace him, the first woman to be hired for that post.