It's Friday, and here are five things to know for your new day.
1. Gun debate
The public saw the first signs of how the Mueller team plans to use information from Gates to tie Manafort, the former Trump campaign chairman, directly to a Russian intelligence agency. Mueller's team alleges that Gates was in contact with a close colleague of Manafort's who worked for a Russian intelligence agency – and that Gates knew of the spy service ties in September and October 2016, while he worked on the Trump campaign. 
2. Hope Hicks
3. Syria
Meanwhile, Clark's attorney plans to reveal independent autopsy results today. Sacramento's been hit with protests since he was shot and killed by police in his grandmother's backyard. Cops had pursued him after getting reports of a man breaking into cars and thought he was pointing a gun at them, but only a cell phone was found near his body. Protesters say it's another example of police being too quick to fire on black male suspects. Civil right attorney Benjamin Crump says this: "There's an intellectual justification to always exonerate the police when they kill black people. We have to change that."
4. Canada & India
The mystery of what happened to the Hart family seems to grow by the day. We know the Harts – two moms with six adopted kids from Washington state – took a trip to California. The family's SUV was found Monday at the bottom of a cliff on the Northern California coast, having tumbled 100 feet into the Pacific. The bodies of five family members, including the parents, were recovered. But three children are missing, and it's not certain they were even in the vehicle.
There were no brake or skid marks at the scene, so it's unclear if this was deliberate or a tragic accident. One of the family's neighbors described the kids as "repressed," and authorities were investigating alleged child abuse and neglect. But others said Jennifer and Sarah Hart were loving moms. One of the missing children, 15-year-old Devonte, appeared in a viral photo in 2014, hugging an officer at a rally against police brutality.
5. West Virginia teacher strike
The man at the center of the popular "Serial" podcast might get a new trial. The Maryland Court of Special Appeals ordered a new trial for Adnan Syed, who's serving a life sentence in the death of his ex-girlfriend. His conviction was vacated in 2016 amid claims his trial lawyer failed to cross-examine an expert witness. The state appealed the 2016 order, leading to Thursday's ruling. But it's not a done deal. Prosecutors have 30 days to appeal or proceed with a new trial. Syed's case burst into public view in 2014 when "Serial" – which has been downloaded 40 million times – explored a possible alibi.
TODAY'S QUOTE
A decision on whether two Baton Rouge, Louisiana, police officers will be fired for their roles in Alton Sterling's shooting death is expected this afternoon.
BREAKFAST BROWSE
First light
The (seemingly) warming relations between the two Koreas involves more than just nukes. The South's pop stars will rock the North with a concert this weekend.
One last ride
If you've never seen Danica Patrick drive, you're running out of chances. The racing trailblazer's last race is in May at the Indy 500.
Fitting tribute
Draylen Mason, who died in the Austin bombings, never got to go to college. Now, there's an effort to make sure other minority students can.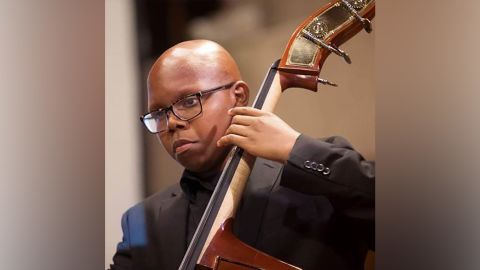 That's a lot of Bitcoin
A cryptocurrency company's cool $29 million donation is fulfilling classroom wishes posted by 28,000 teachers at a crowd-funding site.
A solid start
How should you treat the first pitch of baseball season? Like the Cubs' Ian Happ did – and drive it over the right field fence.
THIS JUST IN …
Apple update
The new iOS 11.3 mobile operating system lets you see yourself as an animated bear – or just stop your older iPhone from slowing down.
TOTAL RECALL
Quiz time
The granddaughter of which civil rights icon spoke at the March for Our Lives rally in Washington?
A. Rosa Parks
B. Martin Luther King Jr.
C. Daisy Bates
D. Malcolm X
Play "Total Recall," CNN's weekly news quiz, to see if you got it right.
TODAY'S NUMBER
150 million
The number of MyFitnessPal accounts hacked. Hackers made off with user names, email addresses and passwords.
60%
AND FINALLY
Now, you can hear the sun. Yes, you read that right. And its vibes are surprisingly soothing. Here's what else you need to know to Start Your Week Smart. (You can also get "5 Things You Need to Know Today" delivered to your inbox daily. Sign up here.)
If you just got a doughnut and a new "My Little Pony" movie, you'd be freaking ecstatic, too. (Click to view.)