(CNN) —
President Donald Trump has wondered aloud over the past weeks – to pretty much anyone listening – who would occupy the singular role of confidant and conspirator that longtime top aide Hope Hicks was leaving behind.
The answer, at least in some capacity, will be Dan Scavino, the social media director who this week moved into the minuscule office a pace or two from Trump's desk that Hicks spent the past week packing up. Described by aides as Trump's "mini me," who can channel his moods and voice as few others can, Scavino is the last remaining staffer from the launch of Trump's presidential campaign still posted by the President's side.
That's left West Wing officials, most with shorter and more distant relationships with the President, eying Scavino as Hicks' natural successor – not as communications director, but as the White House aide Trump calls upon when he wants to vent, plot, confide, boast or reminisce.
If Hicks was able to occasionally act as a taming force on the President, however, there's little expectation that Scavino will follow suit. When the President has come under fire in the past, Scavino has doubled down on the controversy of the moment, at times defending Trump from his own personal Twitter account.
Scavino is viewed by colleagues with a mix of reverence, for his uncanny ability to mimic the President's moods and whims, and puzzlement, for his unlikely rise from Trump's golf caddy to his club manager to gatekeeper of the most powerful Twitter account in the world.
"It's beyond loyalty," a source familiar with their relationship said.
In a White House that is becoming increasingly full of aides the President either doesn't know or doesn't trust, Scavino is one person the President is confident has his back entirely, people familiar with their relationship say. Scavino, one source noted, has dedicated his entire adult life to Trump.
Scavino did not respond to a request for comment about his status as the last remaining Trump campaign original at the White House.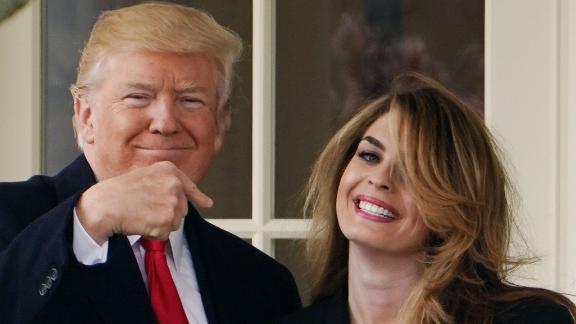 Hicks' last day was Thursday, capped by a peck on the cheek and a handshake from the President before he departed on his helicopter. Preceding her was Keith Schiller, Trump's longtime bodyguard who, before leaving the administration in September, sat in the same small office, whose occupant can be summoned to the President's side with a shout.
On the few occasions Trump has dispatched a daytime tweet, more often than not it was Scavino and Hicks huddling over a laptop or smartphone in the Oval Office to prepare it as Trump dictated from behind his wooden desk.
During the day, Scavino is omnipresent around the President, taking photographs or videos of his events to post on official White House social media platforms. But he's also available in the wee hours and late into the evening to help Trump dispatch his more incisive messages.
Trump's Twitter account is one of the President's most prized possessions, people close to him say. The only other person who has regular, unfettered access to it is Scavino, and a source familiar with their relationship said this alone signals just how much Trump trusts him.
Among people close to Trump, Hicks was sometimes viewed as a moderating force on a nontraditional and impudent president, though that role has sometimes been overstated. One senior administration official joked Hicks could write a memoir with the title "The Tweets He Didn't Send" – though it's not clear how many of those she could claim credit for quashing.
Attempts to rein in Trump's tweeting over the first year of his presidency have been half-hearted at best, administration officials say. His legal team has encouraged him to steer clear of messages about the Russia investigation, advice he's largely ignored. A troublesome tweet late last year about fired national security adviser Michael Flynn spurred some consideration of applying new rules on how messages are posted from the President's account. But that idea was tabled.
Trump and Scavino speak multiple times throughout the day, and the President is known to summon him into the Oval Office on a moment's notice. His new office – occupied in the Obama administration by the aides-de-camp known as "body men" who travel at the President's side – will put him well within earshot.
Chief of staff John Kelly has largely allowed the close relationship between Scavino and Trump to proceed unaltered, and has told reporters on more than one occasion that he doesn't follow the President's Twitter feed. Kelly feels that Scavino has not abused his close relationship with the President, one source said.
If Hicks remained a largely enigmatic presence outside of the White House, never speaking in public, granting interviews or posting on social media, Scavino has cultivated a distinct voice, maintaining a combative Twitter persona of his own.
Last week he warned fellow White House staffers to "Look out leakers!!" – complete with an eyeballs emoji – when it was reported incoming national security adviser John Bolton would launch an effort to purge aides who have released damaging information about the administration.
In one key area, Scavino and Hicks are aligned: Both have a reputation for unfailingly placing Trump's agenda ahead of their own, a trait that has not always been shared by the cast of bickering aides that's transitioned through the West Wing over the past 14 months.
The White House declined to say on Friday whether anyone was currently serving in an interim capacity as communications director after Hicks' departure, though Sarah Sanders, the press secretary, will assume some of the responsibilities of the job as a search plods on for a permanent replacement, officials said.
Some of Trump's outside advisers have told him he doesn't need a traditional communications director, just as he may not require a chief of staff, a person familiar with the conversations said. But Trump hasn't signaled whether he's considering that advice seriously, and multiple candidates for the communications director job are being considered.
Whoever does take the job will serve a President who is increasingly looking to surround himself with those he trusts and knows. He dined at the White House on Monday evening with former campaign aides Corey Lewandowski and David Bossie, a person familiar with the meal said. And he sat on the Mar-a-Lago patio on Thursday with Don King, the controversial boxing promoter whom he's known for decades and who was a regular presence on the campaign trail.
Those staunch allies remain outside the White House for now. Inside the White House, it is just Scavino who remains.