Story highlights
Darren Lehmann to quit as Australia cricket coach
Comes in wake of ball-tampering scandal
Steve Smith, David Warner and Cameron Bancroft handed lengthy bans
(CNN) —
Australia cricket coach Darren Lehmann has announced he is stepping down following the ball-tampering scandal that has engulfed his side.
Lehmann initially refused to resign, saying he was unaware of the plot hatched by captain Steve Smith, vice captain David Warner and Cameron Bancroft to scuff the ball illegally using sandpaper during the third Test against South Africa.
But he's had a rethink after talking to his family and watching emotional news conferences from Smith and Bancroft as they arrived back in Australia.
"After viewing Steve and Cameron's hurting, it's only fair that I make this decision," the 48-year-old Lehmann, who will quit after the fourth Test, told a media conference.
"I'm ultimately responsible for the culture of the team.
"This will allow cricket Australia to complete a full review into the team and allow them to implement changes to regain the trust of the Australian public, this is the right thing for Australian cricket.
"It's been a wonderful experience coaching the Australian cricket team. I hope the team rebuilds from this and the Australian public finds it in their hearts to forgive these young men."
READ: Disgraced Aussie cricketers returning home after ban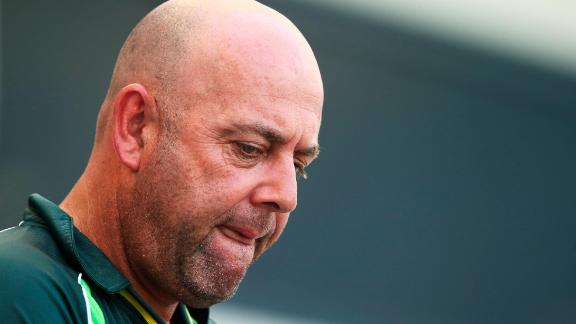 'Right time to step away'
Lehmann, who played 27 Tests for Australia, was appointed ahead of the 2013 Ashes series with England, and held onto the job despite Australia's 3-0 defeat.
Five months later Australia regained the Ashes with a 5-0 whitewash, and it also beat England 4-0 this winter.
His contract was due to expire after the end of the 2019 Ashes series in England.
Lehmann added: "As many who sit in this room will know, life on the road means a lot of time away from loved ones and after speaking to my family, it is the right time to step away.
"Speaking to the players and saying goodbye is the toughest thing I have had to do."
Asked what he was most proud of during his reign, Lehmann referenced his team's response to the death of batsman Phillip Hughes in 2004.
"I would say the way we dealt with Philip Hughes' passing. We're only playing a game," he said.
READ: Australian cricketer Phil Hughes dies
The ball-tampering incident has rocked the world of cricket and brought shame on the Australian set up.
Smith, 28, was stripped of the captaincy and banned for a year, while Warner, who was found to be the driving force behind the plan, also received a 12-month ban.
The 25-year-old Bancroft, playing in only his eight Test match, was suspended for nine months.
A Cricket Australia investigation said the trio, who were all sent home from South Africa, were the only ones involved as Bancroft was encouraged to rough up one side of the ball with sandpaper to help it swing.
He was caught by TV cameras and spoken to by the match umpires before he and Smith confessed later to reporters.
READ: How Australia cheating scandal harms national psyche
'I'll regret this for the rest of my life'
Smith gave a tearful media conference on his arrival at Sydney Airport, breaking down repeatedly as he spoke of the effects on his parents.
"Any time you think about making a questionable decision, think about who you're affecting. You're affecting your parents and to see the way my old man has been and my mom, it hurts," he said.
"To all of my teammates, to fans of cricket all over the world and to all Australians who are disappointed and angry, I'm sorry.
"There was a failure of leadership, of my leadership. I'll do everything I can to make up for my mistake and the damage it's caused.
"I know I'll regret this for the rest of my life. I'm absolutely gutted. I hope in time I can earn back respect and forgiveness."
READ: What is ball-tampering anyway?
Smith and Bancroft were also banned from captaining Australia for two years.
Warner, who was stripped of any future leadership position, posted an apology on social media to "cricket fans in Australia and all over the world" ahead of his arrival, in which he said "mistakes have been made."
The 31-year-old tweeted: "I apologize for my part and take responsibility for it… It's a stain on the game we all love and I have loved since I was a boy." He added that he would speak out "in a few days."
Visit CNN.com/sport for more news, features and videos
The final Test of the series against South Africa kicks off on Friday. The three suspended players will be replaced by Matthew Renshaw, Glenn Maxwell and Joe Burns for the fourth Test, with Tim Paine appointed captain.