(CNN) —
Several of President Donald Trump's outside advisers have told him over the past week he requires neither a chief of staff nor a communications director, at least in the traditional definition of those jobs, according to a person familiar with the conversations.
Trump has absorbed the advice, but offered little indication whether he's interested in taking it, the person said. He's been warned by other confidants that it's impossible to run the West Wing without a chief of staff.
There are no signs Trump is ready to dismiss top aide John Kelly. But the option of running his White House without a chief of staff has been planted in Trump's mind, and he's not rejected it outright, the person said.
Trump has expressed frustration at the management structure in the West Wing, believing it doesn't suit the freewheeling style he employed as a businessman. And he's persistently annoyed by headlines and television coverage of his presidency. After a year in office, he's more willing to change long-established West Wing structures, people familiar with his thinking say.
He's begun working around Kelly on a number of fronts, including during some phone calls with foreign leaders, on certain policymaking decisions, and in executing some of the past month's staffing changes, people familiar with the matter said. Kelly, meanwhile, has sought to bring further order to the policymaking process, including by naming Chris Liddell as his deputy for policy implementation.
Without a chief of staff, advisers have told Trump he would exert more control over which policies are prioritized, including his beloved border wall.
Speaking at a conference last week, former White House chief strategist Steve Bannon said if Kelly were to leave his post, he does "not believe there will be another chief of staff."
Instead, Bannon said he believed Trump would choose to have "five or six direct reports" from key members of his staff.
"I think the President is a very hands-on manager and feels more comfortable" with such a style, Bannon said.
There are no indications yet Trump is planning to execute that style of management in the West Wing, or is nearing a place where he's ready to dismiss Kelly. But he's not downplayed it in his outside conversations.
He's similarly remained open to rethinking the necessity of a traditional communications director after Hope Hicks' departure this week. Hicks is hanging up her skates on Thursday after more than three years in service to candidate and now President Trump.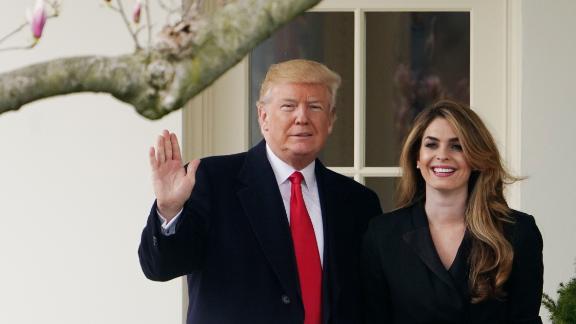 MANDEL NGAN/AFP/Getty Images
As Trump departed the White House for a stop in Ohio on Thursday, he made a show outside the Oval Office of shaking Hicks' hand and bidding her farewell. As is the case with other ex-aides, however, Hicks isn't likely to entirely leave Trump's orbit.
Hicks was named communications director in September after a succession of aides came and went in the job. In reality, however, Hicks occupied a role far greater than simply communications director, acting as the President's closest non-family aide.
The post-Hicks era is a vast unknown for aides, who worry Trump will unravel without the near-constant presence of his sounding board and interpreter. Since she announced she was leaving the White House, Hicks has only been in the West Wing intermittently. This has resulted, at times, in the President summoning her to the Oval Office – "Hope! Hopey!" – when she's not there.
Meanwhile, a pained search for her replacement has pitted aides against each other – all for a job most view as impossible. White House strategic communications director Mercedes Schlapp and Tony Sayegh, the top public affairs official at the Treasury Department, are seen as the internal competitors for the posting, but people close to the President question whether either will end up with the job.
It's widely believed inside the White House that presidential counselor Kellyanne Conway will assume the job in an interim capacity and Trump has told her he wants her to serve in the role permanently.
But he's also expressed openness to changing how that job will look going forward. It's universally believed in the West Wing that if a new communications director is named, he or she will perform a drastically different role than Hicks.
Inside the White House, there are conflicting opinions on how the communications shop should proceed. One senior White House official told CNN that there's a hope among some advisers that a new communications director is an outsider "to get new blood in here."
But other White House offic