Joshua Blue didn't know Draylen Mason. The two never met.
But when Blue learned Mason, a promising young bass player, was killed this month in the Austin, Texas, bombings, he was deeply affected.
Like Mason, Blue is a classically trained musician. Like Mason, he is black. And like Mason, he shared a connection to the Oberlin Conservatory of Music in Ohio.
Mason had just been admitted to Oberlin's prestigious music school, but the 17-year-old died without hearing the news of his achievement.
So now, Blue, who graduated from Oberlin in 2016, wants to do something to help Mason's musical legacy live on. He's launched a petition urging Oberlin to create a scholarship fund in Mason's name.
"(Mason) would've gone on to be a mentor to the people that will come after him," Blue explained to CNN.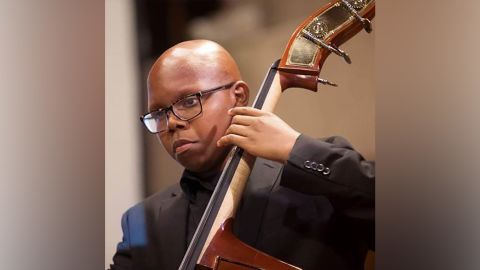 As a fellow musician of color, Blue said he understands the challenges that minorities face to succeed in the arts and he feels someone should recognize how much Mason had accomplished in his short life.
Minorities in the arts
The petition calls for two things: a scholarship fund under Mason's name to help people of color attend the conservatory, and the awarding of a posthumous degree to Mason.
"People of color continue to be appallingly underrepresented in the musical arts. A student who was clearly up for the challenge, Draylen would have been entering the world of music without many mentors who look like him," Blue wrote on the online petition page. "His entry into musical academia would in itself be a radical action, and for his sake, and for those who are put off by the lack of representation, this needs to change."
Originally, Blue's goal was 700 signatures – one for each student at Oberlin's Conservatory of Music. In one day, he got 1,500.
Now he's aiming for 3,000 signatures – to roughly represent the entire student body of Oberlin College. He said he didn't expect signatures to pour in so quickly.
"I thought that at the very least it was going to be a gesture of good faith," said Blue, a tenor who is currently a masters student at the Juilliard School in New York .
Blue said he's been in contact with Mason's family about the idea of creating a fund under Mason's name. He's also been in contact with Oberlin about how such a fund might be established.
Oberlin has not responded to multiple requests for comment from CNN.
A 'most remarkable talent'
As a recipient of many scholarships at Oberlin, Blue understands their impact.
"I don't come from a high-income family," he said, "For someone like me to have a scholarship, it's allowed me to do a bunch of things."
Mason had already been accepted into the selective Butler School of Music at the University of Texas at Austin, CNN affiliate KXAN reported.
He was the "most remarkable talent in a most remarkable youth orchestra program called Austin Sound Waves," said Doug Dempster, dean of the College of Fine Arts at UT Austin.
An online campaign also is underway to raise money to help Mason's family rebuild their home, which was damaged in the March 12 bombing.
In his petition, Blue praised Oberlin for its history of fighting inequality and racism. He said he's hoping that his effort will inspire the college to make a clear statement about supporting musicians of color.
"It's really important for me to see an institution that I was a part of saying, 'we support this,'" Blue said.
Correction: This story has been updated to reflect that Mason's family has not yet agreed to the creation of a scholarship fund.
CNN's Doug Criss and Keith Allen contributed to this report.