Story highlights
Australians Steve Smith, David Warner and Cameron Bancroft given lengthy bans
Trio admit ball tampering to gain unfair advantage
(CNN) —
Three Australian cricketers involved in a ball-tampering scandal have left South Africa, with captain Steve Smith heckled by fans as he was escorted through the airport terminal.
Crowds yelled "cheat" at the former captain, who refused to answer journalists' questions as a phalanx of police officers ushered him toward the secure area of Johannesburg's airport Wednesday.
The three Australians have been handed lengthy bans in an attempt to restore "integrity" and rebuild the reputation of the sport in Australia in the wake of a ball-tampering scandal.
Smith, the national team captain, and vice captain David Warner have been banned from playing for the national side for a year following their roles in the incident that caused national outrage during the third Test against South Africa.
Cameron Bancroft was given a nine-month ban for using sandpaper to rough the ball illegally.
On Saturday, Smith and Bancroft admitted during a post-match press conference that they'd conspired to scuff the ball in an attempt to gain an unfair advantage over South Africa.
A Cricket Australia investigation found the trio were the only ones who knew of the plan, which was concocted during the lunch break and carried out by young fielder Bancroft, who had played just eight Test matches.
The probe found Warner guilty of "developing" the idea and for giving "instruction to a junior player to carry out a plan to take steps to attempt to artificially alter the condition of the ball using sandpaper."
It also found Smith and Bancroft guilty of making "misleading public comments" when they claimed it was grit-covered yellow tape, not sandpaper.
Along with the suspensions, both Smith and Bancroft will not be considered for any leadership positions until after 12 months and Warner will "not be considered for team leadership positions in the future," CA said in a statement.
"Any consideration of future leadership would be conditional on acceptance by fans and the public, form and authority among the playing group"
READ: What is ball tampering in cricket?
Coach keeps job
All three players, who were already being sent home from South Africa, will also have to complete 100 hours of voluntary service in community cricket before being considered for future selection.
However they "will be permitted to play club cricket and will be encouraged to do so to maintain links with the cricket community," CA added.
But Sutherland dismissed rumors that coach Darren Lehman was resigning.
"No other players or support staff had prior knowledge, including Darren Lehman, who has not resigned and will continue to coach under current contract," Sutherland said.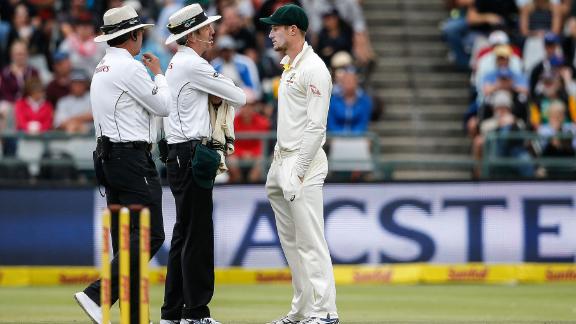 The three players will be replaced by Matthew Renshaw, Glenn Maxwell and Joe Burns for the fourth Test against South Africa, with Tim Paine appointed captain.
David Peever, the chairman of Cricket Australia, said the board "shares the anger of fans and the broader Australian community about these events."
"They go to the integrity and reputation of Australian Cricket and Australian sport and the penalties must reflect that," he said.
"These are significant penalties for professional players and the Board does not impose them lightly. It is hoped that following a period of suspension, the players will be able to return to playing the game they love and eventually rebuild their careers."
CA CEO James Sutherland added that details of an independent review into the conduct and culture of the men's cricket team will also be shared in "due course."
Indian cricket legend Sachin Tendulkar called the ban the "right decision" in a tweet on Wednesday.
"Cricket has been known as a gentleman's game. It's a game that I believe should be played in the purest form. Whatever has happened is unfortunate but the right decision has been taken to uphold the integrity of the game. Winning is important but the way you win is more important," Tendulkar wrote.
Tendulkar, a former Indian cricketer, is regarded as one of the greatest players of all time.
Watershed moment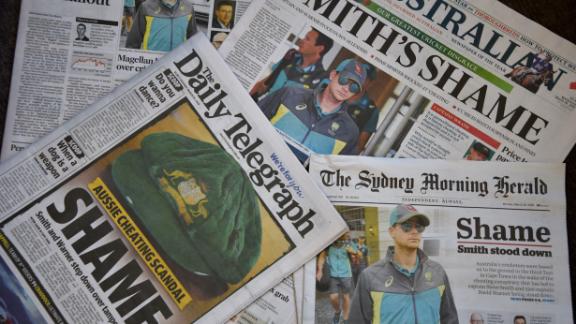 John Buchanan, a former coach for the Australian team between 1999 to 2007, told CNN Sport that Cricket Australia was facing a watershed moment.
"There's a feeling in Australia this isn't just a one-off incident," he said. "It's been building over a long period of time and the culture between the team really needs to be addressed really seriously.
"What comes next will be a real test for Cricket Australia with how they deal with this issue."
However, the backlash has begun, with major Cricket Australia sponsor Magellan Financial Group terminating its three-year partnership with the team, according to a notice posted on the Australian stock exchange (ASX) on Thursday.
"A conspiracy by the leadership of the Australian Men's Test Cricket Team which broke rules with a clear intention to gain an unfair advantage during the third test in South Africa goes to the heart of integrity," CEO and Co-Founder of Magellan Hamish Douglass said in the market notice.
Punishment 'too harsh'
The investigation found that all three players had breached article 2.3.5 of Cricket Australia's Code of Conduct, for conduct contrary to the spirit of the game.
But the penalties dished out by CA have divided some in the cricketing world.
Australian cricket great Shane Warne said he was "shocked" by the incident but questioned the severity of the punishment.
"The jump to hysteria is something that has elevated the offence beyond what they actually did, and maybe we're at a point where the punishment just might not fit the crime," he said in an article for Australia's Daily Telegraph.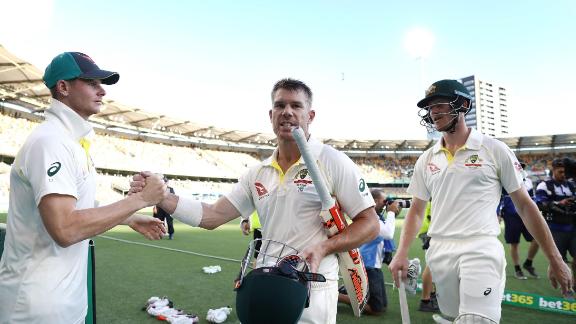 Former England captain Michael Vaughan agreed.
"Steve Smith, I think, is a good guy who made a huge mistake," he tweeted. "He needed punishing but I think this is too harsh.
"Bancroft, who I don't know, was led astray but deserved punishing, but again too harshly in my opinion."
Others mourn the loss of a "good captain and a great batsman."
Former Pakistan fast bowler Shoaib Akhtar wrote on Twitter: "Good job that Steve Smith admitted and plead (sic) guilty for wrong doing but what a waste of good captain and a great batsman.. Lesson for all the cricketers to be on the right side of the game."
Cricket analyst Simon Hughes wrote on Twitter that he believes Lehmann "knows right and wrong" and would have talked the trio out of the plan.
He added: "Please someone look after Steve Smith. He was the no1 batsman in Test cricket."
Anger and disappointment
Sutherland apologized during a press conference, on behalf of the organization, to both Australia and South Africa.
"I understand and share the anger and disappointment of Australian fans," Sutherland said.
"I want to apologize to all Australians that these events have taken place, particularly to all the kids who love cricket and idolize the players. I want to also apologize to cricket South Africa and South African fans that this issue has overshadowed what otherwise should have been a wonderful series."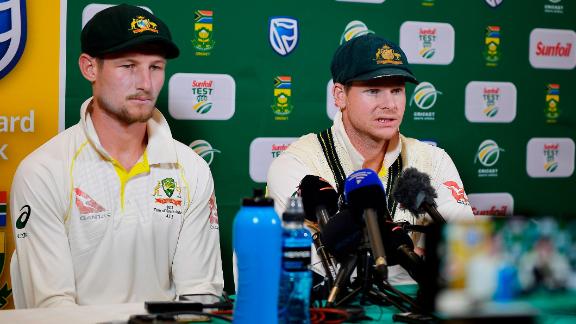 Smith and Warner have also been banned from participating in India's domestic cricket league, the Indian Premier League (IPL) in 2018, the league and the Board of Control for Cricket in India announced in a statement on Wednesday. Earlier Warner had stepped down as captain of SunRisers Hyderabad.
Warner is also suffering a sponsor backlash.
In a statement to CNN Money, LG Australia confirmed that it would not renew its sponsorship with Warner.
"LG's current sponsorship of David Warner is in the final weeks and in light of recent events, we have decided not to renew our partnership," it said in a statement.
"LG Australia will always look to work with ambassadors that share our core brand values and we take these relationships incredibly seriously to ensure we put our customers, employees and stakeholders first."
CNN's Bianca Britton and Sugam Pokharel contributed to this report.