Gina Haspel, President Donald Trump's controversial pick to lead the CIA, is waging a behind-the-scenes effort to win over lawmakers amid concern from some in the Trump administration and Republican circles that she may have trouble winning confirmation, according to multiple sources familiar with her work.
Haspel, who is under scrutiny because of her past oversight of a CIA "black site" in Thailand, has told senators over the past two weeks that she understands waterboarding is illegal and that she would follow the law if confirmed, according to two sources with knowledge of the conversations.
She has also distanced herself from the destruction of CIA tapings of harsh interrogations, saying she didn't order the tapes to be destroyed, the sources said. And she has argued that the post 9/11 mindset in the CIA and federal laws over interrogation tactics are far different today.
It's all part of an effort, the sources say, to explain Haspel's ties to the detention and interrogation program during the Bush era. The campaign could prove crucial in determining whether Haspel will advance to one of the premier positions in American intelligence, and make history if she were to become the first woman to lead the CIA.
But none of that will be possible if Haspel doesn't win at least some Democratic votes. The math will be tough, though it's too early to suggest her nomination is imperiled, GOP sources say. Several moderate Democrats up for re-election this fall in states Trump won have signaled an openness to her nomination.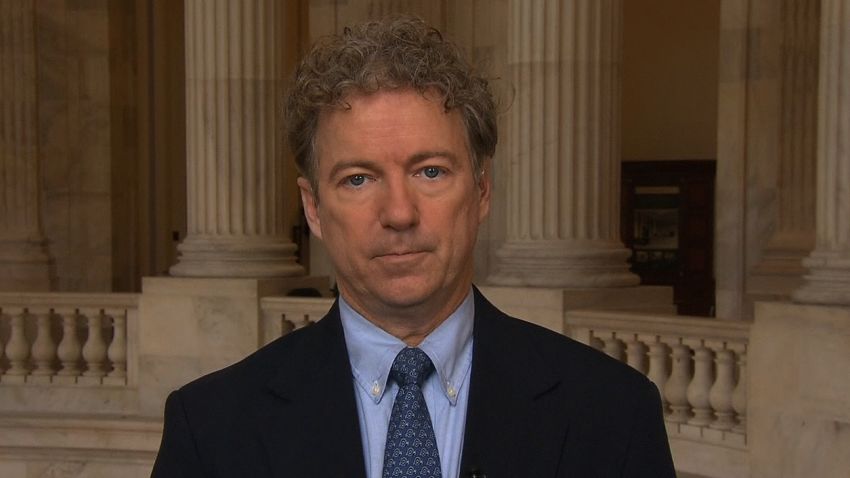 Paul: I'll filibuster Trump CIA, State nominees
Haspel will likely need at least one Democrat to support her and offset the opposition of Kentucky Republican Sen. Rand Paul. With GOP Sen. John McCain of Arizona absent from the chamber battling aggressive cancer, Senate Majority Leader Mitch McConnell can't afford to lose any more Republican support. McConnell has expressed to Trump that confirming anyone to a significant Cabinet-level position is going to be challenging in this political environment, especially as the midterms near, according to a source familiar with the matter.
Difficult fight
The difficult fight ahead for Haspel's confirmation has some Trump allies and advisers contemplating whether an alternative pick could win easier confirmation.
Just days after Trump tweeted his selection of Haspel, there was at least one meeting of National Security Council professional staff in which alternative names for the job were floated in case Haspel faltered, CNN has reported.
Since then, concerns that her nomination could be in danger have grown. Two sources familiar with White House thinking told CNN many are concerned Haspel is in trouble, and there are ongoing conversations at the White House and NSC about whether to withdraw her name from consideration if she stumbles during the confirmation process. Those conversations are preliminary and the White House is still pushing her nomination.
One informal adviser to Haspel guiding her process on Capitol Hill was weary of what they considered a steady uphill battle, though the adviser appeared hopeful that once lawmakers extracted their "pound of flesh," a handful of Democrats would ultimately vote to confirm Haspel.
CIA spokesman Ryan Trapani said in a statement that Haspel was "one of the most qualified persons to be nominated as CIA Director."
"Through the confirmation process, the American public will get to know Ms. Haspel for the first time," Trapani said. "When they do, we are confident America will be proud to have her as the next CIA Director."
The CIA has gone to unusual lengths to promote Haspel, sending out a 15 tweet thread Friday that included details about her upbringing in a military family in Ashland, Kentucky, and her career around the world.
Looking for clues
Haspel has yet to be formally nominated for the CIA director post and Mike Pompeo remains atop the agency for now. But Trump selected him to become the next secretary of state as part of a broader reshuffling of his Cabinet and senior staff. Pompeo is expected to go through confirmation proceedings first, and Republicans may look to that process for clues about whether Haspel can get over the confirmation hump.
Graham: CIA nominee qualifications 'second to none'
Sen. Mark Warner, a Virginia Democrat who is the vice chairman of the Senate Intelligence Committee, could prove to be a bellwether of the ultimate success of Haspel, who is currently deputy CIA director. He seemed open to her leading the agency, telling CNN that Haspel "made clear" before she took the job as deputy CIA director last year that waterboarding was not permissible under the law today.
"Many senators who question Ms. Haspel, including myself before she received the deputy position, she made very clear that going forward, those tactics were illegal, and she was going to follow the law," Warner said in an interview when asked about waterboarding. "I hope that the agency will work to declassify as much information as possible about her role in those activities because there are lots and lots of questions that have to be answered."
McConnell will need to keep Republicans largely in line. Paul is already opposed to her nomination, and McCain has expressed sharp concerns about Haspel's past. McCain, who was tortured as a prisoner of war in Vietnam, sent a letter to Haspel last week asking her to explain her role in the waterboarding of any detainees, as well as whether she was in a position to stop the Bush-era interrogation tactics.
Republicans are looking to a handful of red-state Democrats to secure the votes for Haspel's confirmation. Some vulnerable Democrats facing voters later this year offered Haspel praise after she was nominated, including Sen. Bill Nelson of Florida. But Democratic Sen. Dianne Feinstein of California, who is facing a primary challenge from her left, has toughened her criticism of Haspel in recent days.
Whether Haspel's assurances are enough to win over support remains to be seen. It's also unclear if the CIA will attempt to declassify records from her past, as Democrats have demanded.
Discussions on declassification
Trump administration officials have been in discussions with the Senate Intelligence Committee about what records may be declassified, according to sources with knowledge of the discussions, although the decision will ultimately be up to the CIA.
Haspel's 33-year CIA career is controversial for several reasons. She oversaw a CIA black site in Thailand in 2002 where harsh interrogations were conducted, although she was not at the site when al Qaeda suspect Abu Zubaydah was waterboarded at least 83 times. She was also chief of staff to the director of the National Clandestine Service, Jose Rodriguez, in 2005 when the CIA tapes of interrogations were destroyed. Rodriguez wrote in his memoir that he asked Haspel to prepare a cable granting permission to destroy the tapes, though he made the decision.
If the CIA does declassify records, it's uncertain whether new information will reassure skeptics - or inflame them. And if the CIA doesn't declassify the records, it could prompt protests from Democratic senators over Trump administration secrecy, giving Democrats on the fence a reason to vote no.
"To advance her now to such an important post would be a referendum on supporting secrecy," said Sen. Ron Wyden, a Democratic member of the intelligence panel who has said he would oppose Haspel's nomination.
The Republican chairman of the Senate Intelligence Committee, Richard Burr of North Carolina, said there are limits to what the CIA can provide.
"I think it's important that members get their questions answered to the degree that they can, (but) because this is an intelligence agency, there are limits to how far we can go in disclosing individuals that have been in the field for 30 years," Burr told CNN earlier this month.
Burr said that he was confident Haspel would provide the "clarity" needed about her record, arguing that some disclosures were necessary to correct the record about her CIA career.