Story highlights
Africa is growth hacking technology with communities
Tech communities are inspiring learning and collaborations
Tech companies have long been known for innovative work environments. Giants like Apple were, after all, founded by once-hippies like Steve Jobs.
However in Africa, a continent increasingly embracing tech and innovation – with tech hubs in almost all major cities, the ancient philosophy of "Ubuntu," not The Beatles (who inspired Steve Job's business model), is driving entrepreneurship.
"Ubuntu" is an ancient African philosophy. It was coined from the Zulu phrase "Umuntu ngumuntu ngabantu," which translates to "a person is a person through other people."
Put simply, it's about community being the building blocks of society.
South African Archbishop Desmond Tutu said: "Ubuntu is the essence of being human. It speaks of the fact that my humanity is caught up and is inextricably bound up in yours. I am human because I belong, It speaks about communities."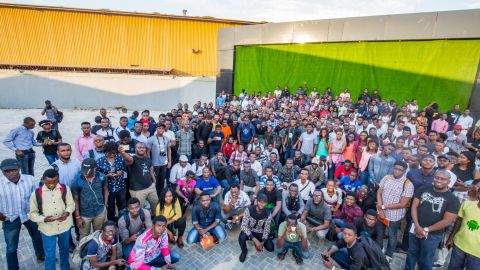 When it comes to tech, it's communities, online and off, working collaboratively to think of solutions to the continent's problems: from medical apps to raising awareness about FGM and improving education, these communities – through "Ubuntu" – are innovating Africa.
An ancient philosophy for modern times
Emeka Okoye, CEO of Cymantics, a web, analytics and software development company thinks Africa is yet to fully realize the power of Ubuntu.
"With Ubuntu we can be like Wakanda. This can turn us into an utopia of solutions which the world can rest on but while this community building and learning is going on, it has not impacted on Africa yet."
Meetups, Facebook groups and hubs are all part of Africa's tech ecosystem.
Silicon Africa is a Facebook community with nearly 9,000 members where developers, coders and startup owners share ideas. Andela, in Lagos, is a fast track programming center which is training Africans to be top developers.
forLoop Africa is another example of community-driven tech collaboration. It is the largest gathering of software developers and enthusiasts across five African countries.
"forLoop community has a network of volunteer seasoned software professionals who go to various campuses across Africa to teach students how to write software programs and how to be ready for the tech industry globally," says Ridwan Olalere, founder of forLoop.
There are also efforts to create women-only spaces for fostering tech.
Anie M. Akpe told CNN she started the organization "Africa Women in Tech" out of a desire to connect, educate and empower African women who are determined to advance their tech careers. "We are dedicated to providing opportunities and a safe space for women to grow and lead in the tech space," she said.
While there are communities present in tech industries across the world, in Africa, tech incubation centers have multiple startups and entrepreneurs working in shared spaces.
It might sound simple, but when power outages are regular in many places and internet connection not always available, collaboration is key.
Victor Asemota, founder of SwiftaCorp and a Google launchpad accelerator mentor says Africa tech startups need to work together using the 'Ubuntu' model before adopting a more competitive style similar to Silicon Valley, Asemota references the idea of 'Nkali', which loosely translates to being "greater than another."
"For the African tech ecosystem to thrive, the type of "Nkali" we need is a collective one, "Ubuntu" needs to come before "Nkali." He said.
African tech looks to ancient knowledge for innovations of the future.