A 50-foot campaign poster of Egyptian President Abdel Fattah el-Sisi stares down over Cairo's Tahrir Square, where hundreds of thousands of Egyptians demanded bread, freedom and social justice during the 2011 Arab Spring uprising. Across from the square, a huge screen shows a video montage of the President and his supporters.
In Cairo, it's impossible to miss that Egypt is having a presidential election from Monday. Sisi's face is plastered on nearly every street along with slogans such as, "Yes, to building the future," and "You are the hope."
What is difficult to find are the more subdued posters of Sisi's little-known and only remaining rival, Mousa Mostafa Mousa.
The lack of serious competition has drawn the fierce condemnation of critics who say Sisi has stifled dissent, but the President says he is not to blame.
"It is not my fault. I swear to God, I wished there would have been more candidates for people to choose who they want. But they were not ready yet, there is no shame in this," Sisi said in a recent TV interview.
"We have more than 100 parties. Have they fielded many (candidates), or any?"
In fact, multiple candidates tried to enter the race, but all but one has since exited. The opposition blames Sisi's government for squeezing potential rivals through what they see as a strategy of intimidation.
Egyptian authorities arrested former army Gen. Sami Anan in January, saying his candidacy broke military rules.
Former Prime Minister Ahmed Shafik announced his candidacy in self-imposed exile from the United Arab Emirates but withdrew upon his return to Cairo.
And human rights lawyer Khaled Ali said he withdrew his name after coming under pressure and facing obstacles getting on the ballot.
Mohamed Anwar Sadat, the nephew of late Egyptian President Anwar Sadat, pulled out after facing what he called obstruction and fear for the safety of his campaign workers.
"I was scared that all my campaign representatives might be in a situation where they face a difficult time or are stopped, detained, and abused," he told CNN.
In February, Human Rights Watch expressed concern that the Egyptian government had compromised the election process with its use of special laws under an ongoing nationwide state of emergency.
'Not a puppet'
But there is one candidate who has managed to remain on the ballot.
Mousa registered an hour before the final deadline in late January. His last-minute candidacy, by his own admission, is aimed at avoiding a one-horse race that treats the vote like a referendum on Sisi's rule.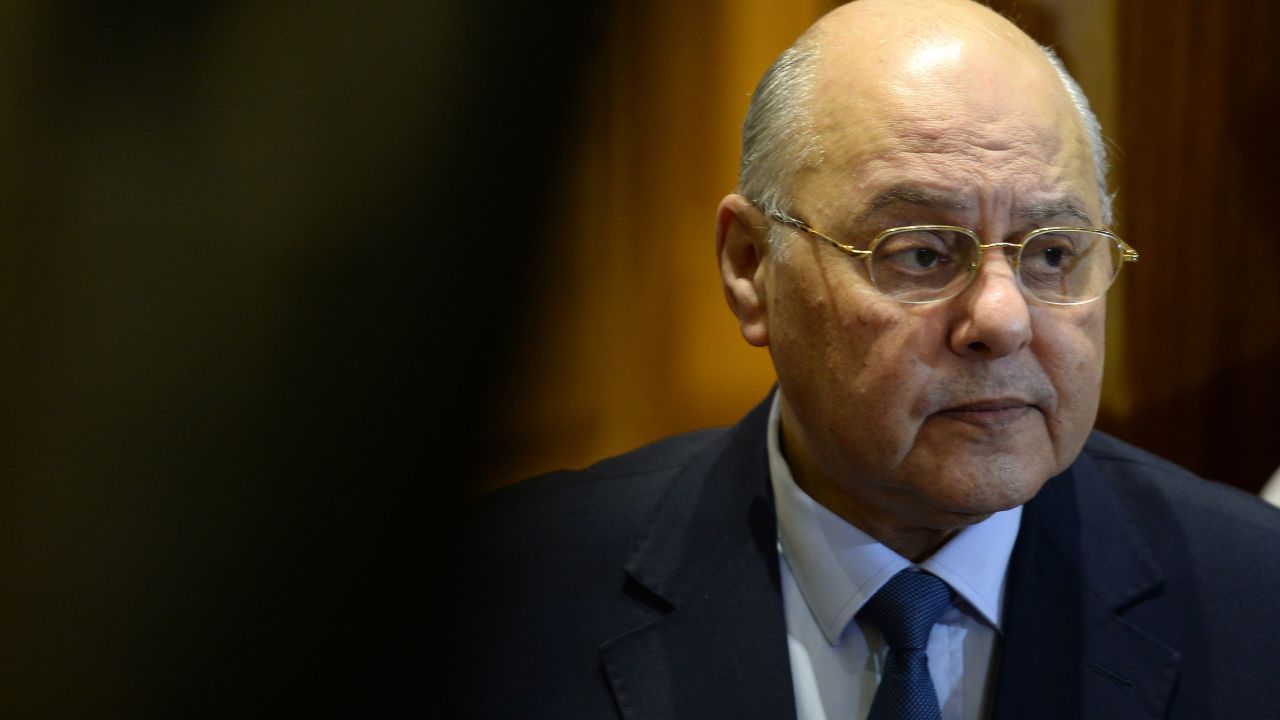 "I saw the catastrophe coming," Mousa told CNN. He said his participation makes the vote a democratic one.
"President Sisi was going alone in this game, and if he falls, we all fall."
Detractors have accused Mousa of being a stooge candidate, sanctioned by the regime to give the election a veneer of legitimacy.
Mousa admits he was a Sisi supporter before running, but he insists his campaign, run on a platform of job creation, is genuine and that he would make a better president.
"I want to tell the people I'm here for real. I'm here as a candidate willing and wishing and wanting to win," Mousa said.
"People need to understand that I was not brought in as a puppet for anyone."
A changed Egypt
The election, nonetheless, is being widely considered a sham vote and is another blow to the goals of the 2011 revolution, said H.A. Hellyer, a non-resident senior fellow at the Atlantic Council, a US-based think tank.
He said Egyptian authorities believed that allowing space for some dissent during the rule of President Hosni Mubarak was what led to the 2011 uprising.
"As the thinking goes: If you give dissent a window of opportunity – even if a limited one – it could develop. So I think a lot of the authorities are quite clear about opposing … that window of opportunity, rather than run the risk of another 2011."
But by nearly every indicator, life for Egyptians since 2011 has gotten worse. The cost of living has increased, inflation has reduced the value of salaries, liberties have been curtailed and the rise of terrorism has led to greater insecurity.
The country has been hit with several attacks, particularly on the Sinai Peninsula, where a bomb and gun attack on a mosque killed more than 300 people in November. It was around this time last year, on Palm Sunday, that twin bombings at Coptic Christian churches killed dozens of people in Alexandria and Tanta.
In its most recent annual report, rights group Amnesty international gave a scathing assessment of the country for its crackdown on dissent in recent years.
"The authorities used torture and other ill-treatment and enforced disappearance against hundreds of people, and dozens were extrajudicially executed with impunity," the report reads.
"Arbitrary arrests and detentions followed by grossly unfair trials of government critics, peaceful protesters, journalists and human rights defenders were routine."
The wider international community has expressed concern about the upcoming election, but one voice is noticeably missing. The US has pushed Egypt in the past for democratic reform, but under President Donald Trump, such pressure has all but disappeared.
When Vice President Pence visited Egypt in January, just after several prominent challengers had been sidelined from the race, Pence did not make any public statements on the upcoming election and said his country's relationship with Egypt "has never been stronger."
Will Sisi tighten his grip?
The presidency is a job Sisi is unlikely to lose. Despite the clampdown on civil liberties, Sisi has throngs of genuine supporters who argue that many of his stern measures have been necessary to bring order to Egypt after the chaos of the uprising.
"His achievement on the ground can only be denied by the ignorant and hateful," Samer Haridy, a volunteer for one of the largest pro-Sisi groups, told a crowd recently.
"Our goals can only be reached under strong, determined leadership passionate about all the issues of this country and in love with every grain of sand on this land – and that man is Abdel Fattah el-Sisi."
A macroeconomic analysis firm, BMI Research, is cautiously optimistic about Egypt's future, despite the potential for greater instability. In their Egypt Election Preview, they predict President Sisi's anticipated win "bodes well for further progress on Egypt's reform drive and for business sentiment" and that the country will be an "economic outperformer in the Middle East region in 2018."
With little doubt that Sisi will win the election, many observers will be watching the turnout. Robust participation might embolden the President to try and change the constitution restricting his term limits. The constitution stipulates a president can only be reelected once.
"That's the only thing people should be talking about – the fact that he could remove term limits," Hellyer told CNN.
"He comes from military intelligence. I think what we've seen so far is that there is a psychology about him. He really believes that he is saving Egypt and all of this weight is on his shoulders."