Story highlights
The season's strongest storm brings a high risk of flash flooding and debris flows in recent burn areas
Mandatory evacuations in Santa Barbara and Ventura counties began Tuesday
Santa Barbara County officials have issued a mandatory evacuation order affecting about 30,000 people in extreme and high-risk debris flow areas ahead of the strongest storm of the season for Southern California.
"We have no choice but do to this," Santa Barbara Sheriff Bill Brown said. "It's not worth risking lives to avoid evacuation."
Evacuations are nothing new for many citizens of Santa Barbara County. Leah Watson of Montecito says it is her fifth time evacuating. For many children like hers, the rain brings the threat of washing away childhood homes and the memories associated with them.
"It's hard to leave," Watson said, holding back tears. "I was talking to my 10-year-old daughter, Claire, and she said, 'Mom, is everything going to be all right?' and I said, 'I can't tell you that everything is going to be OK. I can just tell you that we are going to be safe.' "
She said her daughter stood in front of the family home Tuesday and just stared at it. "She was trying to soak it all in and just memorize it, what it looked like just in case, because the children have seen homes all around here that have been damaged," Watson said.
Because of the burn scars from recent fires in the area, flash flooding and significant debris flows remain a major concern. The National Weather Service in Los Angeles has issued a flash flood watch for these areas across Southern California until late Thursday night.
The amount of rain and the intensity are enough to cause flooding even without the impact of the recent fires. "We could experience localized flooding and road closures, which are not isolated to the burn areas. The threat of rock falls, mudslides and debris flow is high," said Rob Lewin, director of the Santa Barbara County Office of Emergency Management.
A large and powerful storm system across the eastern Pacific Ocean is expected to bring periods of moderate to heavy rain to portions of southwest California as early as Tuesday afternoon, continuing through late Thursday or early Friday.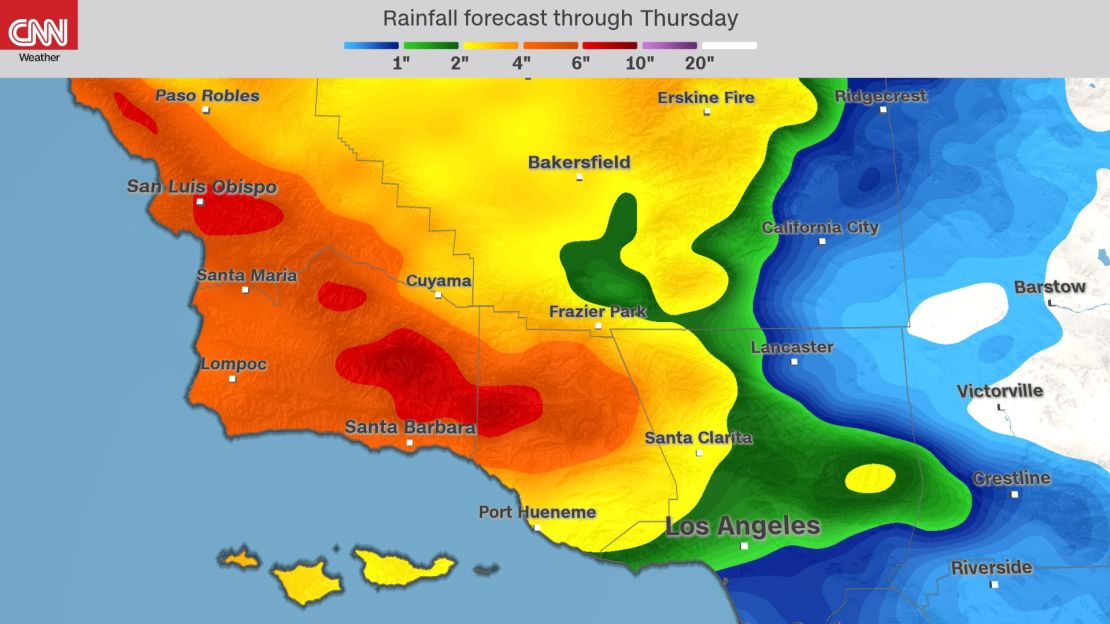 The National Weather Service predicts rainfall rates between half to three-quarters of an inch per hour, with rain totals of 5 to 10 inches in the foothills and mountains. This total is significantly more than during the January 9 debris flow, when there was 3 to 6 inches across the region.
The mandatory evacuation in Santa Barbara County was effective from noon Tuesday for burn areas near the Thomas, Sherpa and Whittier fires. Those located in the Alamo burn area are in a recommended evacuation warning area.
Mandatory and voluntary evacuations also took effect at noon Tuesday in Ventura County.
CNN's Paul Vercammen, Madison Park and Amir Vera contributed to this report.