Xi Jinping began his second term as China's president with a blunt warning for Taiwan, an island it views as a breakaway province.
"All acts and tricks to split the motherland are doomed to failure and will be condemned by the people and punished by history," Xi said Tuesday at the close of the National People's Congress, Beijing's rubber-stamp legislature.
"Every inch of our great motherland's territory cannot be separated from China," he said, drawing loud applause from his audience inside the Great Hall of the People.
The tough talk on Taiwan isn't new. But Xi now has the option to serve as president for life, meaning he can execute strategies that last decades rather than years.
That long leash could give Xi opportunity to focus on achieving something that's eluded Chinese Communist leaders for nearly seven decades since the founding of the People's Republic: regaining control of Taiwan.
"Taiwan is very important and he wants to do it within his lifetime," said Willy Lam, a professor at the Center for China Studies at the Chinese University in Hong Kong.
"If Xi Jinping can pull off this national reunification by so-called liberating Taiwan, then he has something in the history books," Lam said.
The democratic island of Taiwan (officially the Republic of China) is separated from mainland China (the People's Republic) by a thin stretch of water and has been self-governed since a bloody civil war ended in 1949.
Though both Taipei and Beijing view the island as part of China, neither government recognizes the legitimacy of the opposing side, with Beijing warning that it could retake the island by force if necessary.
A renewed focus by Xi on Taiwan would put China on a collision course with the United States, which has diplomatic relations only with Beijing but maintains close unofficial links with Taipei.
Washington also provides arms to the island under the Taiwan Relations Act, and has signaled closer ties with Taiwan after President Donald Trump signed a bill Friday that aims to make it easier for US officials to visit the island and Taiwan officials to visit the US.
Long-term goal
Zhang Baohui, a professor of political science at Lingnan University in Hong Kong said that Taiwan could be part of Xi's motive for removing restrictions on term limits but it's not an issue he's likely to move on in the near term.
"His most important priority is domestic politics. Externally, Taiwan is secondary compared to US-Sino relations, the Korean peninsula and boosting China's leadership role in the world."
For now, what he wants is to deter Taiwan from greater independence, Zhang said, but that calculation could change should the balance of power shift between the US and China.
"After 20 years, by 2040, if China's achieved military parity then it may be feasible if they could win at a low cost."
One of China's top military leaders, Han Weiguo, the commander of the Chinese military's ground forces, said last week that Taiwan should be reunited by peaceful means but warned: "That doesn't mean the problem could be postponed indefinitely. It should be solved as quickly as possible," Han said, according to the Hong Kong-based South China Morning Post.
Nationalist fervor
A pillar of Xi's leadership has been his promise of returning China to its former glory, before Western powers dealt the country a humiliating blow, starting in the Opium Wars of the 1800s, and the chaos that engulfed China throughout the early 20th Century.
Part of that promise is steeped in nationalism, and there's perhaps no other issue that whips up more nationalist fervor inside China than the issue of Taiwan.
Straying from the policy of "One China," which has governed relations between Beijing, Taipei and Washington for decades, can lead to serious consequences.
Companies like Marriott, Zara and Delta all had their websites blocked by China's censors in January after authorities found they listed Taiwan as a separate country.
The same sensitivity can be seen in Beijing's furious response to the Taiwan Travel Act, which Trump signed into law with little fanfare Friday.
The new law encourages US government officials of all levels to travel to Taiwan for official meetings and vice versa. While it has no binding legal force, it's symbolically supportive of Taiwan. Beijing has often called on the US to block visits by Taiwan's political leaders.
"China demands that the US keep its promises, rectify its wrongs, refrain from implementing relevant clauses of the bill and stop seeking any official contacts, military ties or arms sales with Taiwan, so as to avoid doing serious harm to the China-US relationship, the ties between the two countries' militaries and the peace and stability across the Taiwan Strait," Chinese Defense Ministry spokesman Wu Qian said Sunday.
Beijing fears developments in Taiwan that are out of its control, said Bonnie Glaser, the director of the China Power Project at Center for Strategic and International Studies in Washington.
"Beijing is worried about the potential for Taiwan to sort of drift off in a direction toward independence," Glaser said.
"They seem to be nervous that because, in part, President Trump is unpredictable, that this could lead to a surprise … they're particularly worried about very high level visitors from Taiwan such as the president, the minister of defense, the minister of foreign affairs," Glaser said.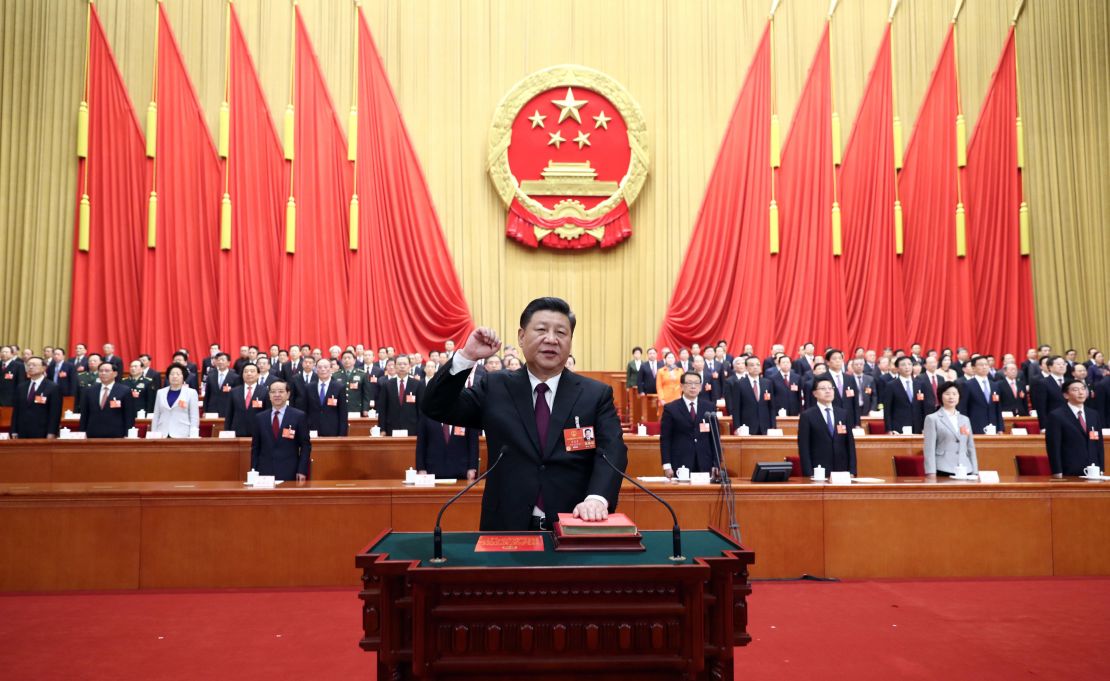 Carrots and sticks
Taiwan's President Tsai Ing-wen warned late last year that China's military exercises around the island had become more frequent and were affecting regional stability, according to Taiwan's state-run news agency CNA.
As of this year, Taiwan has 215,000 people in its armed forces, while Beijing counts more than two million, according to the International Institute for Strategic Studies. In 2017, China's military budget was three times higher than Taiwan's.
China's military has "established a clear superiority," said Zhang, the political science professor, however he said Taiwan could still make a military conflict very costly to Beijing.
"Xi has a defensive agenda. He doesn't want to coerce reunification," he said.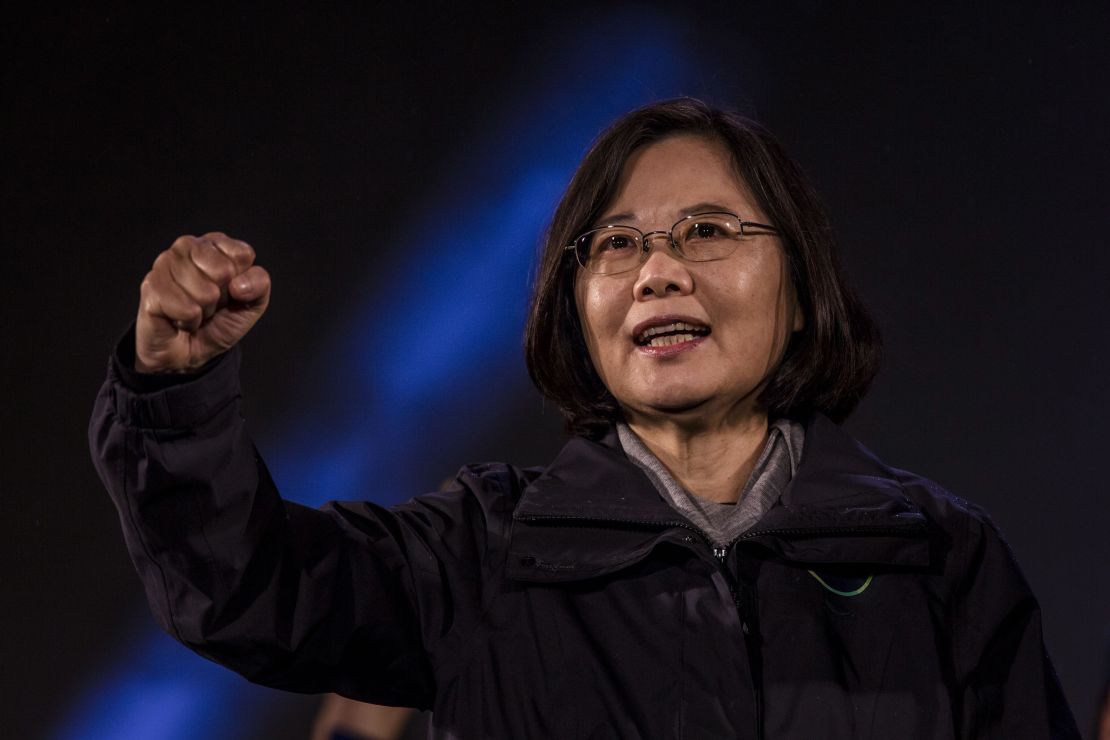 But experts say soft power and economic integration appear to be the keys to Xi's plans regarding Taiwan.
During his speech Tuesday, Xi called for peaceful reunification and said China would "share opportunities" with "compatriots" in Taiwan.
China's Taiwan Affairs Office in February revealed 31 new measures it will undertake to promote exchange and cooperate with Taipei, many of which make it easier for those from Taiwan to work, do business and study in mainland China including teachers and doctors.
This view is reflected on the streets of Taipei, Taiwan's largest city, where some young people speak openly about the need for pragmatism over idealism.
"As much as we want to enjoy the freedom and democracy in Taiwan, we also want the money and the opportunities China can provide," a 22-year-old restaurant worker surnamed Wu told CNN.
However, opinion polls conducted by Taiwan's Mainland Affairs Council show the vast majority of those in Taiwan favor maintaining the status quo and want China to "pragmatically face up to the fact that the Republic of China (ROC) is a sovereign state."
Others spoke of a brain drain, and many see the continued integration as inevitable due to Beijing's growing economic might.
"If the trends continue, the elected government in Taiwan will have to reconsider the direction of cross-strait policy," said Chong-Pin Lin, Taiwan's former deputy minister of national defense and first vice-chairman of the Mainland Affairs Council. "I think Beijing knows that very well."
"Soft power may eventually lead to what Beijing or Xi wants, which is integration and unification," said Lin.
A legacy risk
Analysts believe Xi is a man deeply aware of history and concerned with his legacy. He's already considered China's most powerful leader since Mao Zedong, Communist China's founding father, and has had his political doctrine included in the Chinese Communist Party's Constitution.
The longer he leads, the higher the expectations will be, argues Glaser, the academic at CSIS, and Taiwan would be the biggest prize.
"If Xi stays in power for another term or even a fourth term, then I do think that there is growing pressure on him to achieve more," she said.
CNN's Steven Jiang contributed from Beijing. Journalist Kwang-Yin Liu contributed to this report from Taipei.