Take a look at the week in politics from March 11 through March 17.
Secretary of State Rex Tillerson waves goodbye after delivering his farewell remarks at the State Department Tuesday following President Donald Trump's announcement of Tillerson's ouster. Tillerson thanked the American people and agency staff in his statement but did not mention the President. Trump said he would nominate CIA director Mike Pompeo to lead the agency ahead of a potential high-stakes meeting between the President and North Korean leader Kim Jong Un.
President Donald Trump views border wall prototypes near the US-Mexico border Tuesday in San Diego, California, his first visit to the state since taking office. Speaking to reporters, Trump touted his border plan, saying if there is no wall, "you wouldn't even have a country." Trump also criticized Gov. Jerry Brown for doing "a very poor job running California," slamming the Democrat over immigration and tax policy.
Democrat Conor Lamb speaks to supporters in Canonsburg, Pennsylvania, after declaring victory in the 18th District House special election early Wednesday morning. "It took a little longer than we thought, but we did it," Lamb said. "You did it." President Donald Trump handily won the district by 20 percentage points in 2016
Students protest on Capitol Hill Wednesday, urging lawmakers to take action in ending gun violence. Thousands of students across the US walked out of class to demand stricter gun laws following last month's shooting at Marjory Stoneman Douglas High School in Parkland, Florida, that killed 17 people.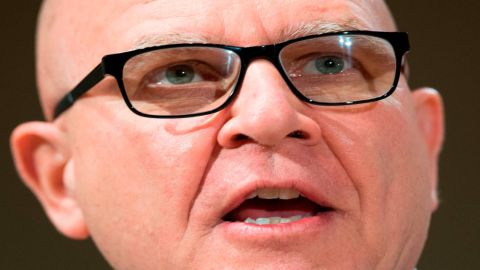 White House national security adviser H.R. McMaster delivers a speech during a discussion on Syria Thursday. Multiple sources tell CNN that President Trump is ready to oust McMaster and find a new adviser ahead of a potential North Korea meeting in May. The White House has pushed back on reports that McMaster may be heading out, saying the President has a "good working relationship" with him.
Donald Trump Jr. campaigns with Republican Pennsylvania special election candidate Rick Saccone on Monday. On Thursday, Trump Jr. and his wife, Vanessa, announced they were separating after 12 years of marriage. "We will always have tremendous respect for each other and our families," they said in a statement.
New York Gov. Andrew Cuomo participates in a one-minute "die-in" with students in New York City on Wednesday as part of National Student Walkout Day. Thousands of students across the United States walked out of class to demand stricter gun laws in a historic show of political solidarity that was part tribute and part protest.
Speaker of the House of Representatives Paul Ryan toasts with a pint of Guinness at the annual Friends of Ireland luncheon at the US Capitol on Thursday. Irish Prime Minister Leo Varadkar was in attendance and met with President Trump prior to the even.
Marines take photos on their phones as Donald Trump arrives to speak to service members Tuesday at Miramar Marine Corps Air Station in San Diego, California – his first visit to California as president. During remarks at the base, in an attempt to tout his plan to send astronauts back to the moon and eventually Mars, Trump slammed his 2016 opponent Hillary Clinton. "You wouldn't be going to Mars if my opponent won," Trump said. "You wouldn't even be thinking about it."
Interior Secretary Ryan Zinke testifies before the Senate Energy and Natural Resources Committee on Wednesday. Zinke faced backlash this week for responding "konnichiwa" to a congresswoman's story about her grandfathers' detention in internment camps for Japanese-Americans during World War II during a hearing on Thursday. The interior secretary also continued to deal with scrutiny over the $139,000 bill for replacing six historical doors in his office. He said that price has been nearly cut in half.
House Majority Whip Steve Scalise, himself a survivor of gun violence, participates in a news conference following the House passage of a bill Wednesday to fund more security at schools. While the bill had bipartisan support, many Democrats were frustrated that it doesn't include any gun control measures.
President Donald Trump poses for photographs as Houston Astros' Josh Reddick presents him with a jersey during a ceremony Monday celebraing the team's World Series win.
7,000 pairs of shoes, representing the children killed by gun violence since the Sandy Hook shooting 2012, are spread out on the lawn in front of the US Capitol Tuesday. Organizers say shoes were donated from across the country and some came from those who lost loved ones to gun violence, such as Tom Mauser, who lost his son in the Columbine school shooting and traveled from Colorado to hand deliver his son's shoes for the display.
President Donald Trump arrives back to the White House following a trip to St. Louis, Missouri, for a fundraiser fpr Republican Senate candidate Josh Hawley Wednesday evening. In his speech at the event, Trump said he made up trade claims during a meeting with Canadian Prime Minister Justin Trudeau before knowing whether they were true.