(CNN) —
President Donald Trump signaled on Tuesday he's prepared to dismiss aides with whom he's clashed – including national security adviser H.R. McMaster – as he works to surround himself with advisers more aligned with his populist agenda and freewheeling style.
Inside the West Wing, McMaster appeared poised to soon depart following months of speculation about his standing, people familiar with the matter said.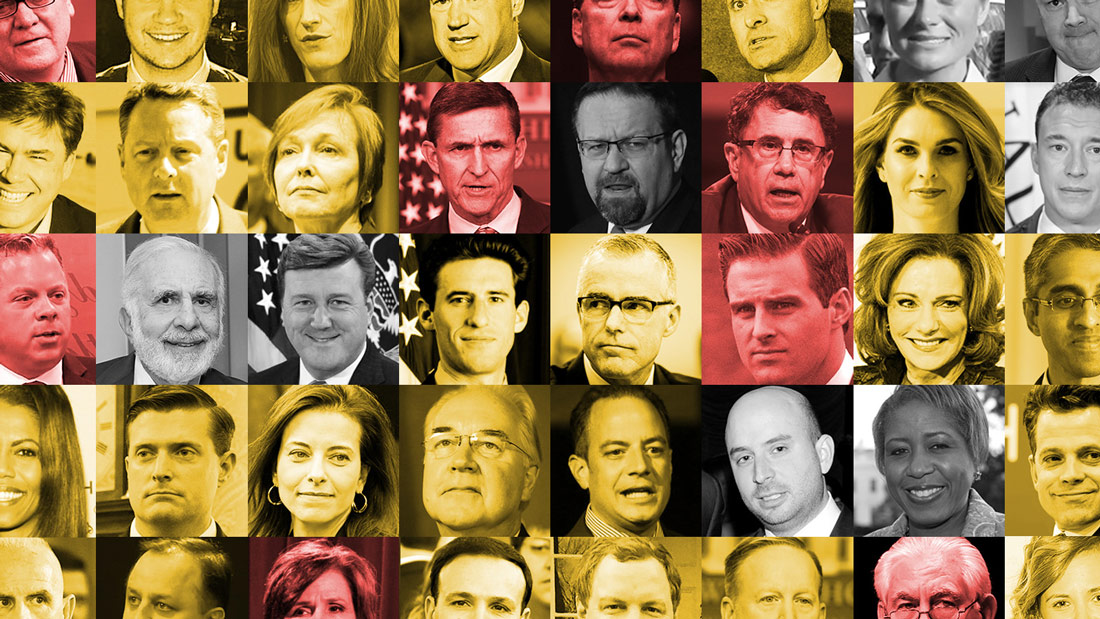 The shakeups come as Trump enters the second year of his presidency buoyed by economic successes but weighed down by external distractions like the Russia investigation and ethics blunders by members of his Cabinet.
Outside advisers to the President have also felt out potential candidates to replace chief of staff John Kelly, a person who has been approached about the position tells CNN. Kelly's departure is seen as less imminent than McMaster's, and Trump publicly praised his chief of staff on stage in California on Tuesday.
Trump has grown irritated with his embattled Veterans Affairs Secretary David Shulkin and is now making plans to remove him from his post, two sources familiar with the move told CNN. He's eyed Energy Secretary Rick Perry as a possible replacement, a person familiar with the matter said.
Earlier, Trump told reporters at the White House he was nearing his staffing ideal.
"I'm really at a point where we're getting very close to having the Cabinet and other things that I want," Trump told reporters on the South Lawn on Tuesday, moments after announcing he was ousting Secretary of State Rex Tillerson.
A senior administration official said a further shake-up of senior staff could happen as soon as this week. Other officials suggested a longer timeline, saying Trump could execute changes over the course of the next two months.
The White House didn't respond on Tuesday when asked about McMaster's standing, and last week press secretary Sarah Sanders said only that "the President's national security adviser is General McMaster."
"He's a valued member of the President's team and an important part of this process," Sanders said on Friday.
Time is running short
Inside the White House, speculation has mounted that McMaster's time is running short. But the timing of any potential departures has been tightly held, leading to a sense that Trump could tweet at any moment – without forewarning – to make personnel changes.
A spokesman for the National Security Council did not immediately respond to a request for comment.
Aides highlighted Trump's mention on Tuesday of Tillerson's opposition to scrapping the Iran nuclear deal, a position he shared with McMaster. McMaster helped develop the plan unveiled last year that punted the Iran deal to Congress. Like Tillerson, he has been opposed to withdrawing the US from the plan, but has pressured European allies to make changes to the agreement brokered during the Obama administration.
Current candidates under consideration to replace McMaster include Bolton, the former US ambassador to the United Nations under President George W. Bush; Oracle executive Safra Catz; National Security Agency Director Admiral Mike Rogers; and Stephen Biegun, a vice president at Ford Motors and a former senior staff member in the George W. Bush administration.
Bolton has met personally with the President several times, including during an Oval Office meeting last week. He has maintained his heavy presence on Fox News over the past week, including over the weekend and last night, praising Trump's decision on North Korea and even encouraging a speedier timeline for talks with Kim Jong Un.
Kelly watch
Meanwhile, some allies of the President have begun identifying potential replacements for Kelly, whose strict management style has clashed with Trump's more freewheeling preferences. It's not clear, however, that Trump himself has held formal conversations with possible chief of staff candidates.
Officials said there is no solid sense of how long Kelly will last in the West Wing, where he's brushed up against members of Trump's family, including Jared Kushner and Ivanka Trump. Kelly traveled with Trump on Tuesday to California, and was by the President's side for most of the day as he toured prototypes for a border wall.