President Donald Trump frequently scorches the last three presidents for leaving him a nightmare scenario on North Korea: the threat that the isolated state could soon deliver a nuclear weapon directly to the US mainland.
But as a thaw takes hold ahead of the first North Korea-South Korea summit in a decade, Trump could be about to be dragged down the same frustrating, illusory and inconclusive diplomatic path as his predecessors.
As North Korean leader Kim Jong Un skillfully maneuvers to split Washington and Seoul, and plays out an intricate strategic dance that could draw in crucial powers Russia and China, Trump has little option but to watch.
To do anything else would splinter the US-South Korean alliance – which will be crucial to solving the nuclear crisis – and could fracture global pressure on Pyongyang and put the US on a glide path toward a horrendous war.
But by allowing the diplomacy to unfold, Trump risks being played in the same old game of North Korean brinkmanship and provocations followed by offers of dialogue and trawls for concessions that have tripped up past presidents.
"This should have been handled over many years by many different administrations – not now. This was not the right time to handle it," Trump said. "But these are the cards we were dealt. We're handling it properly."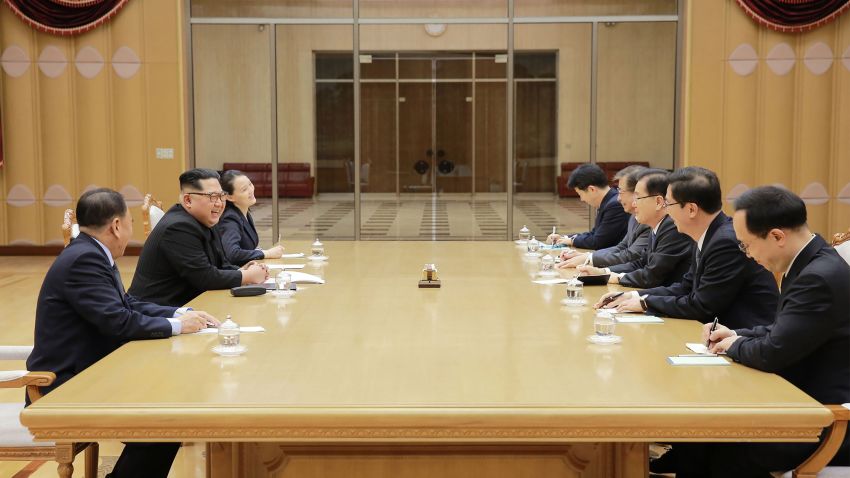 Trump: We'll see what happens with North Korea
History repeats?
The President is keenly aware of the challenge he faces, and the risk that he, for all his bluster and warnings that this time it will be different, could fall into a familiar trap.
"I think that their statement and the statements coming out of South Korea and North Korea have been very positive," Trump said Tuesday, after Pyongyang conveyed a message through the South that it was ready to talk about denuclearization, the key US demand.
Trump also said the sanctions his administration had put in place in conjunction with China had been "very, very strong and very biting," but offered an unusually hopeful assessment of the North Korean attitude.
"I think that they are sincere. … I hope they're sincere. We're going to soon find out," he said.
Trump's circumspection contrasted with his inflammatory rhetoric threatening "fire and fury" over North Korea and demeaning putdowns of Kim as "Little Rocket Man," which put the world on edge last year.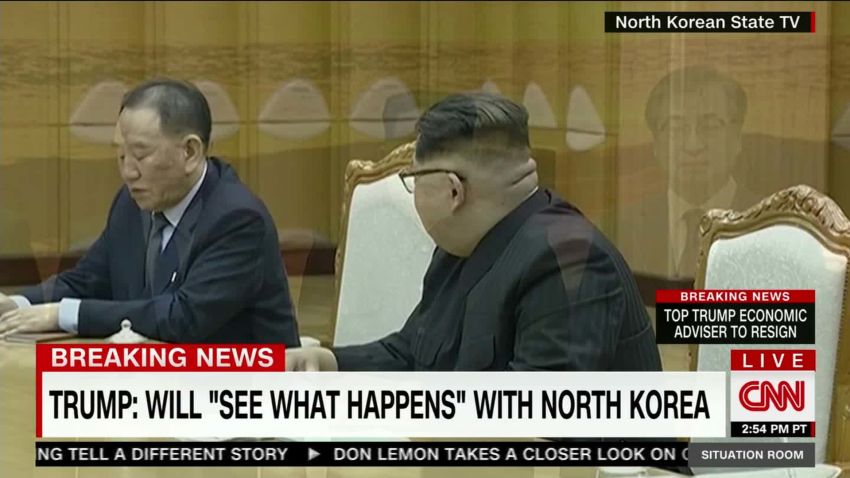 North Korea: Kim's Offers
US sanctions North Korea after blaming country for Kim Jong Nam's killing
Shifting gears
His approach Tuesday was nuanced and tempered, clearly calibrated to send messages to North and South Korea and China in particular. He welcomed the recent opening and apparent North Korean shifts, while registering appropriate skepticism, but was careful to avoid killing off all hope.
His rhetoric was also noticeably lacking in the brash triumphalism and grasping for credit that are a familiar part of his political style – after all the White House could justifiably argue that its policy of imposing the most rigorous sanctions in history on North Korea, along with more buy-in from China than ever before, has directly led to the diplomatic breakthrough.
His critics hope that even Trump, no respecter of presidential convention or protocol, is starting to be sobered by the awful prospect of a war on the Korean Peninsula that could mean death for hundreds of thousands of civilians and thousands of US troops and would send a shock wave through the world's geopolitical system.
Does N. Korea have secret strategy behind new pledges?
Opinion: What should Kim trust more: his nuclear weapons or Trump?
What does Trump want?
While the President was conciliatory, senior US officials worked behind the scenes to convey that there had been no moderation of the hardline US position.
A senior official told reporters that the US wants "credible moves" toward denuclearization from North Korea before agreeing to direct talks. The official also said that planned joint military exercises between the US and South Korea would go ahead.
The comment on the North's nuclear program was in effect a response to a message conveyed by Seoul's national security chief, Chung Eui-yong, after talks with Kim that Pyongyang was willing to talk to the US about giving up its nuclear weapons.
The White House strategy appears to be an attempt to give South Korean President Moon Jae-in space to work his initiative, But if he fails, US deference and encouragement at the outset could spare the Trump administration from being blamed, and so preserve the loose international coalition against the North.
Chaos theory pioneer: Trump is actually hyperchaos
Skepticism in DC
It's no surprise that skepticism is high in Washington over the offer. After all, the North agreed in 1994 and 2005 to give up its nuclear arsenal and cheated on the agreement both times.
"Maybe this is a breakthrough. I seriously doubt it," Director of National Intelligence Dan Coats said. "But like I said, hope springs eternal."
Robert Gallucci, who negotiated President Bill Clinton's 1994 Agreed Framework deal with North Korea, warned that Pyongyang's word had proved to be worth little in the past.
"We made a deal with the North and they gave up the program. They then pursued secretly a program using highly enriched uranium with the Pakistanis," he told CNN.
Christopher Hill, a former US North Korea negotiator who also served as ambassador to Seoul, was also loath to proclaim a breakthrough but said the opening was worth pursuing.
"I never combine optimism and North Korea in the same thought," Hill told CNN International's Robyn Curnow on Tuesday. "I think we also need to avoid … irrational exuberance but I think we also need to avoid sounding negative and churlish about it."
Pessimism in Washington is rooted in suspicions that the North is simply playing for time, may be seeking some relief from sanctions without offering real concessions and is maneuvering to weaken Chinese resolve.
Its offer to halt nuclear and missile tests during the talks could simply signal that its program has advanced to such a stage that no current testing flights are necessary or planned. US experts are also waiting to see whether Pyongyang proposes steps that Washington has already ruled out, such as withdrawing US troops from the Korean Peninsula.
Empty seats at US table
The accelerating pace of the diplomacy between North and South Korea also risks catching Washington off-guard because it hardly has a crack team of negotiators steeped in Pyongyang's strategy at the ready.
The administration has failed to appoint an ambassador to one of its most crucial posts – the embassy in Seoul – despite being in office for over a year.
One candidate for the post, Victor Cha, was told by the White House that he didn't make the cut. In a subsequent Washington Post opinion piece, he expressed opposition to a reported White House study on the feasibility of a limited US military strike on North Korea.
Last week, the administration's North Korea negotiator, Joseph Yun, announced his retirement. The bench is thin in an administration that has often seemed to spurn the intricacies of diplomacy. The staffing shortages dampen any talk that shrewd US diplomatic strategy brought about the Korean thaw, though Secretary of State Rex Tillerson has tried to keep the door for dialogue open, despite being told last year by Trump that he was wasting his time.
As Trump risks falling into a familiar pattern when it comes to US presidents and North Korea, he is also going to come up against an equation that has confronted his predecessors, who concluded that the consequences of a war on the Korean Peninsula would be so horrific that even imperfect diplomacy turns into a default position.
"Dialogue is a good thing and any way to defuse tensions or miscommunication or miscalculation by the US or South Korea or North Korea are good things," Jung H. Pak a former CIA analyst who's now at the Brookings Institution, said on CNN's "Amanpour."
"But I think we are all clear that we want to go into this with wide eyes."