We heard two things from President Donald Trump on Tuesday that contradict each other but go a long way toward explaining the current state of affairs at the White House.
All of the evidence proves true workplace chaos working for the President. The leaks, the jockeying, the nationalist and more moderate camps, the many staff departures and firings. It has been described more as "hyperchaos" – and it's without precedent.
But to Trump, that's not chaos. It's conflict. And it's a good thing.
The first thing he said – on Twitter – was that there is no chaos at the White House, but rather "great energy."
"The new Fake News narrative is that there is CHAOS in the White House. Wrong! People will always come & go, and I want strong dialogue before making a final decision. I still have some people that I want to change (always seeking perfection). There is no Chaos, only great Energy!
That tweet, though we didn't know it at the time, also teed up what we later learned would be the ouster of his top economic adviser, Gary Cohn, who resigned after a dispute over tariffs the President wants to impose on steel and aluminum imports.
Cohn was a real survivor in White House terms. A relative moderate and friend of Wall Street, he is a Trump administration original and had stayed on despite frustration about the President's defense of white nationalists after the Charlottesville protests to get important economic things like tax reform done.
The writing was on the wall that he was on his way out Tuesday when Cohn did not appear in his assigned seat during a bilateral news conference between Trump and the Swedish Prime Minister.
Trump was asked about his promised staff changes and that led to the second, contradictory thing he said.
"Many, many people want every single job. You know, I read where, 'Oh, gee, maybe people don't want to work for Trump." And believe me, everybody wants to work in the White House. They all want a piece of that Oval Office; they want a piece of the West Wing. And not only in terms of it looks great on their résumé; it's just a great place to work.
"It's got tremendous energy. It's tough. I like conflict. I like having two people with different points of view, and I certainly have that. And then I make a decision. But I like watching it, I like seeing it, and I think it's the best way to go. I like different points of view."
So, on the one hand, there is no chaos. On the other hand, he likes to watch conflict unfold before him. What the President doesn't seem to realize is that from the outside looking in, the conflict is the chaos.
That's because the conflict does not manifest itself as a friendly but passionate dispute over real policy differences – like, say, tariffs.
And the conflict is visible to the outside world. CNN has reported that Trump has been complicit in encouraging his former communications director, Anthony Scaramucci, to publicly badmouth his current chief of staff, John Kelly, on cable TV.
Similarly, the New York Times has reported that he's encouraged Kelly to marginalize his daughter, Ivanka, and son-in-law, Jared.
If it is true that Trump is simultaneously complicit in the discord between Scaramucci and Kelly on the one hand and orchestrating Kelly's marginalization of his kids on the other, it suggests almost diabolical puppetmastering of an incredible degree. It's hard to argue that it suggests there is great energy.
And none of this would seem to be new at the White House.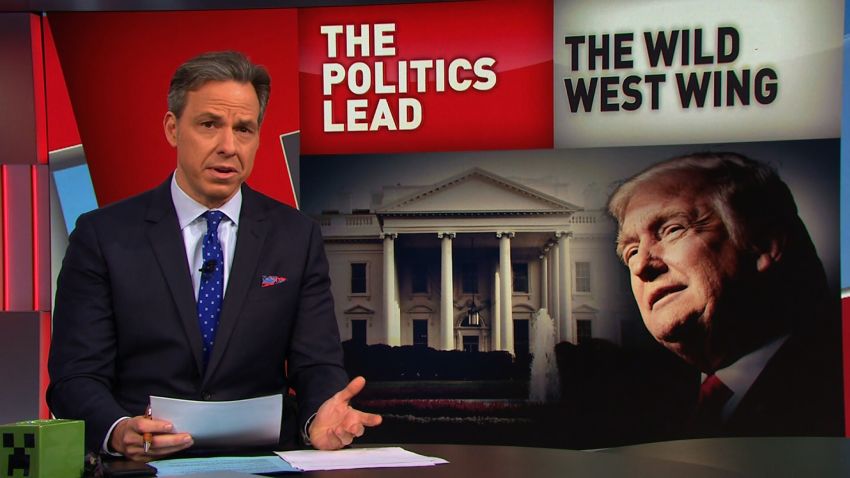 Tapper: What's a crazy day at WH? Wednesday
Reince Priebus, Trump's first White House chief of staff, recounted his experiences for a forthcoming book about chiefs of staff by Chris Whipple.
"Take everything you've heard and multiply it by 50," Priebus said about the internal conflict, according to CNN's report on the book.
"(Trump) doesn't mind the craziness, the drama, or the difficulty, as long as an end goal is in sight. He will endure it," Priebus said.
Everyone else will have to endure it too.