Story highlights
TripAdvisor releases its list of 10 most-booked tours and activities
The list includes a skip-the-line tour of the Vatican and a cruise on the Chicago River
CNN —
No vacation is complete without some sightseeing. It gives you a good scope about the place you're visiting, teaches you more about the culture and history of the region, and is a surefire way to a have an unforgettable experience.
If you're mulling what vacation or sightseeing adventure to embark on next, we have some good news for you. TripAdvisor recently released its list of 10 most-booked attractions around the world. The list includes a skip-the-line tour of the Eiffel Tower and an architecture-focused boat cruise on the Chicago River.
The winners were based on how often the sightseeing adventure was booked on TripAdvisor in 2017. While historical and heritage experiences saw the most growth overall in the year (a 125% increase in bookings), cultural experiences like cooking classes and food tours also did well, each with a 57% growth over the previous year. Other top genres included aquatic activities like sunset cruises and snorkeling, as well as skip-the-line experiences, which helped travelers save time and money.
Ahead, we've listed TripAdvisor's top 10 experiences from global travelers from 2017, with the links to book these adventures for yourself. Your vacation will thank you.
Note: Prices below reflect the listed retailer's price at time of publication.
10. Tuscany in One Day Sightseeing Tour (starting at $113.64; tripadvisor.com)
TripAdvisor
Sightseeing highlights: "Well-suited for time-limited travelers, this Florence day trip lets you conquer Tuscany's must-see sights in a day. Snap photos in front of the UNESCO World Heritage-listed Leaning Tower of Pisa (skip-the-line entry available as an upgrade); taste wine in the Chianti region; and explore medieval San Gimignano. Plus, you'll travel between each place with ease and relax knowing the entire day is planned in advance."
9. Murano, Burano, and Torcello Half-Day Sightseeing Tour (prices vary; tripadvisor.com)
TripAdvisor
Sightseeing highlights: "Visit Torcello, Murano and Burano — three islands in the Venetian Lagoon — on this tour from Venice by motorboat. With a guide, you'll watch glass being blown at a Murano glass factory, see historical cathedrals on Torcello and admire exquisite handmade lace on Burano. This is a great way to see more than just the central sights of Venice and enjoy a cruise on the water."
8. Empire State Building (starting at $30; tripadvisor.com)
TripAdvisor
Sightseeing highlights: "Get an unparalleled 360-degree view of New York City from the top of the iconic Empire State Building. See popular landmarks such as Central Park, the Chrysler Building, the Statue of Liberty, and Times Square. In addition to the two indoor/outdoor observation decks, enjoy access to the Dare to Dream exhibit, the new Sustainability exhibit, and an informative new multimedia app available for download."
7. Warner Bros. Studio Tour London: The Making of Harry Potter (starting at $101.04; tripadvisor.com)
TripAdvisor
Sightseeing highlights: "Immerse yourself in the spellbinding world of Harry Potter™ on this 6-hour trip to the Warner Bros. Studio Tour London. Travel to the fabled Harry Potter studios by air-conditioned coach from central London, and on arrival, trace the footsteps of Hogwarts' student wizards at leisure. Behold original sets such as Platform 9 ¾ and Diagon Alley; see the Hogwarts Express steam train; ride a broomstick like the cast; and uncover the behind-the-scenes secrets of the movies' on-screen wizardry."
6. Eiffel Tower Summit Priority Access with Host (starting at $72.90; tripadvisor.com)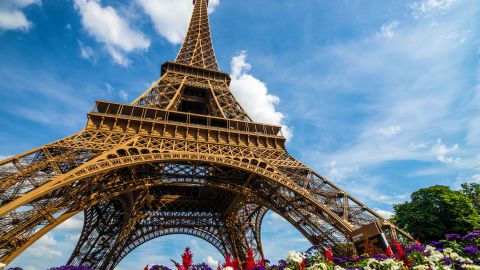 TripAdvisor
Sightseeing highlights: "Bypass the long lines at the Eiffel Tower with this 1-hour tour accompanied by a host, including summit access. After fast track, skip-the-line access, proceed to the second level to survey the city from the viewing platforms while listening to commentary about Paris culture, traditions, and history. Then, proceed to the summit to see Gustave Eiffel's private apartments and sip Champagne from the onsite bar."
5. Basilica of the Sagrada Familia Tour, Barcelona (starting at $44.14; tripadvisor.com)
TripAdvisor
Sightseeing highlights: "Exploring La Sagrada Familia without a guide means you may miss out on the UNESCO World Heritage Site's hidden details and secret symbols. Make the most of Antoni Gaudí's masterpiece and beat lines often in excess of three hours on a skip-the-line tour. A choice of entry times allows you to be flexible with your vacation schedule: Opt for the earliest time slot for a less-crowded experience at the Barcelona icon."
4. Rome Hop-On, Hop-Off Sightseeing Tour (starting at $32.50; tripadvisor.com)
TripAdvisor
Sightseeing highlights: "See Rome's highlights in an efficient, flexible way on a hop-on hop-off bus tour. Choose a 24- or 48-hour ticket to suit your schedule, then step aboard at one of the eight stops and enjoy unobstructed views from the open-top upper deck. Sights include the Trevi Fountain, the Colosseum, and Vatican City, among others. Upgrade to include admission to attractions such as the Sistine Chapel, the Vatican Museums, the Roman Forum, and the Colosseum."
3. Skip the Line: Ancient Rome and Colosseum Half-Day Walking Tour (starting at $140.84; tripadvisor.com)
TripAdvisor
Sightseeing highlights: "Visit Rome's historical headliners on this full-day priority tour that combines skip-the-line entrance to the Vatican Museums with skip-the-line entry to the Colosseum. Led by a knowledgeable guide, you'll enter the Vatican Museums via an exclusive reserved door to explore its renowned collection of art masterpieces, including Michelangelo's ceiling fresco in the Sistine Chapel. Then visit St. Peter's Basilica before spending the afternoon at the Colosseum and Roman Forum, where you'll learn about the fascinating ruins of Ancient Rome. You'll have free time between the two tours to buy lunch."
2. Chicago Architecture River Cruise (starting at $43.68; tripadvisor.com)
TripAdvisor
Sightseeing highlights: "Get views of Chicago's most famous buildings, as well as insider info from an expert guide, on this 75-minute, architecture-focused cruise. You'll see all the most important buildings on one tour, a hard-to-accomplish task by foot. View the skyline from the Chicago River while listening to live commentary. Snap photos of the Willis Tower (formerly the Sears Tower), old post office, John Hancock tower, Wrigley Building, Aon Center, and others."
1. Skip-the-Line Vatican Museums, Sistine Chapel, St. Peter's Basilica and Colosseum Walking Tour ($140.84; tripadvisor.com)
TripAdvisor
Sightseeing highlights: "Visit Rome's historical headliners on this full-day priority tour that combines skip-the-line entrance to the Vatican Museums with skip-the-line entry to the Colosseum. Led by a knowledgeable guide, you'll enter the Vatican Museums via an exclusive reserved door to explore its renowned collection of art masterpieces, including Michelangelo's ceiling fresco in the Sistine Chapel. Then visit St. Peter's Basilica before spending the afternoon at the Colosseum and Roman Forum, where you'll learn about the fascinating ruins of Ancient Rome."