Story highlights
Amazon Launchpad has helped 1,000 startups sell their goods to shoppers around the globe.
Launchpad has also backed a number of health companies, including Quell and QardioArm.
CNN —
Back in 2015, Amazon introduced Amazon Launchpad, a program that showcased noteworthy startups and their products on the site. Launchpad would help up-and-coming companies with their order fulfillment and customer service, and all the products that were backed by Amazon would be available to shop on a dedicated portion of the site.
In about two years, Launchpad has helped 1,000 startups sell their goods to shoppers around the globe. It divides up their offerings into genres such as body, food, toys, gadgets and home. What's great about shopping on Launchpad is that you can get your hands on some of the coolest up-and-coming products while still shopping within Amazon.
Some of our favorite finds on Amazon Launchpad are in the health space. There's a slew of new fitness tracker offerings that can rival some of the more established brands, as well as smarter ways to track your sleep, check your blood pressure and even see your EKG.
To give you a taste of Amazon Launchpad's healthy startups, we've rounded up nine products you might want to put on your radar.
Note: The prices below reflect the listed retailer's price on the date this article was published.
AliveCor Kardia Mobile ECG for Apple and Android Devices ($99; amazon.com)
Amazon
For those with heart rhythm abnormalities, getting accurate and immediate electrocardiogram data to share with their doctors and other health care professionals is essential. AliveCor wanted to simplify that process and make it available to everyone. Its device, the Kardia Mobile ECG, is an FDA-cleared mobile EKG monitor that the company says is used by leading cardiac professionals. Once it's correctly attached to your Apple or Android device, you place your fingers on the sensors. In about 30 seconds, Kardia records an EKG that you can quickly send to your doctor. An additional setting allows you to record memos detailing your symptoms or any notes you want to share with your doc.
Hatch Baby Rest Night Light Sound Machine ($59.99; amazon.com)
Amazon
The benefits of a solid night's rest are unparalleled. But for children, sometimes that's easier said than done. That's where Hatch comes in. Its Baby Rest Night Light Sound Machine is a customizable and programmable light and sound machine. It works for a variety of age groups, from newborns who need a little more encouragement to go back to sleep to toddlers who might need a comforting night light in order to snooze. The device is controlled remotely from your phone or other smart device. There, you can set the sleep environment for your child by controlling the color and brightness of the lights and volume of the sounds, and also program a bedtime notification with colors and music. This product, rated 4.4 stars, could make nap time fun.
Kinsa Smart Stick Digital Thermometer ($14.99; amazon.com) and Kinsa Digital Smart Ear Thermometer ($39.97; amazon.com)
Amazon
Nobody likes being sick, but it is often unavoidable. Thankfully, smart tech is here to make the common cold a little easier to bear. Kinsa has created two smart thermometers designed to take accurate readings very quickly. The FDA-approved devices sync up to your smartphone or tablet via Bluetooth and allow you to get real-time information about the progression of your fever, as well as personalized suggestions on when to take medication or call your physician. Both devices (but especially the ear thermometer) are ideal for young children who might be fussy when sick. Since the device can read temperature incredibly fast (one second, to be exact), it will make the process easier for parents – one reason Kinsa is a winner of the 2016 Best of Baby Tech Awards from parenting site The Bump.
Quell Wearable Pain Relief Starter Kit ($222.57, originally $249; amazon.com)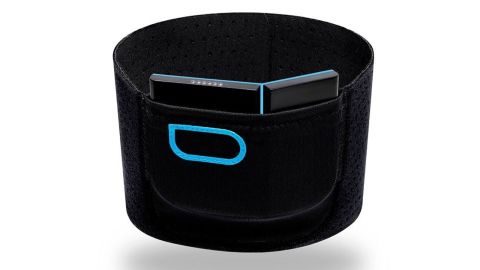 Amazon
Pain relief has become increasingly drug-free, thanks to the emergence of new technology like Quell. The company's wearable pain relief starter kit is an FDA-approved device that taps into your body's natural pain relief response to help those with arthritis, nerve, or leg and foot pain. Quell is worn just above your knee and uses intensive nerve stimulation to block pain signals. Its signature OptiTherapy technology can then adjust the amount you're receiving to help make sure you're getting the most pain relief possible. Like most smart technology, the device can sync up to your tablet or smartphone via an integrated app as well as through Bluetooth technology. There you can monitor your therapy sessions, adjust the intensity, and see trends in your pain relief over time, as well as track your sleep.
QardioArm Wireless Blood Pressure Monitor ($81.13, originally $99.99; amazon.com)
Amazon
Another FDA-cleared product that's made it to the Amazon Launchpad list is the QardioArm Wireless Blood Pressure Monitor, which helps measure your systolic and diastolic blood pressure as well as your heart rate and any irregular heartbeats. This tracker connects to the Qardio app, which helps keep your readings organized as well as picking up any trends that might appear. And if you need to share your data with a health care professional or family member, you can do so seamlessly with a touch of a button.
SunSprite Wearable Light Tracker ($99.99; amazon.com)
Amazon
There are plenty of trackers out there that can give you real-time updates on your fitness goals, but what about your Vitamin D goals? That's where SunSprite comes in. The tracker claims to be the first UV and bright light tracker that can let you know how much healthy sunlight you're receiving, while also warning you if you're exposed to harmful UV rays. It's a great motivator to get you outside more often during the day. This is especially important as studies have shown that soaking up rays can lead to better moods (thanks to an increase in serotonin). Simply clip the device onto your clothing and it will start sending data to your iOs or Android device. And true to its name, the SunSprite is solely powered by, well, the sun.
Solemates Blister Blocker ($13.99; amazon.com)

Amazon
Granted, this isn't a smart device like the bulk of our list, but a Blister Blocker is just as useful. The Blister Blocker is a natural, hypoallergenic preventive balm you apply to the most vulnerable parts of your feet to help spare them from blisters or cuts caused by new footwear. It becomes a real lifesaver when you sport a brand new pair of sneakers or pumps that will rub up against your heels. Simply put a small layer of the balm onto your problem areas to help protect against unwanted friction between your skin and your shoes. The compact tube makes application a breeze if you're on the move. Saving your skin from bleeding and blistering sounds like a win to us.
Deep Recovery Neck Therapy Tool ($36.95, originally $55.95; amazon.com)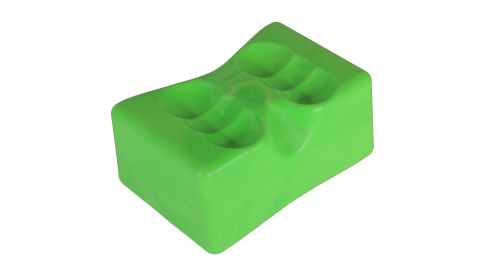 Amazon
Sitting all day at a desk job can be a pain in the neck – literally.. And figuring out the right way to get rid of the kinks is complicated; we all need different amounts of pressure in different places to get pain relief. So the logical solution is a massage tool that's customizable to your current situation. Enter Deep Recovery's Neck Therapy Tool, which aims to help relieve discomfort in your neck the same way a physical therapist would. The tool has slots for different types of balls, like tennis or lacrosse, to target different areas of the neck and jaw. The track itself is also designed to protect your vertebrae so your spine doesn't touch the foam. The idea is that by customizing the firmness of the balls, you can target your problem areas more effectively than just using a single foam roller to release tension.
SAPO Organic Bamboo Charcoal Soap Bar ($12.99, originally $25; amazon.com)
Amazon
If you have sensitive skin or suffer from acne, psoriasis or eczema, you'll want to make sure your products are full of skin-loving ingredients that are gentle on your face and body. This USDA-certified organic soap bar was designed to help remove toxins and leave your skin feeling completely refreshed. The soap utilizes activated bamboo charcoal, which Birchbox notes is known for its absorption properties that draw out bacteria and toxins from the skin's surface. Other soothing, all-natural ingredients in the bar include shea butter, olive oil, coconut oil and oatmeal powder. SAPO's Launchpad-backed product has received 4.5 stars out of 5 from Amazon customers, with many of them saying it has helped soothe their acne along with other skin issues.
Of course, for any serious skin condition, you'll want to speak to your doctor or medical professional before changing up your routine.