At least six people have been killed in a ferocious storm that hammered the Northeast with powerful winds, relentless rain and historic flooding.
The nor'easter moved out to sea Saturday, but not before it knocked out power to more than 900,000 customers from the mid-Atlantic to New England.
"People in these homes need to plan for a prolonged outage," Kurt Schwartz, director of the Massachusetts Emergency Management Agency, said Friday night. "This is a multi-day restoration event."
By late Saturday the number of customers without electricity had been reduced to around 607,000, with more than 250,000 of those in Massachusetts.
The flooding is "the worst that we've seen in years," said Capt. John Dougan of the Quincy, Massachusetts Police Department, which had carried out more than 250 rescues between 8 a.m. Friday and midmorning Saturday. "We're seeing homes underwater, their basements were flooded out, the electricity was off."
The National Weather Service said "gusty winds and coastal flooding" would diminish as the storm pulled away from the Atlantic coast but emergency officials urged residents on higher ground to stay indoors, even after the storm pushed out.
About 92% of customers in Scituate, Massachusetts – home to an estimated 18,000 residents, according to the US Census Bureau – were without electricity Saturday afternoon, according to James Boudreau, the town's administrator. He said then that it would be 72 hours before power was fully restored.
Nearly 15 million people were still under a coastal flooding warning Saturday afternoon.
The storm morphed Friday into a "bomb cyclone" after undergoing a rapid pressure drop known as bombogenesis. It slammed much of the Northeast with heavy snow and rain, prompting significant coastal flooding and hurricane-force gusts in New England.
Winds along parts of the Massachusetts coast that whipped in excess of 90 miles per hour are due to ease Saturday, CNN forecasters said.
The storm also dumped heavy snow from Ohio to New England and into upstate New York, where more than 3 feet was recorded.
Weak phone connection? Click here to read text-only versions of CNN's top stories.
Latest developments
• Power outages: More than 607,000 customers from Virginia to Massachusetts were still without power late Saturday
• Coastal flooding: Shoreline communities saw another round of "moderate to major" flooding Saturday afternoon during high tide, with the Massachusetts Emergency Management Agency forecasting storm surge from 2.5 to 4 feet along the coast.
• Aftermath response: The governors of Maryland, Virginia and Massachusetts issued emergency declarations, allowing state and local agencies to help those affected.
• Flight cancellations: About 250 flights in the storm zone were canceled Saturday, according to the flight-tracking website FlightAware.com. That compares with more than 3,000 US flights scratched Friday, most at the busiest Northeast airports in Boston, Philadelphia and New York
• Train services: Amtrak said nearly all its services between Boston and Washington D.C. were expected to resume Sunday after storm-related cancellations Friday.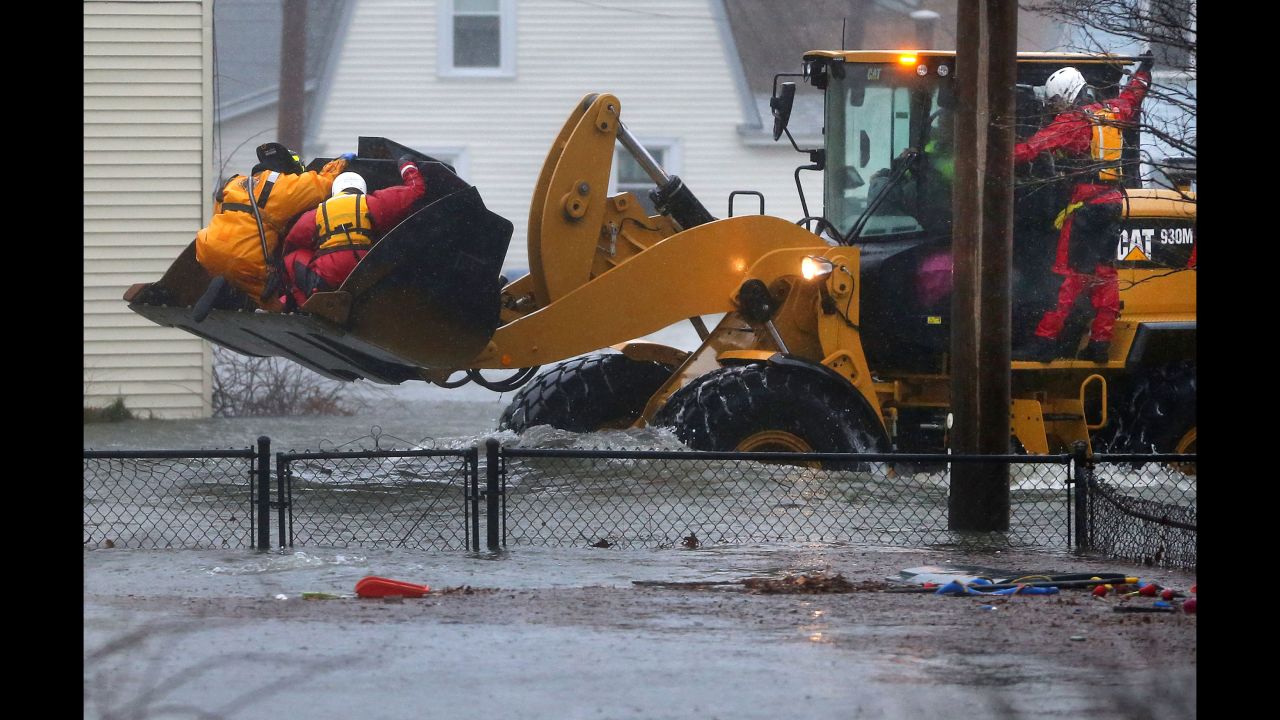 'Bomb cyclone' hammers East Coast
Five killed by falling trees
At least six people died in the storm, all killed by falling trees, authorities said. They include: a 77-year-old woman in Kingsville, Maryland; an 11-year-old boy in Putnam County, New York; a 44-year-old man in James City County, Virginia; a 6-year-old in Chesterfield County, Virginia; a Newport, Rhode Island, man in his 70s; and a New Jersey man who died while driving in Stamford, Connecticut.
The 11-year-old was in his home when a large tree came crashing down, trapping him. A responding deputy tried to free the boy, whose mother was taken to hospital.
Another young boy, just 6 years old, suffered a similar fate when a tree fell through his Virginia mobile home as he was sleeping on a top bunk bed. The boy was rushed to hospital, but his mother told the station his organs were failing.
"Doctors say we have to let him go," she told CNN affiliate WRIC.
In a separate incident, Cynthia Creighton's son was in her car when a neighbor's tree fell on top of the vehicle in Watertown, Massachusetts.
"The house shook, and we heard a noise. We didn't know what it was," Creighton told CNN affiliate WHDH. "We ran out, my son was still in the car with the tree on top of it."
Creighton's son, who was in the back seat, was not injured, she said.
Boston under water
High tides on Friday powered coastal flooding in Boston and other parts of Massachusetts, leaving streets awash for the second time since a massive nor'easter in early January.
Kayakers paddled down Boston streets and National Guard members rescued 50 people from their homes in nearby Quincy, sometimes carrying them to safety in the scoopers of front-end loaders, CNN affiliate WBZ reported.
Boston Harbor has only seen tides above 15 feet twice – in 1978 and in January, during the last bomb cyclone. A high tide late Friday morning came up a little short, reaching 14.67 feet, but still sent water sloshing through the streets of East Boston.
More record-setting high tides might strike Boston Harbor on Saturday during the midday high tide.
With the moon full, the tide is at its highest point of the month, and the storm surge could drive as much as 4 feet of water into coastal neighborhoods, CNN meteorologists said. Massachusetts emergency officials said tides "will be astronomically high" in the next few days.
"I encourage all residents to be mindful of the storm and encourage employers to take the weather into consideration, which will mostly impact the coastal areas of our city," Boston Mayor Marty Walsh said.
In Boston, many streets were closed and city officials advised people not to drive or walk in high water.
The Massachusetts Emergency Management Agency said in a statement residents in the eastern part of the state should expect some rain and snow Saturday night, and minor flooding is forecast for some rivers and streams in southeastern Massachusetts.
Historic flooding prompts rescues
Quincy residents who were rescued from inundated homes told CNN they'd never seen anything like this weekend's flooding.
"It was pretty scary," said Alyssa Fitzgerald. "Once you saw the National Guard, that's when I was like, 'OK, we should have evacuated.'"
Fitzgerald and her husband hunkered down overnight after their home lost power with their 3-year-old son and 1-year-old daughter, she said.
"Not like anything we've had before," Fitzgerald said. "Much worse than the snowstorm we had."
Only a few storms even can compare with this level of flooding, including a 1978 blizzard, a storm in 1991 and January's bomb cyclone, Dougan, the Quincy police captain, said Saturday.
"We've been doing evacuations all through the night and today," he said.
CNN's Amy La Porte, Faith Karimi, Chuck Johnston, Ralph Ellis, Joe Sterling, Ellie Kaufman, Susannah Cullinane and Evan Simko-Bednarski contributed to this report.