Sitting in. Voting through. Running out. It's Thursday, and here are the 5 things you need to know to Get Up to Speed and Out the Door.
1. Russia investigation
They're headed back to school, and our hearts go with them. The students at Marjory Stoneman Douglas High School resume classes today, just two weeks after a gunman massacred 17 of their classmates and teachers. It'll be a short day, just four hours, as the teens try their best to get back to normal routines. But, of course, nothing will ever really be the same. At the school today, there will be grief counselors, comfort dogs, "MSD Strong" shirts – and flowers on empty desks.
The surviving students' push for gun reform – the #NeverAgain movement – may be running up against tough headwinds in Congress, but it's lit a spark in the nation's schools, where walkouts and protests are planned for next month. One of the effort's most notable figures may be Emma Gonzalez, of "We call BS" fame, who now has more Twitter followers than the NRA.
The House Intelligence Committee's investigation into possible collusion between Russia and Donald Trump's 2016 campaign is over. Republicans on the committee said there was no collusion and even contradicted the intelligence community's assessment that the Russians meddled in the presidential election to help Trump. A 150-page draft report is coming out today.
2. Pennsylvania
Investigators for special counsel Robert Mueller have recently been asking witnesses about Donald Trump's business activities in Russia prior to the 2016 presidential campaign as he considered a run for president, according to three people familiar with the matter. The lines of inquiry indicate Mueller's team is reaching beyond the campaign to explore how the Russians might have sought to influence Trump at a time when he was discussing deals in Moscow and contemplating a presidential run.
Meanwhile, back at the White House, the security clearance of Jared Kushner – Trump's son-in-law and senior adviser – has been downgraded. He now has a lesser "secret" clearance, which allows access to far fewer US government secrets. Word of this comes as the Washington Post reports officials from at least four countries discussed ways to use Kushner's business arrangements, lack of experience and financial troubles to manipulate him.
If that all sounds like, well, a lot, it really is. CNN's Stephen Collinson says the wave of triple bombshells reveals this White House is at a pivotal moment.
3. Austin bombings
Students go back to school tomorrow in West Virginia, now that a deal has been reached amid a four-day strike. Gov. Jim Justice said teachers would get a 5% pay raise, if state lawmakers approve it. Work still needs to be done on insurance issues, though. Justice, a Republican, said it wasn't talks with teachers or their union that softened his position on the pay raises but a chat he had with a sixth-grader, who urged the governor to invest in education.
People are on edge in the Texas capital, and for good reason. Three package bombs have exploded there over 10 days. The bombings have killed a teenager and a 39-year-old man and critically hurt an elderly woman. And police believe the three explosions are connected. All three packages were found outside the victims' houses, but none had been delivered by the US Postal Service, UPS or FedEx. And there's the possibility that these blasts could be a hate crime, because two of the victims were black and one was Hispanic. The city's police chief wants everyone in Austin to be cautious about packages.
4. Saudi Arabia
Apple is moving iCloud accounts registered in mainland China to state-run Chinese servers, along with the digital keys needed to unlock them. This has human rights groups and privacy advocates worried because Chinese authorities now have all the tools they need to access users' data. Apple made the move to comply with China's regulations on cloud services, and it highlights the trade-offs global companies make to do business in China.
Divorced moms in Saudi Arabia can now keep custody of their kids without filing lawsuits. Previously a woman was required to petition courts, sometimes for years, to get custody of children after a divorce. This is pretty big deal because it means Saudi Arabia is breaking ranks with other countries in the region that heavily favor male guardianship. The move is part of a series of sweeping social and economic reforms in the kingdom known as Vision 2030. Initiated over the past two years, the reforms have been spearheaded by Saudi Arabia's 32-year-old Crown Prince Mohammed bin Salman.
5. World Health Organization
The North Pole is having itself a record-breaking winter, but not the kind you'd probably expect. Temperatures in the Arctic soared well above freezing this week, giving the region the hottest temps ever recorded there in winter. Stunned scientists say retreating sea ice and warming sea temperatures are the big contributors to the Arctic heat wave.
The World Health Organization is gearing up for a disease that doesn't even exist yet. It's called "Disease X" and it's part of WHO's global plan for accelerating research and development during health emergencies. Disease X "represents the knowledge that a serious international epidemic could be caused by a pathogen currently unknown to cause human disease," WHO says. So essentially the health organization wants to set itself up to be able to develop a vaccine quickly when an unexpected and unknown virus pops up.
TODAY'S QUOTE
"The government has concluded that it is highly likely that Russia was responsible for the act against Sergei and Yulia Skripal."
Bernard Harcourt, attorney for an Alabama death row inmate whose execution by lethal injection was aborted after prison personnel had trouble finding a vein
"I have to believe that some of them were able to elude us thanks to the mayor's irresponsible decision."
ICE Deputy Director Thomas D. Homan, who says hundreds of undocumented immigrants with criminal records remain at large in Oakland, California, because Mayor Libby Schaaf gave a heads-up about ICE raids
BREAKFAST BROWSE
Queen and company, part 1
All eyes were on Meghan Markle as she joined Queen Elizabeth II for the first time at an official public event at Westminster Abbey.
Papa John's is cutting the NFL from its sponsorship lineup after a season in which it blamed player protests for slumping sales.
Gutsy call
A first responder at the Florida high school shooting disregarded an order but ended up saving a life.
Equal opportunity drinking
Move over, Johnnie Walker. Jane Walker wants her time on the famous whiskey brand's logo.
Four billboards outside Palm Springs
Serena Williams is one of the greatest athletes of all time. She's also the Greatest Mom Of All Time, according to billboards set up by her hubby in Cali.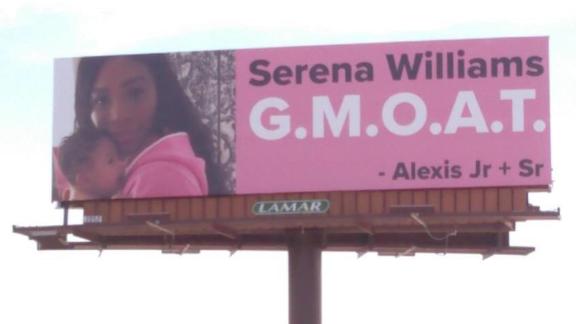 Courtesy: Alexis Ohanian
TODAY'S NUMBER
49
The number of people who fell ill after a suspicious letter was opened at Joint Base Fort Myer-Henderson Hall in Arlington, Virginia
AND FINALLY
Door drop
Why is our stuff outside? This time it wasn't the cat. (Click to view.)