After a former student with mental health issues used an AR-15 style rifle to slaughter 17 students and teachers at a high school in Parkland, Florida, state lawmakers are considering several bills on gun safety, access to assault rifles, mental health and school safety.
The legislative session ends March 9, so any new laws would need to pass by then. Here's a look at the proposals and their progression through the Legislature:
Create processes for taking guns from mentally ill
Senate Bill 7026, also known as the Marjory Stoneman Douglas High School Public Safety Act, passed the Florida Senate Committee on Rules and the Appropriations Committee, but the version that passed fell short of expectations for supporters of stricter gun control measures.
The Appropriations Committee approved enhanced powers to law enforcement when dealing with someone who is a threat to themselves or others. The committee also approved funding to build a memorial at the school and a commission to investigate the incident.
However, the bill failed to approve amendments to ban assault weapons, bump stocks or high-capacity magazines.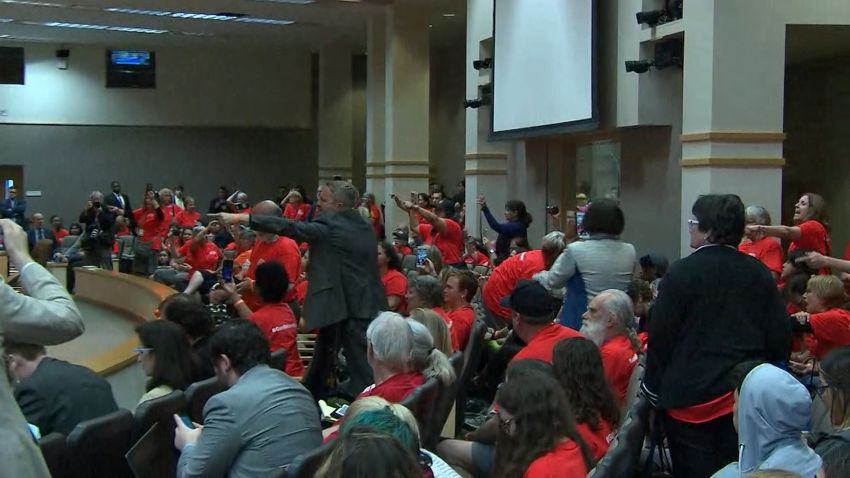 Students shout as FL Senate rejects weapons ban
A plan to arm school staff will remain part of the bill. The decision was made after much public comment and debate.
Senators leaned on Polk County Sheriff Grady Judd as an expert in the area. The sheriff operates a program in his county known as the Sentinel Plan, to arm school staff. He cited it as a multiplying force in dealing with potential school shooters, adding that it would be a low cost compared to staffing a school resource officer.
The bill is now headed for the Senate floor for a vote later this week.
Keep victims' addresses private
This Senate bill would focus on victims of mass shootings and public records requirements.
The bill would create an exemption from public records requirements for the address of a victim of an incident of mass violence.
"The availability of such information has allowed people to take advantage of the victims or their families by subjecting the victims or their families to media intrusions at their homes and other unwelcome intrusions into their privacy," according to the bill's text.
"Therefore, it is necessary that the address of victims of incidents of mass violence be protected to ensure that persons affected by such incidents are not harassed, taken advantage of, or otherwise subjected to additional pain and suffering."
SB 7024 passed the Senate Appropriations Committee on Tuesday.
Ban bump stocks
Separately, the House Appropriations Committee passed a bill that will now go to the House floor.
House Committee Bill PCB APC 18-06, a 67-page proposed bill, would set up a commission to investigate the Parkland shooting, ban sales of guns to people under 21, ban bump stocks and more.
Some proposals, including the option for teachers to arm themselves, failed before the committee. An amendment to the bill to ban assault weapons, as well as an amendment for mental health background checks on those licensed to carry a weapon, also failed. However, a ban on the sale and possession of bump stocks was adopted.
Two other related bills, PCB APC 18-07 and 18-08, deal with open records issues.
PCB 18-07 would create several public records exemptions for a person reporting criminal activity, confidential meetings of the Marjory Stoneman Douglas High School Commission, and for information on school marshal appointees. PCB 18-08 would exempt victims of mass violence from public records laws.
CNN's Devon M. Sayers, Nick Valencia and Janet DiGiacomo contributed to this report.