Story highlights
Many affordable watches draw from four major trends: monochrome, minimalist, multicolored and metallic.
We've rounded up our favorite budget-friendly timepieces from each trend.
CNN —
We're firm believers that a solid analog watch beats out a smart digital one every time. Just take a look at the history books, which show that the root of the current iteration of the timepiece can be traced back to the 19th century. Fast forward over a century, and they're still going strong.
That's because traditional watches are just as practical as they are stylish. For starters, wearing a watch means that you don't need to constantly have a phone, laptop or tablet near your body in order to check the time. It's a bit old school, but it's a great escape from the constant reliance on those devices. A bonus is that your analog watch is never outmoded when a newer model comes around every year. Plus, a lot of the options out there are just plain stylish.
Of course, today's wristwatch isn't your grandfather's timepiece. Many watches you can shop online have a noticeably modern look, drawing from four major trends this season: monochrome, minimalist, multicolored and metallic. With seemingly endless options of faces and bands, these accessories really can fit the mood and style you're going for at a particular moment. A watch that has great craftsmanship and a long-lasting, versatile aesthetic is a testament to the trend that never really dies.
And while many watches out there can easily surpass the $200 mark, we know that not everyone (cough, cough — us) has the money to dish out for the likes of a Rolex. So we've scoured the Web in search of some of the most dapper and on-trend men's watches that are still reasonably priced.
Note: Prices below reflect the listed retailer's price at time of publication.
Monochrome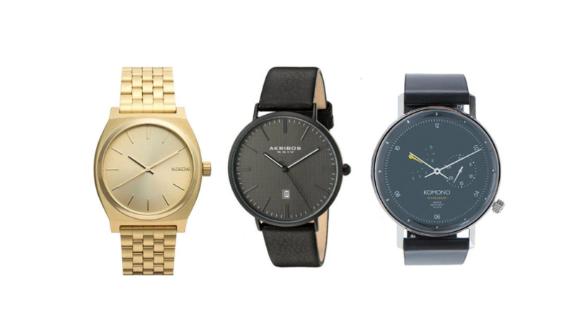 The use of a single color is a trend that's been happening for a while now in both the home decor and fashion spaces. But it seems especially fitting for watches. It's a subtle approach to a timepiece; these options aren't necessarily going to be the star of your outfit, but they do bring everything together with an added touch of modernity. Plus, since they're a bit more muted than other face and band offerings out there for watches, they're the most versatile in terms of styling.
(Watches listed below are pictured left to right above)
Nixon The Time Teller Watch ($84.65; amazon.com)
Akribos XXIV Grey Dial Black Leather Men's Watch ($47.99; jomashop.com)
Komono Walther Retrograde in Blue ($200; needsupply.com)
Minimalist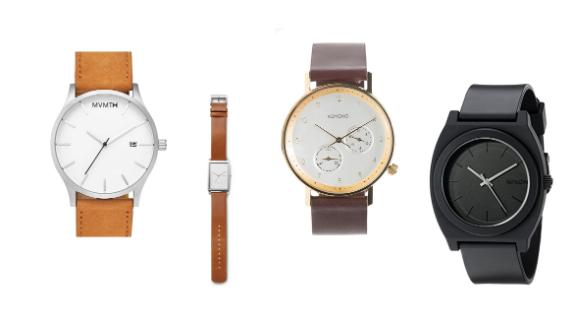 The minimalist trend for watches refers to faces and bands that are a bit more bare-bones. That means the design of the dial isn't overwhelmed by additional detailing like bold tick marks, an AM/PM indicator or even a date window. These options usually choose one of these extra features, instead of going for all of them. The result is a noticeably less flashy timepiece.
These can have different colors and band options, although many iterations of this style feature leather straps. They tend to be great options for more casual looks, but also can easily be dressed up for business wear, which is why they've gained so much traction over the past few years. You'll never have to really think about whether your watch goes with your outfit. Chances are, a minimalist accessory always does.
(Watches listed below are pictured left to right above)
MVMT Leather Strap Watch ($95; nordstrom.com)
Skagen Hagen Rectangular Leather Watch ($115, originally $165; skagen.com)
Komono The Walther Tobacco Watch ($180; needsupply.com)
Nixon Time Teller P Watch ($37.41; amazon.com)
Multicolored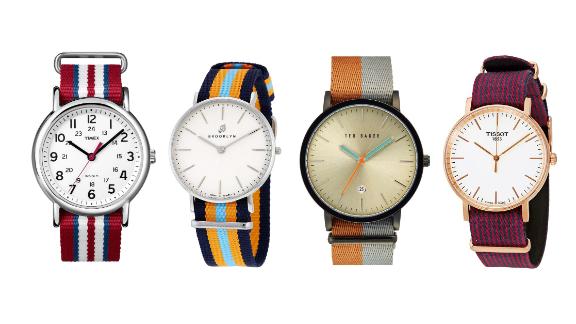 Muted styles are great for everyday wear, but if your mood or outfit warrants something brighter, multicolored bands are a solid option. While many of these options still place less emphasis on the dial (similar to the previous two trends), their wow factor comes from the band itself, incorporating contrasting colors for a bolder look. Since many of the bands are made from canvas instead of leather, they're often water-resistant. The band material also is more breathable than metal or leather options, making it the most sensible choice during warmer months where you're exposed to heat and water. Of course, they're just as wearable throughout the rest of the year should you want to make your watch the focal point of your attire.
(Watches listed below are pictured left to right above)
Timex Weekender Slip Thru Nylon Strap Watch ($37.05; jet.com)
Brooklyn Watch Co. Brooklyn Flatland Casual Super Slim Swiss Quartz Watch ($49; jomashop.com)
Ted Baker NATO Strap Watch ($77.49; nordstrom.com)
Tissot T-Classic Everytime Men's Watch ($149.99; jomashop.com)
Metallic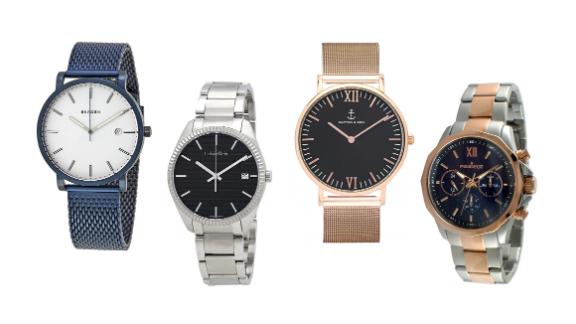 Last, but certainly not least, is the metallic watch trend, which has been around for seemingly ages. This style is typically noted for its use of silver and gold metallics, although newer options are integrating more out-there colors like blue and even rose gold. Timepieces tend to be a bit heavier and flashier than the other trends we've outlined. If you want the full bells and whistles in terms of dial functionality, metallic options are your best bet. Because of that, they're often thought of as the go-to for more formal wear. Sport them to the office, fancy dinners or dressier affairs.
(Watches listed below are pictured left to right above)
Skagen Hagen White Dial Men's Blue Ion Plated Watch ($99.99; jomashop.com)
Calvin Klein Alliance Black Dial Men's Watch ($99; jomashop.com)
Kapten & Son Campus Black Mesh Watch ($199; needsupply.com)
Men's Peugeot Stainless Steel Multifunction Calendar Watch ($114.99; target.com)