Story highlights
The strike is in its third day
Health care costs are an issue
The work stoppage by West Virginia's public school teachers and staff looks set to continue Tuesday.
Around 20,000 teachers and 13,000 school service employees first hit the picket lines Thursday in all of the state's 55 counties to demand better pay and benefits. Monday was the third day schools were closed.
Christine Campbell, president of the American Federation of Teachers-West Virginia, one of the three bodies representing teachers and service staff, told a rally at the State Capitol on Monday that teachers would not return to their classrooms yet.
"We are ready, we are willing. We stand on the right side of public education, by being back here and outside our schools tomorrow," Campbell said.
Public schools across West Virginia will remain closed through Monday as teachers and other school employees hit the picket lines, demanding higher wages and better benefits.
"We had a meeting with House and Senate leadership this morning, making some progress," said Dale Lee, president of the West Virginia Education Association. He did not elaborate on the nature of the progress.
Legislation sparked strike
The walkout came after Gov. Jim Justice signed legislation late Wednesday night granting teachers a 2% pay increase starting in July, followed by 1% pay increases over the next two years.
"We need to keep our kids and teachers in the classroom," Justice said in a statement after signing the pay raise bill. "We certainly recognize our teachers are underpaid and this is a step in the right direction to addressing their pay issue."
But the bill did not address further concerns of teachers, including issues with the teachers' public employees insurance program, the rising costs of health care and a tax on payroll deduction options, according to Campbell.
Many people in West Virginia tell CNN that the high health insurance costs they face are the main sticking point in the work stoppage. That insurance affects all state employees.
Monday rally
Campbell told Monday's rally that teachers wanted to get back in the classroom but that communication had broken down.
"We need everyone at the same table," Campbell said, challenging the speaker of the House and state leadership to "sit down with us now."
Campbell called for the Public Employee Insurance Agency to be given dedicated revenue and warned that school workers could not deliver the best and brightest students without support.
Lee also told the rally that teachers needed to be at the negotiating table.
"They can bring us to the table and they can get this thing solved," he said. "I guarantee everyone out there would rather be in front of their students teaching today."
The West Virginia School Service Personnel Association is representing the school service staff. Its executive director, Joe White, told the rally it took everybody to educate a child.
"I didn't come out of a classroom, I came out of a hallway," White said.
"A lot of people are trying to tell us that what you are doing is illegal, but let me remind you what a group of coal miners many years ago – they stood up against low wages and a lack of benefits, many were beaten, some were killed, but they did not silence their voice," he said. "Your voice and your solidarity is making waves across this nation."
United Mine Workers of America President Cecil E. Roberts also spoke, telling the rally that "workers who stand united will never be defeated."
Roberts said West Virginia's children would say that teachers were the people who made the biggest difference to their lives – other than their parents.
"So if the most important people in their lives are you, why don't we pay you like you're the most important people in their lives?" he asked. "I call on every union member in the state of West Virginia – coal miners, electric workers, everybody – stand with these workers."
Campbell told CNN the unions had met with the House speaker, majority leader and other lawmakers earlier Monday but the governor had not been represented at the meeting.
"To have more people in the room today always feels like progress when people are willing to come to the table," she said, adding that the governor had not been represented at the meeting. "We haven't had the outreach from the governor."
Speaking earlier Monday to teachers and other school personnel at Wheeling Park High School, Justice said teachers were "swimming upstream" in their attempts to demand higher pay.
"I would tell you that if you look at the numbers and you were me – and I look at them all the time – doing any more than what has been done with your pay raise today, you're not going to like this, but it would not be the smart thing to do. It would absolutely be from a financial standpoint a very, very, very dumb move," he said.
"I would tell you, you need to be back in the classroom. Our kids need to be back in the classroom," he said.
West Virginia public schools to remain closed
Justice said he's aware that teachers are underappreciated and that this was a "challenging time" for them.
"I apologize for the fact that you've been forgotten in a lot of ways but you're never forgotten with me," he said. The governor said he would convene a task force to look more at the issues they raised.
Insurance
Justice also spoke about the Public Employee Insurance Agency.
"There is no humanly way" to address means to fix the agency in a regular legislative session, Justice said on Monday.
He said he would call a special session of the legislature, which would address a natural gas tax that could help better fund the agency. He said he hoped suggestions for solutions would come out of the session by May, a proposal that was met with laughter from the audience.
Not much progress occurred during what was a tense weekend.
Representatives for the state and the teachers did not meet Saturday and Sunday to work on a solution, Campbell said.
West Virginia Superintendent of Schools Dr. Steven Paine said local superintendents met on Sunday to discuss the work stoppage and the possibility of legal action, which could involve an injunction.
Teachers held a candlelight vigil at the steps of the state Capitol in Charleston on Sunday night, and planned to go inside the Capitol on Monday to stage protests, as they did last week.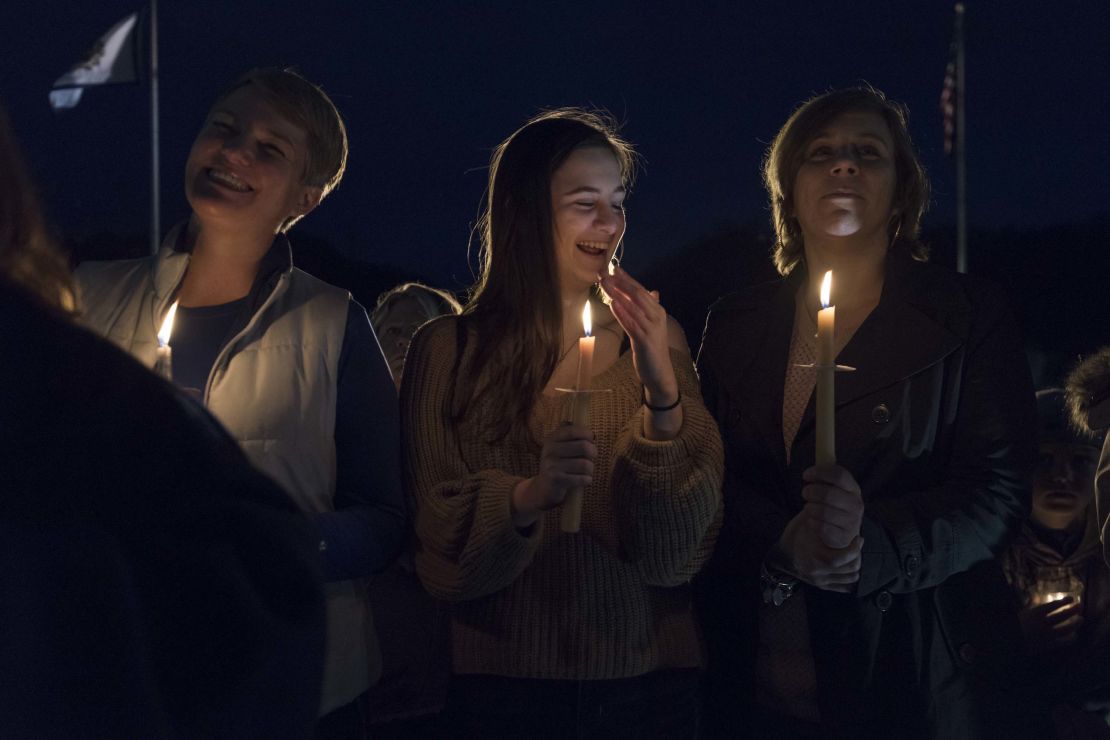 "You know, as a professional degreed teacher, working two jobs, I qualify for WIC and food stamps," said Jacob Fertig, an art teacher at Riverside High School in Belle, in Kanawha County. WIC is the Women, Infants and Children food and nutrition service, a federal program. He spoke to CNN at the Sunday night vigil.
"We collected on the WIC, so that's how low teacher pay is. There were a lot of times where we got to choose between groceries and health coverage for my family. This isn't just an issue of a bunch of people squabbling over a little bit of insurance benefits or a little bit of pay; we are really in a bad place here as far as that stuff goes."
The pay raise adopted last week, which amounts to 4% over the next few years, is a reduction from an earlier version of the bill that proposed a 5% total increase in wages, Campbell said, noting that teachers in surrounding states make anywhere from $5,000 to $20,000 more than teachers in West Virginia.
The state employs nearly 20,000 classroom teachers in its public schools and has more than 277,000 students enrolled, according to Alyssa Keedy of the West Virginia Department of Education.
While their teachers are picketing, students are getting some support in their communities.
Teachers' unions organized educators and service staff members to work with food pantries to send children home with extra food in advance of the school closures. Some community centers and churches are also hosting programs for students so working parents don't have to stay home.
Teachers walked out before, in 1990, and that strike lasted 11 days.