Florida Gov. Rick Scott on Sunday ordered an investigation into the response to the deadly shooting two weeks ago at Marjory Stoneman Douglas High School "for there to be full accountability."
Scott directed the Florida Department of Law Enforcement to "immediately investigate the law enforcement response," according to a statement, amid growing criticism of how the Broward County Sheriff's Office handled the shooting in Parkland on February 14.
In a statement, Broward County Sheriff Scott Israel said his department "will fully cooperate" with the probe, "as we believe in full transparency and accountability."
Florida Speaker of the House Richard Corcoran and dozens of lawmakers have called on Scott to suspend Israel for "incompetence and dereliction of duty." Scott didn't say in his statement that he would suspend Israel, but said he will continue to review the matter. The governor said he has spoken to Corcoran regularly since the shooting, "and like me he wants the families to have answers and for there to be full accountability."
"That's what the victims and their families deserve," the governor said in the statement.
Earlier Sunday, Israel said he will not step down. Florida state representative Bill Hager wrote a letter to Scott the day before, asking the governor to remove Israel from his post for his deputies' "incomprehensible inaction" during the massacre, according to Hager's office.
An investigation "by Sheriff Israel will do nothing to bring back the 17 victims," that confessed shooter Nikolas Cruz killed, Hager wrote.
Related: These are the victims of the Stoneman Douglas shooting
"The Sheriff was or should have been aware of the threat Cruz presented to his community and chose to ignore it," Hager wrote, referring to a long history of warnings and tips to the sheriff's office over the past decade, including ones suggesting Cruz had fire arms and was planning a school shooting.
In his letter, Hager, a Republican, cited Florida statute 112.52, which he says gives Scott "removal authority for neglect of duty and incompetence."
Israel dismissed Hager's accusations, telling CNN's Jake Tapper, "Of course I won't resign."
"It was a shameful letter. It was politically-motivated. I never met that man. He doesn't know anything about me. And the letter was full of misinformation," Israel said Sunday on CNN's "State of the Union."
Hager's call for Israel's removal came after the armed school resource officer at Marjory Stoneman Douglas, Deputy Scot Peterson, resigned Thursday following his suspension amid accusations he did nothing to stop the massacre.
Read the transcript of the interview with Sheriff Israel
Israel says Peterson never went into building where the shooter was firing at students, instead taking a position outside.
In a letter of response to the governor, Israel said he was proud of the work that many of his deputies and other agencies did the day of the shooting and that he was appalled by Hager's "need to engage in disingenuous political grandstanding, perhaps in the hope he will garner some headlines, at the expense of the truth."
He also said that Hager's letter "was riddled with factual errors, unsupported gossip, and falsehoods."
Hager was among 73 Republican lawmakers who, along with Corcoran, asked the governor to suspend Israel.
"The failures of Sheriff Israel and his deputies during and after the horrific shooting … and their failures to intervene regarding Nikolas Jacob Cruz in the years, months, and days leading up to that shooting, are unacceptable and unforgivable," Corcoran wrote.
"Sheriff Israel failed to maintain a culture of alertness, vigilance, and thoroughness amongst his deputies. … As a result of Sheriff Israel's failures. students and teachers died." the letter said.
Deputy suspended
Israel made the decision to suspend Peterson – who was armed and in uniform at the time of the shooting – after interviewing the deputy and reviewing footage and witness statements, he said.
"What I saw was a deputy arrive at the west side of building 12, take up a position," Israel said of the video. "And he never went in."
Israel told reporters Peterson should have "[w]ent in. Addressed the killer. Killed the killer." Instead, the deputy waited outside for about four minutes.
During that time, Israel said, Peterson got on his radio and took a position where he could see the western entry of the building.
Other deputies may have also been outside school
Israel says his department is also looking into reports that at least three other Broward Sheriff's deputies didn't enter the school building during shooting.
Sources tell CNN the Coral Springs officers arrived at the scene and were surprised to find the three deputies behind their vehicles with their pistols drawn. None of them had gone into the school.
Israel says his department will investigate the Coral Springs officers' claims, but insists that "during this horrific attack, while this killer was inside the school, there was only one law enforcement person, period. And that was our former deputy Scot Peterson."
Israel says his department's investigation so far indicates the Coral Springs officers didn't arrive until about four minutes after Cruz had left the campus.
"At this point, we have no reason to believe anyone acted incorrectly or correctly. That's what an investigation is. Everybody is entitled to their own opinion, but nobody is entitled to their own set of facts," Israel says. "At this point, one deputy was remiss…and he's now no longer with this agency."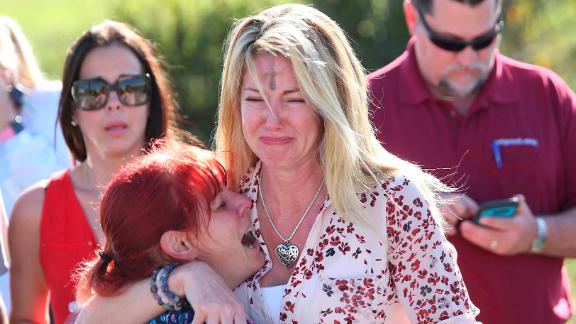 Photos: Deadly Florida school shooting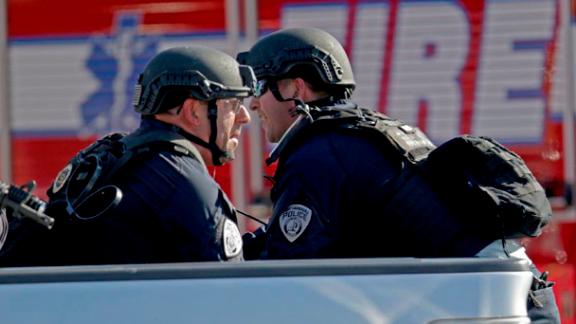 Photos: Deadly Florida school shooting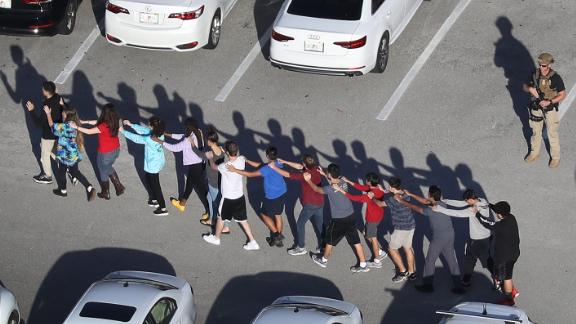 Photos: Deadly Florida school shooting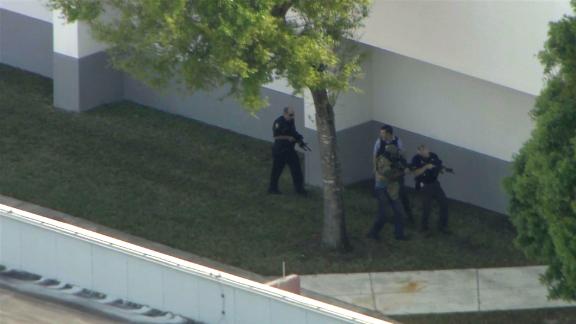 Photos: Deadly Florida school shooting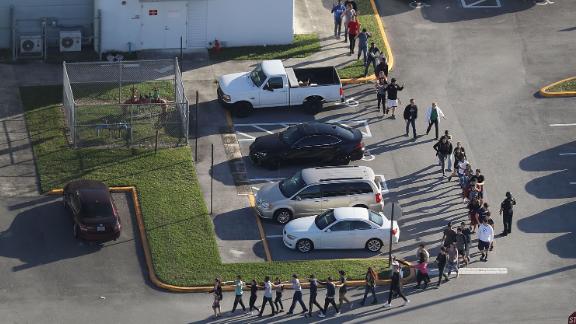 Photos: Deadly Florida school shooting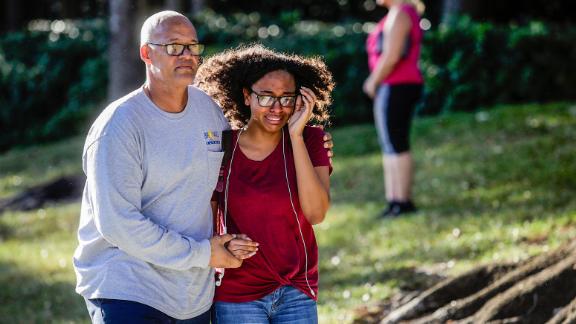 Photos: Deadly Florida school shooting