Story highlights
Shiffrin had been tipped to win five alpine skiing medals
American leaves Pyeongchang with one gold and one silver
Wind wreaked havoc with schedule
American skiing superstar Mikaela Shiffrin says her dream of winning five gold medals in the same Winter Olympics may be impossible to achieve.
The 22-year-old said she was "over the moon" after winning two medals – one gold and one silver - at the 2018 Olympics in Pyeongchang.
Shiffrin looked strong when she won the giant slalom but was dethroned as Olympic champion a day later in her favorite event, the slalom, finishing fourth after bad weather resulted in a compacted schedule.
And now Shiffrin, one of the best skiers of her generation, doubts the feasibility of winning all five individual golds – a dream born after her breakthrough triumph as an 18-year-old in Sochi.
"I don't know if that's possible," Shiffrin told CNN. "It's a really difficult thing to do, that's for sure."
READ: Winter Olympics day 15 as it happened
READ: Best photos from day 15 at PyeongChang 2018
'Three medals at best'
Shiffrin, the overall World Cup leader and three-time slalom world champion, looked on track to win multiple golds with a commanding first triumph in the giant slalom in Pyeongchang.
After faltering in the slalom she rebounded to win silver in the combined event, but her form, confidence and the disruption caused by strong winds put paid to any record-breaking feats.
"Let's say that everything here worked out perfectly, the schedule went off without a hitch, no wind, none of that, those kinds of factors, I think the most I could have walked away from this Olympics was three medals, not necessarily all gold," Shiffrin said.
"I was not at the level, with either downhill or super-G, to be a real medal threat, even given my results this season and last season in speed events. It was nice to dream about, but it wasn't there.
"So, to have two medals, for me, that's a huge success, especially with the weather conditions."
Croatia's Janica Kostelic is the only woman to have won three skiing golds at a single Games, at Salt Lake City in 2002.
READ: The team behind Mikaela Shiffrin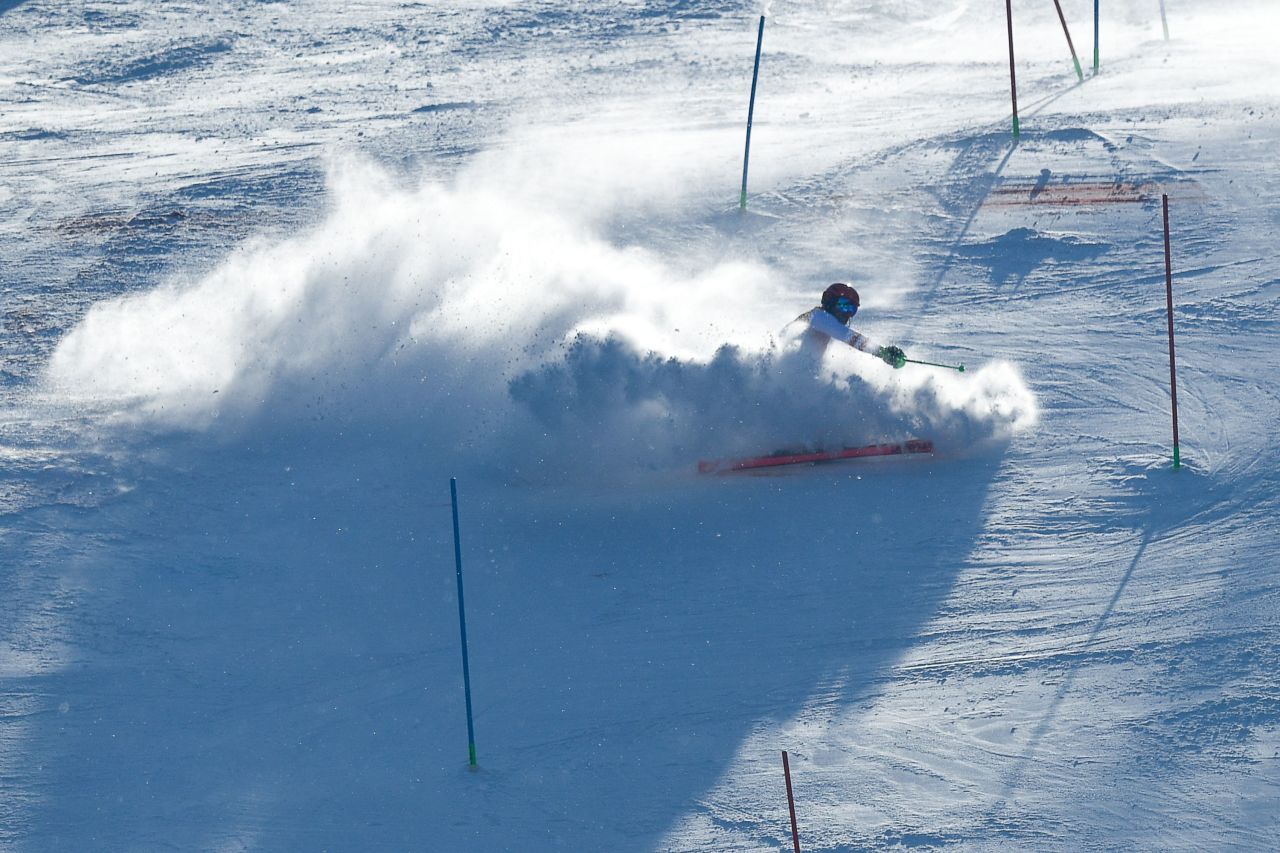 The best photos of alpine skiing at the Winter Olympics
'Mentally exhausting'
Dominant in slalom and vastly improved in the speed events of late, Shiffrin was a teenage ski prodigy who competed in her first World Cup at the age of 15.
She has now won has won 41 World Cup races from 128 starts, including five events in January.
But when the Pyeongchang winds blew the schedule off course, Shiffin found the process mentally exhausting.
"My giant slalom event was postponed and my slalom was postponed and then we went back to the GS," she said.
"Basically, we were race ready to go five or six days in a row and then the slalom came that last day and it was just an incredible period of time," she said.
"I was so tired for that slalom and…I have to be, like, energized to deal with the mental stress of competing and to hold back, to kind of choke it down…"
READ: Mikaela Shiffrin: training an Olympic champion
Shiffrin will be 26 when the Beijing Games begin in 2022 and said she will reassess her original dream.
"With four more years under my belt, I'll have definitely a different perspective on how to manage the stress of the Olympics as well," she said. "(So) we'll see."