Story highlights
Athi-Patra Ruga has won a $6,200 prize for his photography
Ruga's art carries a political message
South African artist, Athi-Patra Ruga, has been awarded the grand prize at the Rencontres de Bamako, the African biennale of photography.
Ruga is known for his stirring, flamboyant performance art and photography that challenges societal norms.
This year's biennale, that took place at the Bamako National Museum, Mali, was entitled "Afrotopia," with a focus on how artwork reflects the continent's identity.
Ruga received the €5,000 ($6,200) prize for his work featured in the Pan-African exhibition, which showcased photography from 40 African artists, each depicting their alternative narratives and perceptions of Africa, past and present.
Ruga had two pieces exhibited at the event, both from his series "The Future White Women of Azania." The work features fantastical characters often wearing stockings and stilettos on their lower bodies, while their upper bodies sprout bunches of multicolored balloons.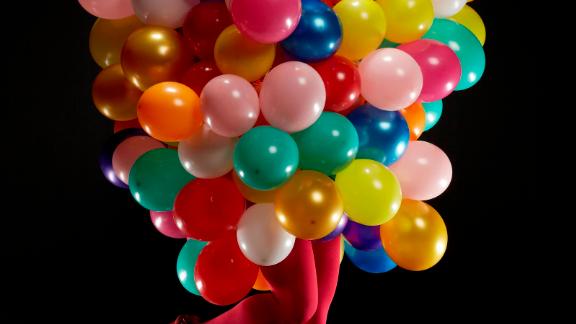 Courtesy of Athi-Patra Ruga and WHATIFTHEWORLD
"My work is usually hyper-colorful, hyper-fantastic, lush," said Ruga. It involves a number of characters, or avatars, all played by himself.
The central character of this series is "Miss Azania." She is a representation of nationalism, Ruga said, demonstrating "the hyper-masculine way in which women's bodies are used as tools of nationalism, especially within beauty contests."
His use of drag is designed to enhance his message. "It's a parody, or a F— you, to all these things that men created," he told CNN.
The promised land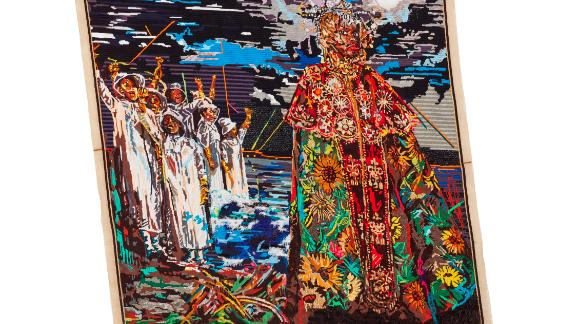 Courtesy of Athi-Patra Ruga and WHATIFTHEWORLD
The word "Azania" was used by Arab sailors up until the 10th century to denote an ancient east African society. It was later adopted by black nationalist groups during apartheid as a name for liberated South Africa.
Ruga recalls the latter use. Born in Umtata, South Africa in 1984, he was raised in the last years of apartheid. His father was a journalist living in exile, and his mother worked as a midwife during these incredibly testing times.
Naturally, Ruga said, they were politically active. As a family they would go on protests, and Ruga remembered how people would speak of Azania, the promised land.
This resonated with him: "The idea of us dreaming of a future, and creating the idea of Azania, or Zion, or Atlantis, creating whatever and having to fight for it."
But a nationalistic utopia jars with Ruga. In his opinion it's exclusive, "it removes the gays, the lesbians, the queers, the disabled."
"That's why I wanted to create Azania," he says. It represents his ideal utopia: "a space without borders, a space where you don't need a visa, or to be of a certain height, or skin-tone, or income."
Last year a survey by Pew Research Center found that 61% of people in South Africa believe society should not accept homosexuality.
The picture on the wider continent is even more extreme. 38 out of 54 countries have enacted laws that make it illegal to be gay.
"I am a black, non-Christian, gay man living in post-1994 South Africa," he says. "I can't just meander without being challenged by the status quo. Even when I step outside I become a subject of a political debate."