Big K.R.I.T.'s rise in hip-hop is a true come up story. After years of hard work, he got it all — the success, the fame, the respect, the parties, the money and the cars.
But when the lights went on and the music stopped, the Mississippi rapper was left alone to confront the pain that comes with being Justin Scott.
Like thousands of Americans, he struggled with depression and turned to alcohol to numb it all.
He opened up about his struggle in the song, "Price of Fame": "Happiness can't be bought or sold, I learned my lesson/ Now I see what fame will really get you … Dealin' with depression, pills on the dresser … I bought a bottle just to soothe my soul/ still crying over granny, that was some years ago."
"'Price of Fame' was me coming to the realization that material things — the success that I had gotten — had went off track from what I originally wanted and that the money and the fame and the parties and all that wasn't fulfilling me as a human being, and writing from the perspective of feeling like Justin Scott but trapped as Big K.R.I.T.," the rapper told CNN's #GetPolitical following the release of his latest album.
"4eva is a Mighty Long Time" is a raw and soulful confessional with 22 tracks, documenting the rise of Big K.R.I.T., the fall of Justin Scott and the spiritual awakening that unites them both. His nationwide tour, "Heavy is the Crown," kicks off in March.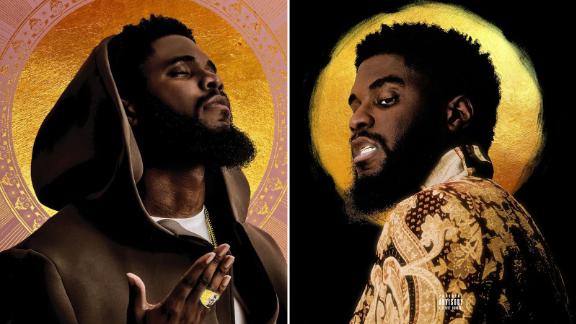 2017 Multi Alumni, LLC/BMG Rights Management
In "Ride Wit Me," Scott pays tribute to hip-hop great Pimp C – one half of the Texas hip-hop duo UGK -— who was only 33 years old when he died in 2007 after overdosing on lean. It is a mixture of codeine syrup — a prescription opiate, promethazine and usually Sprite and hard candies. It is increasingly dangerous for those who suffer from sleep apnea, which is a condition Pimp C had.
CNN: What inspired you to write a double album?
Scott: (I wanted) to show my duality as a human being, as a musician. A lot of the confidence that comes with being an artist is the entity you create. Big K.R.I.T. and the lyrical prowess and the confidence on stage and just being able to build that wall … But then when you get home and you're yourself and that's the Justin Scott side, which is me dealing with the insecurity.
CNN: How did making music help you heal?
Scott: It took me two and a half years working on this album. I had a large amount of time to really start living my life and realizing the things that I was doing that weren't healthy for me, the depression that I was going through, and really start talking about it out in the open instead of kind of hiding it behind whatever vice I may have.
CNN: Hip-hop sometimes glorifies substance abuse, whether it's alcohol, drinking lean or popping pills. As someone who has experienced addiction, how do you feel about that?
Scott: Sometimes as an artist people rap about one side of a situation and don't explain the other side. For a long time, a lot of my music was party-driven and it's about having fun and pouring up. And then I get to a point now where I have the opportunity to tell people what all that pouring up did to me and how it makes you feel and now getting older what that can mean for your health and how I'm dealing with it.
CNN: Hip-hop has lost some greats due to substance abuse and I know that being from the South, you have a special connection with Pimp C and UGK. How did this loss impact you?
Scott: Definitely a sense of sadness and also a sense of wanting to keep a legacy that (UGK created) and wanting to pass that on throughout the generations. Being so proud of the South and being so proud of what they brung to the culture of hip-hop and how confident they made me feel about being from a small town in the South and trying to go worldwide.
CNN: Your grandmother (Linnie Mae Scott) seems to be a grounding force in your life and that's been evident in your music. How did your relationship with her impact you?
Scott: She definitely was super honest, she opened up her house for me to be able to record a lot of the first projects that I put out, and just really inspired me to always carry the morals that I have throughout this industry and never lose sight of my goals and my family and my spiritually … And shout out to Annie Mae Roland, my other grandmother on my mama's side. She was a super strong woman and really helped me as a young boy start to really look at life in a more grown perspective.
For more on music, culture and politics, check out CNN's #GetPolitical series.