Embattled Prime Minister Benjamin Netanyahu's troubles deepened as police arrested members of his inner circle in a widening graft probe, now the fourth investigation to involve the Israeli leader or his confidants.
The arrests come less than a week after police said they had enough evidence to indict Netanyahu on charges of fraud, bribery, and breach of trust.
Police revealed on Tuesday they had arrested seven people on suspicion of obstruction of justice, fraud, breach of trust, and other charges, entangling a growing number of those closest to the Prime Minister.
Among those arrested is Nir Hefetz, Netanyahu's former family spokesperson, and Shaul Elovitch, the multi-millionaire owner of an Israeli news organization who is considered a close friend of Netanyahu.
The arrests were carried out Sunday following a joint investigation between police and the Israel Securities Authority, which had conducted its own probe last year. In court documents filed in Tel Aviv Magistrate's Court, the judge, in her decision to further detain one of the suspects, said there had been "substantial developments" in the investigation, without specifying what they were.
Netanyahu has not been named as a suspect in this latest investigation, known locally as case 4000 or the Bezeq affair – after the Israeli telecommunications firm at the center of the investigation - but the arrests bring police closer to the Prime Minister, who has repeatedly denied any wrongdoing.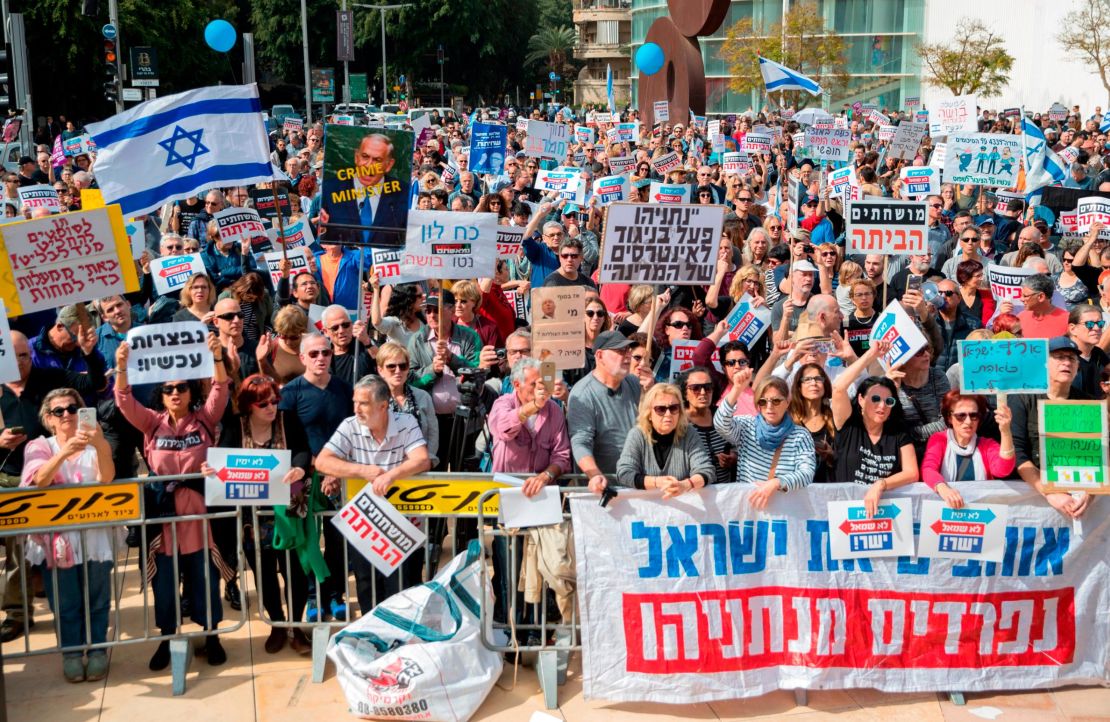 'Witch-hunt'
In a preemptive strike on Sunday, Netanyahu slammed the case as a media-propelled "witch-hunt," predicting that "all the air will come out" of it.
Nir Hefetz, who served as the Netanyahu family spokesperson for many years, is perhaps the person closest to Netanyahu in these latest arrests.
He was arrested on suspicion of obstruction of justice and taking bribes. In court documents, Hefetz's lawyer dismissed the allegations, saying Hefetz had already been questioned once and had never been told he was suspected of any crime.
This investigation also focuses on Shaul Elovitch, a close friend of Netanyahu.
The multi-millionaire owns Israeli cable company Yes and is a controlling shareholder of telecommunications firm Bezeq. He is suspected of fraud, bribery, money laundering, corporate breach of trust, and more.
A lawyer for Elovitch told CNN: "Shaul Elovitch vehemently denies the suspicions against him. We suggest that you be patient and do not rush to conclusions. We are certain that when things clear up, it will be possible to realize that he did not commit any offense."
Interests
Court documents offered few details on the police investigation, but a statement from the Israeli Securities Authority at the conclusion of their probe painted a picture of senior Bezeq employees working with the Ministry of Communication to advance Bezeq's interests, including passing classified material between the private company and the government body.
In addition to his role as Prime Minister, Netanyahu was acting Minister of Communications during this period from late 2014 until February of last year.
The Authority also said senior employees of Yes and Bezeq committed fraudulent receipt of funds, intended to benefit Elovitch, the controlling shareholder of Bezeq, a sum of 170 million shekels (approximately $48 million).
In exchange, Israeli media reports that Netanyahu received favorable coverage for him and his family from Israeli online media site Walla! News, also owned by Elovitch.
Dov Gil-Har, a former employee of Walla! News who now hosts a show on Israel's public Kann News, said on his show Monday morning that he had objected to the coverage:
"I was employed in Walla in the years that the police were investigating the allegations. I was also a witness of the unsavory behavior that this media body was sucking up to Prime Minister Netanyahu, and I, like many other good journalists, tried to do everything we could to tell the management of the company that what was being done there is in the realm of things that should not be done."
The arrests hit Elovitch the hardest. His wife and son - Iris and Or - were also arrested, as was his right-hand man, Amikam Shorer, and Stella Handler, the CEO of Bezeq, the company he controls.
Lawyers for Iris and Or Elovitch said in court documents that they are on the margins of the Bezeq affair. A lawyer for Handler said, "There is no foreseeable reason to arrest her now." Meanwhile, lawyers for Shorer said he was not involved like the others.
The former Director-General of the Ministry of Communications, Shlomo Filber, who served under Netanyahu, was the final arrest.
Filber was suspended last August, as he came under investigation from the Israeli Securities Authority. Filber is suspected of breach of trust, fraud, obstruction of justice, and more. In court documents, his lawyer insisted he was innocent of any crimes.
Multiple cases
Case 4000 is the fourth case to involve the Prime Minister or his inner circle. Netanyahu was named as a suspect in the first two cases, known as 1000 and 2000, in which police said they have enough evidence to indict the Prime Minister on charges in two separate investigations.
Police are also investigating a case known as Case 3000, which involves the multimillion dollar purchase of German submarines and attack boats.
The procurements were made during Netanyahu's premiership, though the Attorney General has explicitly said that Netanyahu is not a target of the investigation. Israel's police chief said Netanyahu would be summoned for questioning as the investigation continues.
So far, Netanyahu's coalition partners have backed him, saying they will wait for the Attorney General to decide whether to indict the Prime Minister. But as suspicions around the Prime Minister and his inner circle grow, it becomes more difficult politically to support Netanyahu.