The Duchess of Cambridge's outfit at the British Academy of Film and Television Arts awards Sunday may have contained a subtle nod of solidarity to those speaking out on gender issues.
Kate Middleton wore a dark green dress and a black sash to the London event, a noticeable variation to informal dress code of black worn on the red carpet by Hollywood's best and brightest.
It was part of the Time's Up movement to bring awareness – and hopefully an end – to sexual harassment and gender discrimination, and echoes a similar call to action made at the Golden Globes in January.
The Duchess, who is expecting her third child with the Duke of Cambridge, was called out for her choice of dress by some on social media, but others speculated that the sash may have been Middleton's way of trying find a middle ground.
Good Morning Britain host Piers Morgan came to Middleton's defense on Twitter.
"Apparently, she's not allowed to exercise HER feminist right to wear whatever colour dress she chooses," the journalist and TV personality said.
Britain's royal family is usually expected to avoid taking political positions in public.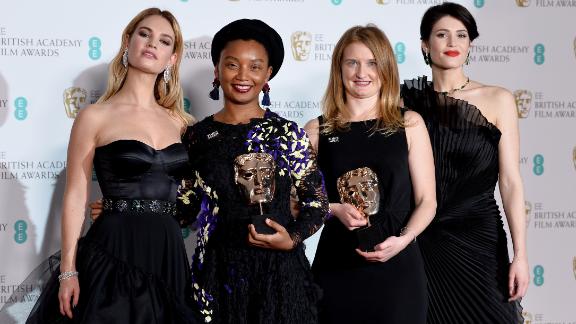 Jeff Spicer/Getty Images
Actresses Lupita Nyong'o, Emma Watson, Jennifer Lawrence, Margot Robbie, Saoirse Ronan and Angelina Jolie all sported black on the red carpet.
Watson donated more than $1 million to the Justice and Equality Fund, which was set up to "address priority needs, especially those of people in low paid, part-time and freelance employment, and those who face intersecting disadvantages related to their race, age, class, immigration status, disability or sexuality."
"It's incredibly important that people are being vocal about what is happening," she said. "And I think because the film industry has such a powerful impact globally that this messaging will help other industries as well," BAFTA CEO Amanda Berry told CNN.
Ahead of the BAFTAs, 190 British and Irish actresses signed an open letter calling for change and looking to use the awards show as an opportunity to make the movement international.
"As we approach the Baftas – our industry's time for celebration and acknowledgment, we hope we can celebrate this tremendous moment of solidarity and unity across borders by coming together and making this movement international," the letter read.
"We are all workers, and whether we're in the limelight or in the shadows, our voices matter. With our collective power, we can galvanize others."
CNN's Sandra Gonzalez and Carol Jordan contributed to this report