"Black Panther" might not be as big as President Barack Obama, but "it's up there."
At just 17 years old, Austin Massiah, a millennial who said he's never come face to face with racial injustice, said he could feel the historic power of the most high-profile black superhero movie ever.
His mom, Edith Massiah, who was born amid the groundbreaking chaos of the mid-1960s, sensed it, too.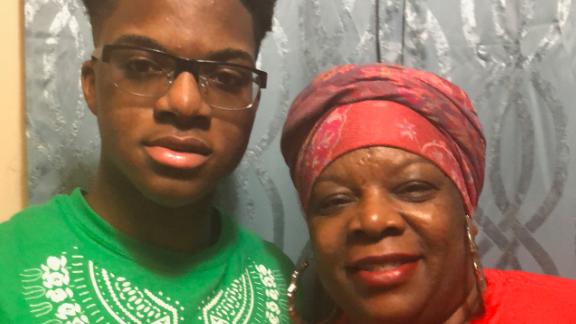 Courtesy Edith Massiah
"It's the black star magic," she told CNN.
As it opens nationwide Friday, "Black Panther" promises not only to shatter box-office records but also to write a superhuman chapter of triumph into America's often-unspeakable civil rights history.
In doing so, it's also bound to spark far different reactions across generations of African-Americans – as it did with the Massiahs, who shared their reactions Thursday after seeing the movie as part of an early screening donated to the Boys & Girls Club of Harlem, where Edith works.
"I don't think anything could beat out having the first black President," said Austin, a college-bound senior at Frederick Douglass Academy in Harlem. "I believe 'Black Panther' is up there for one of the biggest things to happen for my culture."
Added his mom: "When you talk about your Michael Jacksons and your Cosbys your Beyoncés, your Sammy Davis Juniors, just throughout history we've always been right there at the table, and our journey to the table is that much more magnanimous because we had to do it through barriers."
'He does have that … leadership'
Edith and Austin said they felt proud watching black characters exult on their own terms, rather than prevailing over an imposed abuse, such as slavery or institutionalized racism. The film starts Chadwick Boseman as T'Challa, a.k.a. Black Panther, who returns to the fictitious African nation of Wakanda to succeed his slain father as king.
"I see the 'Black Panther' movie as the foot being raised up off of our necks," Edith said. "Because the nation of Wakanda is just that. It was free from colonies, you know, from colonization. It was free from all that. So, they had the freedom to be the best, … to explore their own natural resources, to be able to create and develop and excel without those limitations."
"I feel like the other superheroes that (black people) had were overlooked and were made as if they were something less than they are," Austin said.
Black Panther "is true to his ability," he added. "He does have that power and that strength and that leadership that a superhero is supposed to have."
Different from other black superheroes – from Shaft and Cleopatra Jones to the half-vampire Blade – Black Panther doesn't reflect "an element of shadiness" or a need to break the law to right a wrong, Edith said.
"It was not about revenge," she said. "It was not about taking back something that was taken from them. It was about restoration, the restoration of ideology of a people. And then later, restoration of the way in which the world was operating."
A mother's faith in her son
Having experienced racism since elementary school – and still today, under the suspicious gaze of some store clerks – Edith said she worked hard to raise Austin with a strong sense of self-worth and limitless potential.
"One of the things that I feel is just important is that we have to prepare our children," she said. "If you have people in your life that prepared you, … you keep moving forward whatever you want to do you do."
Perhaps that's why Austin connected strongly with the powerful bond between mother and son in "Black Panther," immaterial of race.
"I saw myself in the 'Black Panther,' just watching just how the family and the mother specifically always had faith in the son regardless of what circumstances he was in," he said. "I feel like it's always that connection that brings family."
Still, for Edith, "Black Panther" touched a nerve "related to the black experience" that she hadn't felt since watching another American cinematic classic.
"I guess that the 'Roots' saga was the rite of passage for me and my daughter," she said, referring to the 1977 miniseries that traced a family's journey from enslavement in Africa to freedom. "Maybe 'Black Panther' is a rite of passage for me and my son."
'We're still family'
Other powerful themes that emerged for Edith and Austin transcended race, such as the role of the king's female guards and of Black Panther's sister, whom Edith described as "possibly the smartest person in the world because she was making these technological advances with a substance that the rest of the world did not have access to."
"I just think of the little girls who may not be interested in science and technology, we have this whole push for STEM, I can see a year from now, a lot of black, brown, white girls cropping up being our future engineers, our future scientists," she said.
And for Austin, a key antagonist-turned-ally drove home a message that might resonate in any household, anywhere.
"It shows that although we went through this path where we butted heads or were at crossroads and I guess we bumped into each other a bad way, we're still brothers at the end of the day," he said. "And we're still family."
Sonia Moghe and Kristina Sgueglia reported from New York. Michelle Krupa reported and wrote in Atlanta. CNN's Mercedes Leguizamon contributed to this report.