Japan's Yuzuru Hanyu takes to the ice at the Gangneung Ice Arena this weekend with the aim of solidifying his reputation as the most "complete athlete in figure skating" – with a little help from Winnie the Pooh.
If Japan's "Ice Prince" does win gold in the men's figure skating event he'll become the first man to win back-to-back Olympic golds since Dick Button did so in 1948 and 1952.
New Jersey native Button was a popular winner at the Oslo and St Moritz Games and then became a respected sporting commentator. Yet it's safe to say he never marked his moments of Olympic glory under a shower of soft toys.
Hanyu's adoring fan club have taken to tossing Winnie the Pooh bears at their hero after he began carrying a tissue box in the shape of the much loved A.A. Milne character back in 2010.
The 23-year-old now regularly carries the bear as a mascot – although Olympic rules mean it must stay in the dressing room Saturday.
His fans, however, have brought plenty of their own Pooh bears to Pyeongchang with scores landing on the ice as he rounded off his short program Friday.
A stunning 111.68. means Hanyu is well positioned to double up on the gold he notched in Sochi four years ago.
Button described the 23-year-old's short program as "marvelous" and "tremendous" on social media, cheekily adding that "it looks like its raining teddy bears."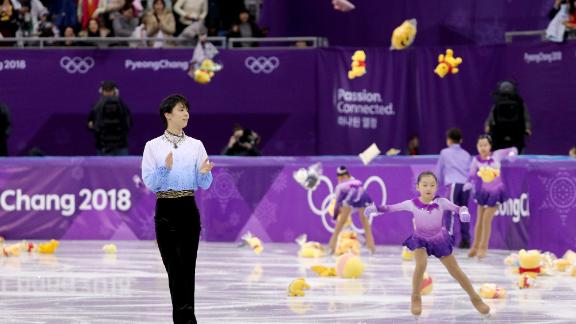 Maddie Meyer/Getty Images AsiaPac/Getty Images
ANNE-CHRISTINE POUJOULAT/AFP/Getty Images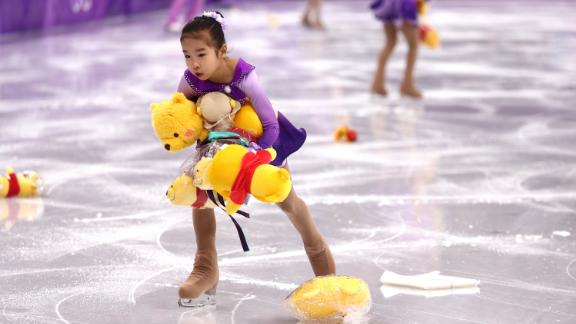 Maddie Meyer/Getty Images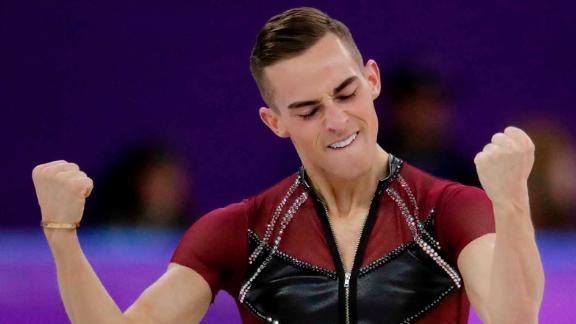 Julie Jacobson/AP
Read: Skiing's Von Trapp family
Read: He broke his neck in 2016, now he's an Olympian
Read: Tonga's shirtless hero racing 'not to come last'
War of words
Much of the build up to the men's figure skating event has focused on the US pair of Adam Rippon and Nathan Chen.
Chen was widely seen as a potential challenger to Hanyu, although that now seems unlikely after a disastrous short program saw him slump to 17th place.
Rippon, meanwhile, has been drawn into a war of words with Mike Pence over the US vice president's perceived stance on LGBT rights.
The openly gay athlete spoke earlier this week about how he stood by his position but regretted bringing "a lot of attention to my other teammates" and didn't "want it to distract from them."