On the campaign trail in 2016, Donald Trump promised to fill his Cabinet with the "best people in the world." As President, Trump has indeed hired a fleet of high-flyers – though not in the way most voters might have hoped.
Over the past year, a series of top administration officials have been caught out, shamed and, in the case of former Health and Human Services Secretary Tom Price, forced to resign over profligate travel spending.
The latest revelation of unseemly business emerged Wednesday, when an inspector general alleged that Veterans Affairs Secretary David Shulkin used taxpayer dollars and department staff to pay for and help plan a summer 2017 trip abroad.
According to the report, Shulkin's chief of staff altered language in an email which resulted in the department paying for Shulkin's wife's travel. The probe also found that Shulkin improperly accepted tickets to Wimbledon during his time abroad and used a VA staffer "as a personal travel concierge," dedicated to managing the couple's itinerary, including some of their leisure time.
In a subsequent interview with the Military Times, he denied any calculated wrongdoing, then seemed to place the blame on his colleagues.
"In retrospect, I wish I had asked additional questions of my staff," Shulkin said. "There was no intention of misusing government money. I relied upon my staff to make certain decisions."
The news fit neatly into a series of alleged (and, in some cases, confirmed) abuse by department secretaries, who've made a habit of racking up big tabs for even the briefest trips.
Earlier this week, Environmental Protection Agency Administrator Scott Pruitt blamed vocal citizen critics for his decision to fly first class or on military jets, telling the New Hampshire Union Leader, "We've had some incidents on travel dating back to when I first started serving in the March-April time frame."
"We've reached the point where there's not much civility in the marketplace and it's created, you know, it's created some issues and the (security) detail, the level of protection is determined by the level of threat," he said.
The particulars of his travel plans, Pruitt added, are handled by that security detail and his chief of staff.
It's been a busy year for inspectors general across the federal government. Last October, the Treasury Department released a report finding that Secretary Steven Mnuchin had spent more than $800,000 on seven trips.
Mnuchin was not implicated in any wrongdoing, though the IG did rap the administration for approving travel requests without sufficient justification from the department.
Two trips – one taken, the other canceled – grabbed headlines: First, Mnuchin requested a government plane to for his honeymoon, a 10-day vacation that would take him to the UK, France and Italy. Why? According to his office, it was determined to be the "most cost-effective" way to guarantee his "access to secure communications." The request was eventually withdrawn.
Then there was that memorable August 2017 day in Kentucky. For $26,900, Mnuchin and a group including his wife, Louise Linton, flew on an Air Force version of a Gulfstream 550 to an event with Senate Majority Leader Mitch McConnell. The rest, of course, is Instagram-inspired history.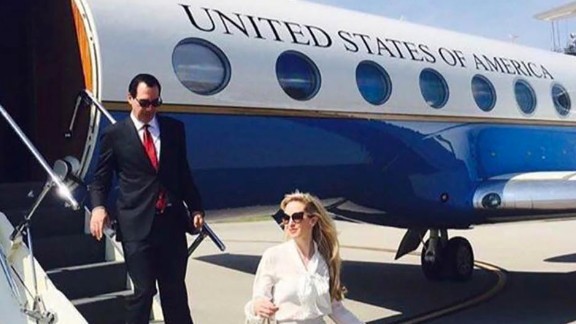 From Instagram
Mnuchin reimbursed Linton's expenses – less than $600 – but the hubbub surrounding the trip, which coincided with a solar eclipse (Kentucky was right in its path), set off the fateful IG probe. For his part, Mnuchin said he needed a government plane due to "scheduling, logistics, and communications needs."
When the IG for the Interior Department wanted to review Secretary Ryan Zinke's travel expenses, she turned up a lot of blank forms and missing papers.
"Our investigation has been delayed by absent or incomplete documentation for several pertinent trips and a review process that failed to include proper documentation and accountability," Mary Kendall wrote in a November 2017 memo.
Before taking over the department early in 2017, Zinke was Montana's lone congressman. His most controversial involved travel between there and Las Vegas, where he met last summer with the city's new NHL team, the Golden Knights, before heading to Montana on a private jet. Owner Bill Foley had been a top donor to then-Rep. Zinke. In September 2017 Zinke described the furor over his travel as "a little BS."