Editor's Note: Peter van Onselen is a professor of politics and foundation chair of Journalism at the University of Western Australia and the Contributing Editor at The Australian. The opinions expressed here are solely his.
(CNN) —
Joyce announced the break up of his marriage late last year, and just last week it was revealed that he's living with a former staffer who is expecting his child in April.
The trigger was a scandal involving Deputy Prime Minister Barnaby Joyce, whose 24-year marriage broke down last year around the same time he had an affair with a staff member, who is now pregnant with their baby.
While Turnbull's move is overdue to address the culture in Canberra, the early reaction seems to be that he has missed a significant aspect of why Joyce's actions were so concerning to the public.
That is, not the personal relationship itself with a staffer, but the subsequent wheeling and dealing which saw Joyce's mistress handed plum jobs in other offices, alongside Joyce receiving rent-free accommodation from a party donor when he moved out of the matrimonial home.
Late Thursday, Turnbull announced that ministers "regardless of whether they are married or single, must not engage in sexual relations with staff."
"I am not here to moralize. But, we must recognize that whatever may have been acceptable or to which a blind eye was turned in the past, today, in 2018, it is not acceptable for a minister to have a sexual relationship with somebody who works for them," the Prime Minister said.
Turnbull made it clear that his Deputy PM would be in breach of the new rules, if they'd been in place during his affair, making Joyce's position untenable.
It was seen as a direct rebuke of the Nationals leaders' actions, even though the PM is powerless to formally reprimand or remove him. Because Joyce leads a separate political party, Turnbull can't sack him, unless the Nationals do so in a party room coup.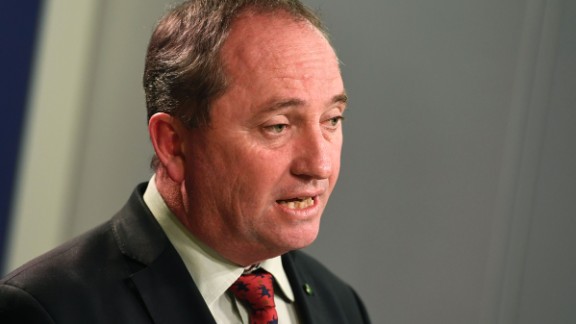 WILLIAM WEST/AFP/Getty Images
Joyce is standing fast, and his supporters claim there are few if any signs of numbers moving against him, despite intense media pressure.
There are only 21 Nationals Party MPs and Senators amongst Australia's elected representatives, meaning that Joyce only needs to retain the backing of 10 colleagues to hold firm.
On Thursday, the Prime Minster even suggested Joyce consider his position.
"Barnaby has acknowledged his fault, his error, his grief about his conduct. He has to consider his own position obviously. These are matters for Barnaby Joyce to reflect on," Turnbull said.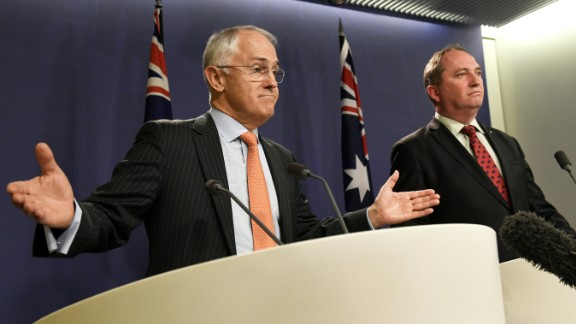 WILLIAM WEST/AFP/AFP/Getty Images
Coup ahead?
A political standoff therefore appears in the offing. The Nationals, Australia's largest party representing the regions, has only removed one leader in its 90-year history in a party room coup.
Momentum for a fresh coup early in the week died down as Nationals MPs came out one by one arguing that Joyce deserves more time to rebuild credibility.
Joyce is a powerful political actor, described by former PM Tony Abbott has the best "retail politician" of his generation. His earthy style connects with regional voters.
At the last election when Turnbull's Liberal Party lost more than a dozen seats, the Nationals under Joyce's leadership not only held all of their seats but picked up one more. In short, Joyce saved Turnbull's prime ministership.
The issue now is whether Joyce can rebuild into the retail politician he once was in the wake of this scandal. Liberals don't think so, and so far a majority of Nationals do.
Joyce was due to take over as the acting Prime Minister next week when Turnbull heads to the US for meetings with President Donald Trump, but Joyce is instead taking a leave of absence to try and avoid his tenure becoming a circus.
Because the Foreign Minister and Liberal Party deputy leader Julie Bishop will also be overseas, the leader of the government in the Senate Mathias Cormann will assume the Acting PM role.
Turnbull's move gives him moral authority, stamping out relationships which place staffers in unequal relationships.
But it also invites greater media scrutiny of what has previously been described as the private lives of politicians.
The changes to the ministerial code of conduct remove the cultural barrier to such reporting.
Some of Turnbull's colleagues are concerned about the "can of worms" this will open up, as one minister told me shortly after the announcement.