Story highlights
Product of the Year polls 40,000 consumers to rate the best products
This year's winners include Tide, Skinny Cow and Oreo
CNN —
Every year, over 40,000 consumers vote for products they consider the best new innovations. And then, based on real shoppers' feedback, brands from different genres and price points, ranging from home cleaning to men's hair care, face off for the chance to win the title of Product of the Year in their respective categories. Think of it as the Oscars for the best new products you can shop online and at your local store.
A little background on how Product of the Year works: Every year for the past 30 years, a national study of over 40,000 consumers has been done by POY and Kantar TNS, a global leader in consumer research, to discover the most popular products released in the previous 20 months. (Makers of the products pay to be included in the survey.) Brands that win are easily identifiable by their Product of the Year USA red seal for your convenience while shopping.
Frozen foods, laundry detergents, and even air fresheners have all won the title this year.
Ahead, we've rounded up a number of winners, plus the links where you can buy them right now. We're willing to bet that once you test out these goodies for yourself, they'll become staples in your home. Hey, if 40,000 other shoppers think these products are awesome, they're worth a try, right?
Note: Prices below reflect the listed retailer's price at time of publication.
Winner: Air Care
Febreze ONE Fabric and Air Mist ($4.94; walmart.com)
Winner: Bakery
Duncan Hines Perfect Size for 1 ($3.64; jet.com)
Winner: Beauty
Schwarzkopf Gliss Ultimate Repair Anti-Damage Mask ($5.49; target.com)
Target
Winner: Candy Bar
Oreo Chocolate Candy Bar, Pack of 24 ($21.25; amazon.com)
Winner: Cooking
Copper Chef Square Pan ($39.57; qvc.com)
Winner: Dish Care
Cascade Platinum (prices vary; amazon.com)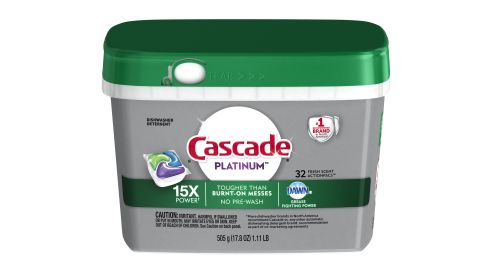 Amazon
Winner: First Aid
Curad Soothe Plus ($5.99; amazon.com)
Winner: Ice Cream
Skinny Cow High Protein Packed Low Fat Ice Cream (prices vary; target.com)
Winner: Laundry Pacs
Tide PODS Plus Downy HE Turbo Laundry Detergent Pacs, April Fresh Scent ($23.99; jet.com)
Walmart
Winner: Liquid Laundry
Gain Botanicals Plant Based Laundry Detergent ($5.99; target.com)
Winner: Men's Hair Care
Just For Men Control GX Shampoo ($7.54; amazon.com)
Winner: Pain Relief
Procure Epsom Salt Rub Gel ($5.97; walmart.com)
Winner: Pet Care
Turtle Wax Power Out! Carpet and Mats Cleaner ($4.47; amazon.com)
Winner: Women's Grooming
Finishing Touch Flawless Women's Painless Hair Remover ($34.97; walmart.com)