Sitting in. Voting through. Running out. It's Thursday, and here are the 5 things you need to know to Get Up to Speed and Out the Door.
1. Harvey
Sen. Chris Murphy, the Democrat represented Newtown, Connecticut, in Congress at the time of the 2012 mass shooting at Sandy Hook elementary school, said this from the Senate floor: "This epidemic of mass slaughter, this scourge of school shooting after school shooting, it only happens here not because of coincidence, not because of bad luck, but as a consequence of our inaction. We are responsible for a level of mass atrocity that happens in this country with zero parallel anywhere else."
Meanwhile, Michael Cohen, the President's personal lawyer, said he paid porn star Stormy Daniels $130,000 out of his own money. Daniels allegedly had a sexual encounter with Trump before his time in office, something Trump denies. So, why the payoff? Cohen said, "Just because something isn't true doesn't mean that it can't cause you harm or damage. I will always protect Mr. Trump."
2. President Trump
It was another topsy-turvy day at 1600 Pennsylvania Avenue. First, CNN learned that at least 100 White House officials didn't have full security clearances in November 2017 – a year after Donald Trump's election. It's not clear if these staffers, including Ivanka Trump and Jared Kushner, have since gained full clearances or whether the delay is the result of a backlog or complications in the staffers' backgrounds.
3. African politics
The US Director of National Intelligence Dan Coats also warned that the current risk of a global conflict is higher than at any time since the end of the Cold War.
4. North Korea
South Africa's ruling party wants President Jacob Zuma to resign, but he refuses to go. The African National Congress, once led by Nelson Mandela, recalled Zuma because of corruption scandals swirling around the 75-year-old leader. If he continues to defy his party's wishes, he could face a no-confidence vote by lawmakers as early as this week.
What does Kim Jong Un really want? CIA Director Mike Pompeo thinks the North Korean leader is developing nukes for more than just preserving his regime. Pompeo says Kim's ultimate goal is to take over the entire Korean Peninsula, and he's prepared to use both nuclear weapons and conventional military forces to do it. So could the US do a limited military strike to stop him without risking a full-scale war? Pompeo wouldn't answer that, but President Trump has said in the past that all options are on the table when it comes to dealing with North Korea.
5. Salmonella outbreak
Thinking about buying a phone made by Huawei or ZTE? Don't do it, say top officials from the FBI, NSA and CIA. Huawei and ZTE are Chinese tech firms, and FBI Director Chris Wray said it's dangerous to let companies "beholden to foreign governments" inside America's telecommunications infrastructure. The US has blocked Huawei from selling tech to some federal agencies. There's concern that the Chinese government can use the phones and other equipment for spying.
WINTER OLYMPICS
MIKAELA'S GLORY: After days of weather delays, Mikaela Shiffrin finally got what she came to Pyeongchang for: Olympic gold. Shiffrin won the gold medal in the women's giant slalom, racing brilliantly to finish 0.39 seconds ahead of Norway's Ragnhild Mowinckel.
'A DAY IN THE LIFE OF' KOREAN PAIR: North Korean figure skaters Ryom Tae Ok and Kim Ju Sik got a huge cheer from the crowd as they took to the ice for the first time in the pairs skating short program. They danced to a Jeff Beck cover of The Beatles' "A Day in the Life" and ended up in second place in the qualifying round.
MEN'S ICE HOCKEY: The men's ice hockey competition will get underway on Wednesday with USA taking on Slovenia and Slovakia taking on the gold medal favorite Olympic Athletes from Russia team. The start of this competition has been overshadowed by the absence of some of the sport's biggest stars after North America's NHL decided not to allow its players to participate. 
VALENTINE'S DAY AT THE OLYMPICS: Later today, check out CNN's Christina Macfarlane's "Olympic Love Story" piece as we share the love on February 14.
CORRECTION: Yesterday, we said the women's OAR team lost to Sweden 5-0 in its first game. They actually lost to Canada. We're sorry for the error; thanks to everyone who pointed it out.
BREAKFAST BROWSE
People are talking about these. Read up. Join in.
New dad
We may be in the middle of the Winter Olympics, but Michael Phelps is still making news, thanks to his new baby boy.
The greatest thing since …
Lawmakers in Missouri are debating the really big issues, like whether to OK a bill marking July 7 as Sliced Bread Day.
Social snow
Social media's been on a kindness streak lately. It took just one tweet to get more than 100 people to shovel snow for Chicago's elderly after a recent storm.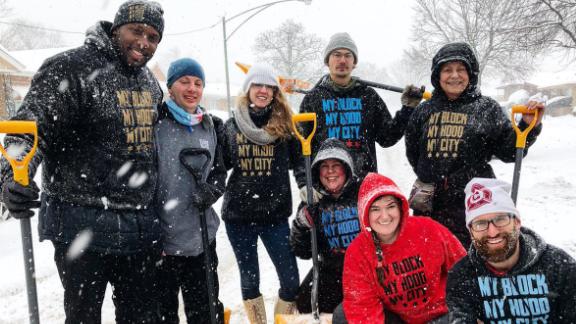 Jahmal Cole
Throw me a bone
First, some teens wanted to run for governor. Now, Kansas has had to deny a dog from throwing its hat in the ring.
NUMBER OF THE DAY
$19.6 billion
That's how much we'll spend on candy, cards and other goodies this Valentine's Day, according to the National Retail Federation.
WHAT'S FOR LUNCH
Getting together
San Antonio Spurs coach Gregg Popovich, on why it's important for the NBA to celebrate Black History Month
AND FINALLY …
Great ball of fire
It's 42,000 matches, glued together to form a sphere. Wonder what happens if you light it up? (Click to view.)