Story highlights
These messenger bags from Chrome Industries, Timbuk2 and Herschel Supply Co. make perfect commuting packs.
CNN —
There's just something about the rush of biking to work (or around town) with wind in your hair and sun beating down that has biking-enthusiasts hooked. The only issue comes when traffic is heavy — or when you have way too much to carry. Luckily, the convenience that comes with owning a well-designed messenger bag can totally save the day — and your ride.
We have several favorite retailers that top the list when buying biking gear (and bags). For one, Chrome Industries, now a global manufacturer of utility cycling wear, has been churning out sturdy, weatherproof bags since 1955 — and now, they're some of the most popular bags being toted by cyclists. Below, we've included a few cool picks from the brand, as well as other functional finds from trusted retailers — because clearly the cycling trend is picking up and sporty gear (that also looks stylish) is a must.
If you're new to cycling or just want to improve your biking experience, we have the perfect thing for you: top-notch messenger bags that are designed to withstand the weather, hold and organize your daily essentials, and allow you to carry your things comfortably.
Note: the prices below reflect the retailer's listed price at the time of publication.
Timbuk2 Classic Messenger Bag (starting at $49.99; amazon.com)
We're big fans of this bag — and so are Amazon customers. Available in many different colors and sizes, this sleek bag received close to 1,000 reviews and an average 4.6- out of 5-star rating. Its trusted maker, Timbuk2, has been making genius cycling packs (and more) since 1989 and continues to churn out genius products including this classic messenger for cyclists. With a weatherproof finish and an internal organizer for housing pens, gadgets, and more, this bag can take you from work to the gym and beyond.
Kadet Moto Messenger Bag ($120; chromeindustries.com)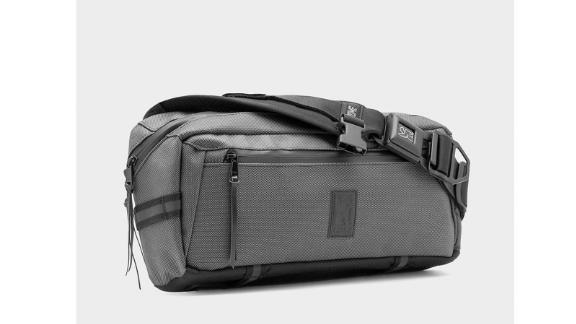 For a compact option that's equally as sturdy, check out the Kadet Moto, a new arrival this season. An inventive take on the traditional messenger bag fit, this bag is slightly smaller than your traditional biking pack — but has all the durability and functionality to make it worth the investment. And, even though we're really psyched about how this bag looks, we realize it wasn't designed with style solely in mind. Made from a thick nylon material and with a waterproof inner liner, the Kadet Moto was made to brave the elements — a total no brainer when riding in unpredictable weather.
Herschel Supply Co. Pop Quiz Messenger Bag ($86.99; amazon.com)
A bag we're pretty much obsessed with from a very stylish retailer, this Pop Quiz Messenger is a Herschel Supply Co. classic. Each season, the brand changes up the colors and makes refinements for better functionality, but the overall aesthetic stays the same. We're big fans of this iteration, which has a waterproof zippered pocket across the front, a protective 15" laptop sleeve, internal mesh organizers, and a clip for keeping your key. Turns out, we aren't the only ones who love this bag. On Amazon, this bag sells out quickly. The good news is, if it sells out, you can snag one once the style is replenished — or, you can buy directly from the Herschel Supply Co. online store ($89.99; herschel.com).
Mini Metro Messenger Bag ($140; chromeindustries.com)
This bag is made using military-grade nylon (aka durable!), is manufactured in the U.S., and it's stylish. Aka, it's a serious cycler's dream — a bag so good, we'll take two. Its special features include a quick-release strap so you can conveniently remove your bag, mounting loops for attaching bike lights, and it accommodates up to the size of a MacBook Pro 15". Available in several different colors (some with reflective detailing, some without), this riding pack was made for serious cyclists that want their belongings safely housed as they ride.