Sitting in. Voting through. Running out. It's Thursday, and here are the 5 things you need to know to Get Up to Speed and Out the Door.
1. Harvey
Special counsel Robert Mueller has indicated interest in questioning President Donald Trump about his dismissals of former FBI Director James Comey and former national security adviser Michael Flynn, two sources familiar with the matter told CNN. The sources cautioned against presuming the President would sit down with Mueller in the next few weeks, saying there is still much to be negotiated.
Meanwhile, the President unveils that much-talked about infrastructure plan today. The proposal's general outline calls for a $200 billion federal investment in the nation's roads, bridges, waterways and railroads. The White House hopes the money will trigger state and local governments to spend a total of $1.5 trillion on improvements.
2. President Trump
The end of the government shutdown finds Republicans and Democrats moving even further apart on immigration. Senate Minority Leader Chuck Schumer withdrew an offer that would have approved funding for President Trump's border wall. And the White House indicates it wants more than just the wall and additional resources on the Southern border in exchange for a DACA fix. It wants Homeland Security to have more power to remove undocumented immigrants. These changes in positioning risk losing the support of very conservative and very liberal lawmakers. Which means we'll probably be facing another immigration-fueled shutdown come February 8.
Meanwhile, three people died when a helicopter touring the Grand Canyon crashed in Arizona. Three survivors and the pilot were later rescued in an operation that was hampered by the windy and rugged conditions in the canyon.
3. North Korea
They're planning prayer vigils today at Marshall County High School in western Kentucky after a shooter killed two students and wounded 16 others. The suspected gunman is a 15-year-old male student who was nabbed on the scene. He'll probably be charged as an adult on murder and attempted murder charges. Shocked students described utter chaos as gunfire broke out in the school's commons area right before classes started. Some kids jumped fences and ran into the woods for safety.
4. North Korea
What does Kim Jong Un really want? CIA Director Mike Pompeo thinks the North Korean leader is developing nukes for more than just preserving his regime. Pompeo says Kim's ultimate goal is to take over the entire Korean Peninsula, and he's prepared to use both nuclear weapons and conventional military forces to do it. So could the US do a limited military strike to stop him without risking a full-scale war? Pompeo wouldn't answer that, but President Trump has said in the past that all options are on the table when it comes to dealing with North Korea.
5. Salmonella outbreak
Aetna is being investigated by California's insurance commissioner after one of its former medical director made a shocking admission under oath in a deposition: he never looked at patient records when deciding whether to OK or deny care. CNN showed California Insurance Commissioner Dave Jones a transcript of the testimony, and he wants to know if this is a widespread practice at Aetna.
WINTER OLYMPICS
Over the weekend, teenager Red Gerard claimed the USA's first gold as he produced the performance of his life in the snowboard slopestyle competition.
– OAR's Evgenia Medvedeva set a new world record in the women's figure skating short program.
– Canadian Eric Radford became the first openly gay man in Winter Olympics history to earn a gold medal with Team Canada's figure skating win.
– Russia's Semen Elistratov became the first Olympic Athlete from Russia (OAR) to medal. But then Olympic officials had to defend their decision to let him compete after it emerged he served a doping suspension.
– Mirai Nagasu became the first American female figure skater to hit the triple axel during an Olympic event.
ARIS MESSINIS/AFP/Getty Images
Here's what's coming up:
– This week, we'll get a glimpse of one of the most dominant athletes in winter sport and potentially the face of these games: USA's Mikaela Shiffrin. She'll be looking to claim her first gold of these Games in the women's giant slalom (which was put on hold after high winds forced the event to be postponed).
– After claiming a silver medal in the 5,000m on Saturday, Team Netherlands' Ireen Wust has the opportunity to become the most successful speed skater in Olympic history if she is able to claim a medal in the 1500m.
– Team USA are just two golds away from reaching a landmark 100 gold medals in Winter Olympics history
BREAKFAST BROWSE
Grab your spot
If you want a peek at Prince Harry and Meghan Markle after the "I dos," the post-wedding processional route has been released.
Sorry, ladies
Idris Elba popped the question to his girlfriend at a film screening – and there's video. Watch it and weep.
Extreme makeover
Months after it was turned into a prison for prominent Saudis, the Ritz-Carlton in Riyadh is open to the us regular folk again.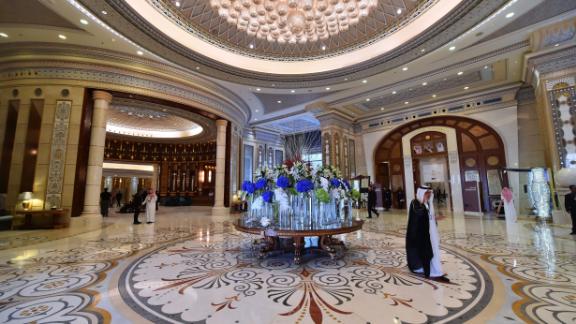 GIUSEPPE CACACE/AFP/AFP/Getty Images
R.I.P. Reg
Whether you knew him as Normal, the political operative on "The Wire," or as Freddy, the barbecue man on "House of Cards," Reg E. Cathey's voice was something to hear. He died at age 59.
AND FINALLY
Hey, Siri …
What would Siri have been like in the 80s? Wonder no more. (Click to view)