Shortly after Tennessee law enforcement shot and killed a man during a two-county vehicle chase in April, White County Sheriff Oddie Shoupe seemed fired up as he recalled his conversations with dispatchers.
"They said, 'We're ramming (the suspect),' " Shoupe told a deputy in body-camera footage obtained by CNN this week. "I said, 'Don't ram him. Shoot him.' "F*** that s***. You're gonna tear my cars up."
Shoupe later says of the chase, "I love this s***. God, I tell you what, I thrive on it."
The comments, recorded April 13 after the sheriff arrived at the scene where officers shot and killed Michael Dial on the side of State Route 111, are at the center of a federal lawsuit filed last week by Dial's widow against White County, Shoupe and others.
The widow, Robyn Spainhoward, alleges that a White County sheriff's deputy and a Sparta police officer used excessive force to kill Dial, 33, of Clarksville, Tennessee.
Shoupe, in the body-camera video, says he was in another part of the county during the chase but gave orders to dispatchers that would be relayed to the pursuing officers.
In the video, he says he "gave the order to take him out because he (Dial) was going to kill somebody if we hadn't."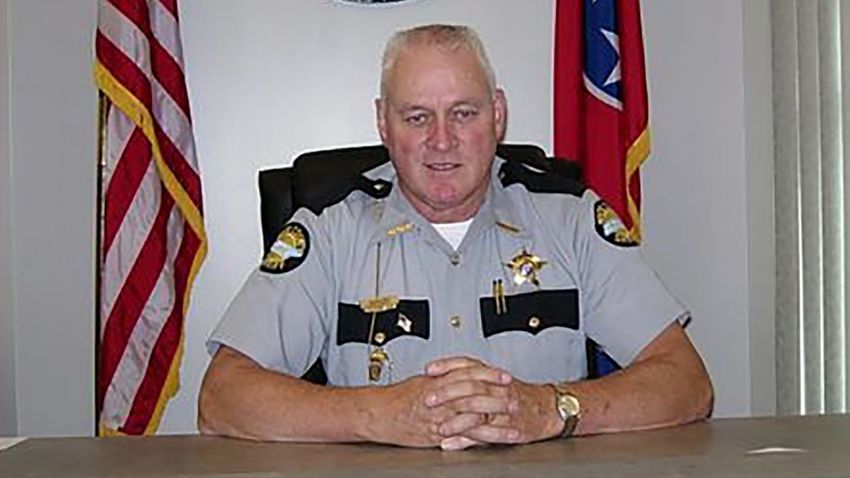 Sheriff: I love this s*** ... I thrive on it
Two deputies and a police officer were injured during the pursuit, the Tennessee Bureau of Investigation said. The prosecutor ruled the shooting was justified, CNN affiliate WTVF reported.
District Attorney General Bryant Dunaway did not return CNN's calls for comment about the case.
The lawsuit, which seeks up to $10 million, alleges that the sheriff ordered the shooting "solely to prevent damage to patrol cars." The suit, filed in US District Court in Nashville, cites Shoupe's comments lamenting damage to his vehicles for part of its argument.
"I feel with every part of me, that's exactly what they wanted to do, was kill him," Spainhoward told WTVF. CNN tried to contact Spainhoward through her attorney but he said she wasn't granting any more interviews.
Citing the lawsuit, Melissa Worthington, a spokeswoman for the sheriff's office, said Shoupe and his department would not comment.
White County Executive Denny Robinson and Sparta Police Chief Jeff Guth also declined to comment.
'Use deadly force if necessary'
The chase began on a late April afternoon when police in Smithville, in DeKalb County some 55 miles southeast of Nashville, tried to pull Dial over on suspicion of driving with a suspended license, according to the lawsuit.
Dial, in a pickup towing a loaded, open-air trailer, kept driving. He'd been in Smithville for a flea market, Spainhoward told CNN affiliate WKRN in April.
When Dial went east into adjacent White County, Sparta police and White County sheriff's deputies picked up the chase. Dashboard and body-camera videos obtained by CNN show squad cars trying to force the truck off the road or get it to stop, by running into it or cutting it off.
The truck and patrol cars came into contact several times as Dial headed north on Route 111, the truck at times weaving, and items spilling out of the trailer. Despite being forced into the median at one point, Dial kept going.
The lawsuit says Dial was driving around 50 mph, and "at no point after turning onto Highway 111 did Dial pose a threat to any members of the public."
But deputies are heard telling dispatchers that at least one officer's vehicle had been disabled.
A dispatcher eventually relays new instructions from the sheriff, who was not involved in the chase. Here's a conversation in one of the dashboard camera recordings:
Deputy: "Get a hold of 59 (the sheriff), see if we can do something to get this maniac off the road."
Dispatcher: "(Unintelligible), deadly force."
(A different video – from a reserve deputy's body camera – shows the dispatcher saying: "Per 59, take him out by any means necessary, including deadly force.")
Deputy: "10-9 (repeat)?"
Dispatcher: "Per 59 (the sheriff), use deadly force if necessary. Take the subject out by any means necessary."
Deputy: "10-4. Central, be advised, I'm fixing to ram him."
Dispatcher (40 seconds later): "All units, per 59, do not ram this subject. If you need to, get up and use your shotgun and end this pursuit."
See dashcam of Tennessee police car chase
At about this moment, a pursuing squad car hits the truck in the rear passenger side, turning it sideways.
A body camera shows a reserve deputy exiting his vehicle and firing a gun.
While the reserve deputy is running, other shots – fired by a Sparta police officer, according to the lawsuit – are heard.
The truck goes off the right of the road and down an embankment. It then goes briefly back up, toward the general area of a police car, before going back down and coming to a rest.
Both the reserve deputy and the Sparta police officer shot Dial, with one of them shooting him in the head, the lawsuit says. He was taken to a hospital, where he was pronounced dead.
Dial died of the gunshot wound to the head, a report by the White County medical examiner's office says.
'He meant to kill some people'
After the shooting, Shoupe arrives on the scene. Eventually he gets back into a vehicle with a deputy.
Body camera footage reveals conversations that the sheriff was having in that vehicle after the shooting:
Shoupe: "I told them, I said, 'Take him out.' "
Deputy: "I heard."
Shoupe: "Damn, I don't give a s***."
Deputy: "It wasn't long after that I heard, 'Shots fired. Shots fired.' "
Shoupe: "They said, 'We're ramming.' I said, 'Don't ram him. Shoot him.' "F*** that s***. You're gonna tear my cars up. I got two cars tore up again."
Shoupe then appears to engage in several phone calls. Several times, Shoupe either says Dial tried to kill an officer or posed a deadly threat.
"He's (Dial) tore our cars all to hell. He tried to kill him. I'm telling you. You (ought) to see that city car," Shoupe says in one call.
"He (Dial) rammed the city officer, tried to kill him, and he has tore their car all to hell. I mean he ran over the back at it, right up on top of it," Shoupe says in a subsequent call.
Shoupe also mentions that one officer is bleeding from the mouth, and was taken to a hospital.
The TBI said three officers – a Sparta police officer and two White County sheriff's deputies – suffered "injuries consistent with being in a vehicle crash."
"I gave the order to take him (Dial) out because he was going to kill somebody if we hadn't," Shoupe says during a phone call in the body-camera footage. "I'm telling you … this is a hell of a pursuit. I mean, he meant to kill some people."
"Anyway, sir, I just wanted to let you know that I hate it, but that's what we do," he says before ending the call.
He later tells an officer in the car: "If they don't think I'll give the damn order to kill that mother*****, they full of s***."
After lamenting that he was on the "wrong end of the county" during the chase, Shoupe delivers one of the quotes that the lawsuit highlights:
"I love this s***. God, I tell you what, I thrive on it."
Then Shoupe, once again, refers to Dial as a threat.
"He was going to kill somebody," the sheriff says.
'I don't know how you can thrive on taking a human life'
Attorney David Weissman, who represents Spainhoward in the lawsuit, told WTVF that Dial did not have a weapon and that the shooting was unjustified. In an interview with TV station, he referred to Shoupe's "thrive" comment.
Bodycam video shows Tennessee police open fire
"I don't know how you can thrive on taking a human life," Weissman said. "That's not law enforcement."
He also pointed to Shoupe's comments about the patrol cars, asserting they show he was more concerned about the vehicles than Dial's life.
"If that's the mentality of the highest policymaker in the county, that's scary," the lawyer told WTVF.
The lawsuit alleges Shoupe shouldn't have given the deadly-force order, in part because the sheriff wasn't at the scene.
"The decision to order the use of deadly force when not physically present to evaluate the situation speaks volumes as to the malicious and sadistic mindset of Sheriff Shoupe," the lawsuit reads.
Dunaway, the district attorney for an area that includes White County, ruled the shooting justified, saying in part that Dial posed a danger to law enforcement and other citizens, and that his truck was going back up the embankment toward the Sparta police officer's vehicle, WTVF reported.
But Spainhoward has said she doesn't believe her husband needed to die.
"They could have let him go 10 more miles down the road. He probably would have run out of gas," she told WTVF.
CNN's Tina Burnside, Deanna Hackney and Dianne Gallagher contributed to this report.