Editor's Note: Nic Robertson is CNN's diplomatic editor. The opinions in this article belong to the author.
Sinn Fein President Gerry Adams has carefully choreographed his departure this coming weekend from the party's most powerful post, but it's unlikely that we've seen the last of him.
For his many critics, Adams is the utterly unacceptable face of Irish Republicanism. In their opinion, he has blood on his hands — an assertion he's rejected. Adams has repeatedly denied he was a member of the Irish Republican Army, a militant organization that in 1999 admitted to killing people during the three decades of sectarian bloodletting in Northern Ireland known as "the Troubles."
The conflict – which saw more than 3,600 people killed – pitted Catholic republicans against Protestant unionists. The former wanted to unite Northern Ireland with the Republic of Ireland, while the unionists wanted Northern Ireland to remain part of the United Kingdom.
Adams has also repeatedly denied that Sinn Fein, the party he led for 34 years, was the political wing of the IRA.
It is heavy political baggage that Adams hauls, and time has not lightened his load.
The stains of his alleged paramilitary past have never faded. Instead, they have become a sticky residue attracting conspiracies, grudges, even police investigations.
No amount of spin doctoring can erase that kind of tarnish.
By handing over Sinn Fein's presidency in an uncontested leadership change, to longtime party deputy leader Mary Lou McDonald, Adams seems to accept the limitations of his legacy and image, but he may also be exploiting Brexit.
McDonald is untainted by allegations of affiliations to the IRA, allowing Sinn Fein to win more votes particularly south of the border in the Irish Republic, where Adams' toxic past has long been an impediment to Sinn Fein's success. A survey in January showed a fifth of Irish voters would be more likely to support Sinn Fein under McDonald.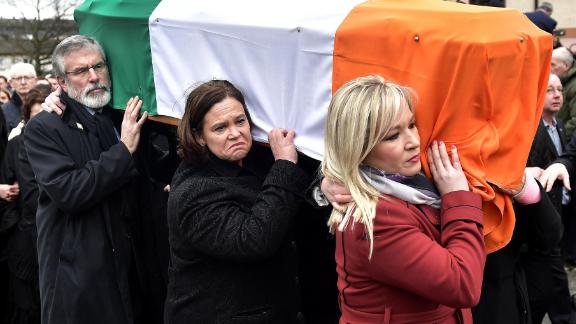 Charles McQuillan/Getty Images Europe/Getty Images
But the process leading to his departure has suffered some unwelcome wobbles.
In January, a Sinn Fein lawmaker posted an image of himself on social media with a loaf of Kingsmill bread on his head. He was forced to resign because he appeared to be making fun of the murder of 10 Protestant workers in 1976 in what became known as the Kingsmill massacre.
And two weeks ago, one of Adams' closest allies became an unwitting star in a video that went viral. Gerry Kelly, a very senior Sinn Fein politician who was a convicted IRA bomber, was videoed outside his local gym using bolt cutters to take a wheel clamp off his car.
He said he feared being late for important political meetings, but the damage to Sinn Fein's recent efforts at an image makeover was done. Local headlines read "Wheel IRA," a play on the "Real IRA," an IRA splinter group.
The episode underlines the view that old-school IRA/Sinn Fein leaders can be expected to play by their own rules rather than the law.
While Adams looks for political capital from a seamless succession, the wobbles will have set him back. But he's has built his career on overcoming setbacks.
When the British government jailed him and many other young Republicans during the internments in the 1970s, Adams turned the table on British authorities by using the time to educate his young cadres in politics and the republican cause.
In Northern Ireland today, Sinn Fein is by far the largest Catholic party, and Adams the most powerful Catholic politician.
His long-term goal as stated as recently as the past couple of weeks is for Sinn Fein to gain enough political power across the island of Ireland to engineer conditions for a united country.
Jeff J Mitchell/Getty Images Europe/Getty Images
"We need to devise strategies and win support for a referendum on Irish unity. And we need to campaign for this. We also need to win that referendum… Don't believe the naysayers and begrudgers … who claim that a United Ireland is a pipe dream.
"It isn't. It's very real. It's very achievable. We can do it."
It was Adams' astute foresight following the 1998 Good Friday peace agreement to immediately pivot his party toward building political clout south of the border that has put the party on the strong footing it enjoys today.
While his principle partner in peace talks, the late Sinn Fein MP and accused former IRA commander Martin McGuinness, focused on Northern Ireland, Adams turned his attention to the Republic of Ireland, becoming a member of parliament there and establishing Sinn Fein as the third most popular party.
Under Adams' leadership, Sinn Fein has become a grassroots, socially supportive party with a hard-earned reputation of taking care of the people and communities it represents.
The party has made gains and broadened its appeal beyond its core. Adams has helped cultivate a progressive mantle for Sinn Fein, calling for change to Ireland's restrictive abortion laws, among other issues.
But it appears that even with his political savvy, he could take Sinn Fein no further.
Adams' decision to step down may also be timed to exploit an unexpected political windfall from the UK's Brexit referendum.
South of the border, Brexit is already leading to extreme frustration between the Irish government and Theresa May in London, which Adams has been ably exploiting by demanding the Irish Taoiseach or Prime Minister take a tough line.
But it is north of the border where Adams may see a bigger opportunity from Brexit.
Not for the first time, an event not directly linked to the province may nudge the politics forward.
It has happened before. In the 1990s Adams and McGuinness and Kelly led the IRA into a ceasefire and ultimately to the 1998 Good Friday agreement, but they refused to surrender the IRA's weapons.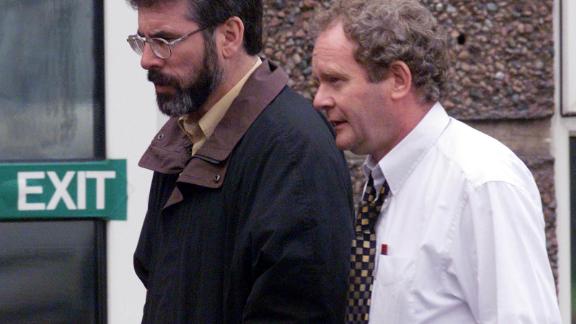 Paul Faith - PA Images/PA Images/PA Images via Getty Images
After the peace deal, the decommissioning of the IRA's guns became the next big stumbling block to lasting peace.
Adams had cannily brought the IRA to a position of not using the weapons: They weren't technically defeated, but it was a bad-faith impasse that helped bring down the unionist leaders they negotiated the peace agreement with. And it was threatening to halt the whole peace process.
Then al Qaeda attacked New York and Washington in 2001. The September 11 attacks were a game changer for the IRA. The word terrorist suddenly had a very clear meaning in the US and Adams quickly realized that American political capital and backing – not to mention fund-raising – would be lost unless the IRA got rid of its guns.
An event far away from the island of Ireland, in other words, had moved the peace process forward.
Brexit also may hasten change in Ireland.
Sinn Fein opposed Brexit. Its biggest political rival, the Democratic Unionist Party, was vociferously in favor of it.
Yet despite unionists being a majority in Northern Ireland only 38% of people there voted to leave the European Union.
Not long after the vote, when I saw Adams in Cuba as he was sweltering in an hours-long line to pay his respects to Fidel Castro's body, I asked him how Brexit was affecting his political calculations.
He smiled, a big broad smile, in that moment answering all my questions. On this, he remained enigmatic and opaque – other, that is, than the smile.
There was no doubt in my mind that Adams was calculating gains republicans like him might reap from Brexit.
Unionist farmers along the border I've met are appalled at the damage Brexit may do to their businesses. They rely on an open border.
The DUP demands something that at this time it seems impossible for London to deliver.
What Theresa May wants is a Brexit that keeps an open border with the Republic of Ireland, but pulls the UK out of the EU customs union.
But a fully open border and an exit from the customs union are mutually exclusive unless Northern Ireland gets a deal that differs slightly from the one the rest of the UK gets, and that's something the DUP categorically rejects.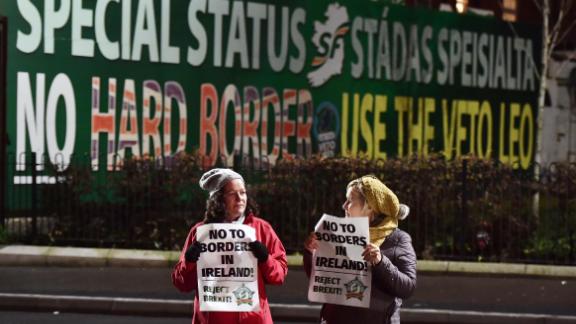 Charles McQuillan/Getty Images Europe/Getty Images
Sinn Fein will try to sell the idea that a united, borderless Ireland is better for everyone. There are nowhere near enough buyers of that view to make it a reality, but such is Adams' multitrack logic that he will want to harness Brexit divisions for all he can get.
With Adams gone and McDonald at the helm. Sinn Fein might just get closer to critical mass, to increased political support north and south of the border without his bloody legacy.
Incremental gains on both image and Brexit are the margins that Adams is playing for.
Of course, it's impossible to know the real reasons why Adams' is stepping down. We don't even know if he went willingly.
Such is the opacity with which Sinn Fein conducts its core business, Adams' departure may only ever be fully understood by a tiny handful of people.
His health is one question. Adams will be 70 this year and while he appears in great shape I've noticed during our past few interviews that his voice is not as strong as it once was.
And then there is the question of his effectiveness. In the past year he lost his closest ally in the republican project, Martin McGuinness.
For decades they were inseparable in leadership.
Twenty years ago, in the tiny village of Bellaghy, I spent the night in the road chatting to the pair of them. They'd come to join a small protest stopping a traditional Protestant marching band pass through the mostly Catholic streets. They mingled easily with the people blocking the police vehicles at the head of the march.
Their presence alone signaled that the march was doomed to failure.
Adams and McGuinness were the visible face of the republican movement and personified its intransigence to British authorities.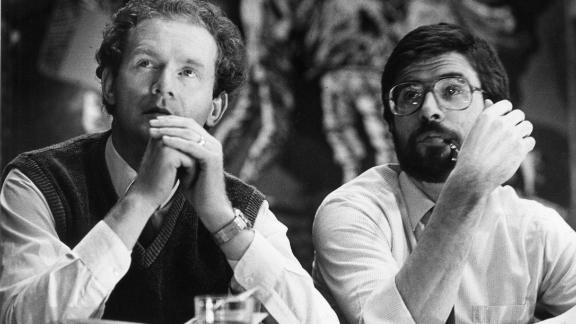 Independent News and Media/Hulton Archive/Getty Images
At peace talks, it was always Adams and McGuinness outside, whispering to each other away from prying ears. Just them, rarely others.
Without McGuinness' easy charm, could Adams make the headway they managed together for so long? We may never know.
Whatever the reason for Adams' departure as president of Sinn Fein, it would seem out of character that the party is done with him, or him with it.
He has been its ultimate guide, like a chess master planning many moves ahead.
In all likelihood, he has been carefully stage-managing his departure and replacement for some time, just as he has controlled so much else at Sinn Fein. He is unlikely to become a silent partner in the enterprise he created.
What we are seeing this weekend isn't so much Adams stepping down as president. Instead, we're witnessing his accession to republican legend.