There was a hug on the tarmac, a visit to the Taj Mahal and even a selfie with some of Bollywood's finest.
The optics during Israeli Prime Minister Benjamin Netanyahu's visit to India in January could hardly have been better. But they also masked differences that will be highlighted by another visit this weekend, when India's Prime Minister Narendra Modi heads to the Palestinian territories.
The way he's getting there is itself telling. Instead of traveling there via Israel, Modi is flying to Amman in Jordan and then taking a helicopter to Ramallah.
Last year, when Modi made the first ever trip to Israel by an Indian Prime Minister, he skipped the Palestinian territories.
On Saturday, when he becomes the first Indian leader to visit Ramallah, he'll do so while avoiding a stop in Israel, even though India would have had to work with the Israelis to facilitate the trip to Ramallah, as they control the airspace.
Why? It's part of what Indian diplomats say is an effort to "de-hyphenate" its ties with the Israelis and the Palestinians. Or in English, a diplomatic balancing act to cultivate links with each, without affecting ties with the other.
During Netanyahu's visit to India, Modi called him a "good friend." The Israeli leader went one further and hailed Modi as a "revolutionary."
Everything about the visit — which came two and half decades after India and Israel established diplomatic relations — was carefully put together to signal what Netanyahu called the "dawn of a new era" in ties.
But it wasn't because India had abandoned its long-standing support of the Palestinian cause, says Dhruva Jaishankar, who tracks New Delhi's foreign policy at the Brookings Institution's Indian arm.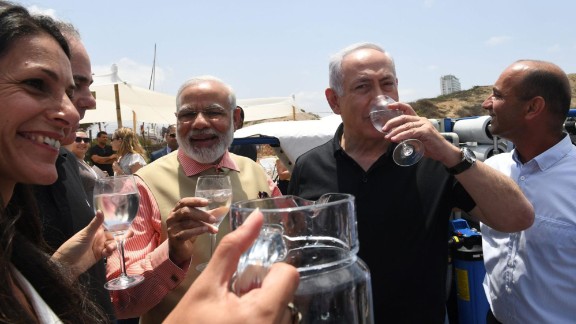 Government Press Office
"A lot has been made of Modi's public proximity to Israel," he explains. "But less appreciated is that India has actually expanded outreach to the Palestinian Authority at the same time. India's President Pranab Mukherjee visited Ramallah, and [Palestinian Authority President Mahmoud Abbas] came to India just weeks before Modi's trip to Israel."
As India seeks to develop its economy, Israel is an attractive investor and valuable source of high-tech expertise that could help New Delhi spur growth. It is also an important supplier of arms: in recent years, India has become one of the biggest buyers of Israeli defense equipment.
But there are also important differences between the two countries. Just ahead of Netanyahu's trip, New Delhi voted in favor of the United Nations General Assembly resolution condemning US President Donald Trump's decision to recognize Jerusalem as the capital of Israel.
In an interview with the local India Today network during his trip, Netanyahu expressed his disappointment with India's vote — but ensured that focus remained on the overall trajectory of warming ties.
"I don't think one vote affects the general trend and you can see it in many other votes that we have had here," he said. "Naturally, I'm disappointed but I think this visit is a testament to the fact that our relationship is moving forward on so many fronts."
From India's point of view, the vote underlined its "de-hyphenation" policy. Speaking to reporters ahead of Modi's departure for Ramallah – part of a wider trip by Modi to the Middle East – a senior Indian diplomat cited the UN vote as evidence that India hadn't changed its policy towards the Palestinians. "We have voted in favor of the UNGA resolution on Jerusalem on 21st December, so our position has been very clear, consistent, and independent and there is no change in our position on Palestinian issue, " he said.
"As far as Palestine goes, India's material interests may be fewer [compared to its the economic and defense imperatives driving its relations with Israel], but India still officially supports a two-state solution and seeks good relations with much of the Arab world, for whom the Palestinian cause is important," explains Jaishankar. "What we see is India figuring out a policy of separate but unequal tracks in engaging both parties simultaneously."
And so, much as the focus during Netanyahu's trip was on what worked in the India-Israel relationship, expect more of the same from Modi this weekend: carefully crafted optics to highlight what works between India and the Palestinians, studiously avoiding what doesn't.