Sitting in. Voting through. Running out. It's Thursday, and here are the 5 things you need to know to Get Up to Speed and Out the Door.
1. Harvey
Special counsel Robert Mueller has indicated interest in questioning President Donald Trump about his dismissals of former FBI Director James Comey and former national security adviser Michael Flynn, two sources familiar with the matter told CNN. The sources cautioned against presuming the President would sit down with Mueller in the next few weeks, saying there is still much to be negotiated.
It funds the government through March 23 (so, no shutdown tonight).
It would bust the budget caps and significantly hike spending – by $300 billion – on both defense and domestic items over the next two years.
It provides disaster relief funding for Florida, Texas and Puerto Rico.
It raises the debt ceiling (remember that?) through at least next year.
It funds community health centers for two years.
Congress still has to vote on this, which it will do today, but the feeling is that this will get done. Not everybody's happy with it, though. House conservatives are furious about all this spending (so much for reining it in) and may withhold their votes.
Now, you may notice there's nothing in this deal about immigration. Nancy Pelosi noticed that, too, and took to the House floor – for a record-breaking EIGHT hours! -- to complain about it. She wants a commitment from House Speaker Paul Ryan that there will be a vote on DACA.
2. President Trump
The end of the government shutdown finds Republicans and Democrats moving even further apart on immigration. Senate Minority Leader Chuck Schumer withdrew an offer that would have approved funding for President Trump's border wall. And the White House indicates it wants more than just the wall and additional resources on the Southern border in exchange for a DACA fix. It wants Homeland Security to have more power to remove undocumented immigrants. These changes in positioning risk losing the support of very conservative and very liberal lawmakers. Which means we'll probably be facing another immigration-fueled shutdown come February 8.
Meantime, President Trump's approval rating is on the rise, hitting 40% in a new Quinnipiac poll. He can thank growing approval of the GOP tax cuts and the fact that for the first time more people give him credit for the good economy, rather than Barack Obama.
3. North Korea
They're planning prayer vigils today at Marshall County High School in western Kentucky after a shooter killed two students and wounded 16 others. The suspected gunman is a 15-year-old male student who was nabbed on the scene. He'll probably be charged as an adult on murder and attempted murder charges. Shocked students described utter chaos as gunfire broke out in the school's commons area right before classes started. Some kids jumped fences and ran into the woods for safety.
4. North Korea
What does Kim Jong Un really want? CIA Director Mike Pompeo thinks the North Korean leader is developing nukes for more than just preserving his regime. Pompeo says Kim's ultimate goal is to take over the entire Korean Peninsula, and he's prepared to use both nuclear weapons and conventional military forces to do it. So could the US do a limited military strike to stop him without risking a full-scale war? Pompeo wouldn't answer that, but President Trump has said in the past that all options are on the table when it comes to dealing with North Korea.
5. Salmonella outbreak
So who's going to win? Looks like "The Shape of Water" and "Three Billboards Outside Ebbing, Missouri" have all the momentum in the best picture race, but don't be shocked if a dark horse like "Lady Bird" nabs the Oscars' top prize. And maybe this year it won't be so #OscarsSoWhite, with three African-Americans and a black English actor getting nominations in the acting categories, and "Get Out" director Jordan Peele grabbing writing and directing nods. Sadly for superhero movie fans, there was nothing for much-loved "Wonder Woman." Check out the complete nominations list and get reactions from the nominees. The Academy Awards are March 4.
PyeongChang 2018: Aiming for Gold
ACTION UNDERWAY!: The Games don't officially start until tomorrow, but curling and ski jumping kick these Olympics off today.
NORTH KOREA: As North Korea puts on a huge military parade in Pyongyang, the country's 22 Olympic athletes raised their flag at an official "welcome" in the Olympic Village.
RUSSIAN ATHLETES' FATE: The Court of Arbitration for Sport is due to rule soon on 32 Russian athletes' appeals.
COLDEST OLYMPICS IN DECADES: Plunging to minus 20 degrees Celsius (-4 Fahrenheit) at night and rarely breaking above freezing in the day, the temperatures have put PyeongChang on track to be the coldest Olympics ever. The 1994 Winter Games in Lillehammer, Norway, holds the record.
BREAKFAST BROWSE
Picture perfect
Meet Lucas, the first child with Down syndrome to be the Gerber baby.
Courtesy Gerber
We'll always have … China?
Can't make it to Paris? That's OK, you can soak up all the Parisian vibes you want in the replica city of Tianducheng, China, which even has its own Eiffel Tower.
From TV attorney to real-life candidate
Seems like everybody's running for public office these days. Now, a star from "Law & Order: SVU" is throwing her hat in the ring.
Bioluminescent show
There's one heck of a light show going on along the shores of California's Big Sur. You can thank Mother Nature for this one.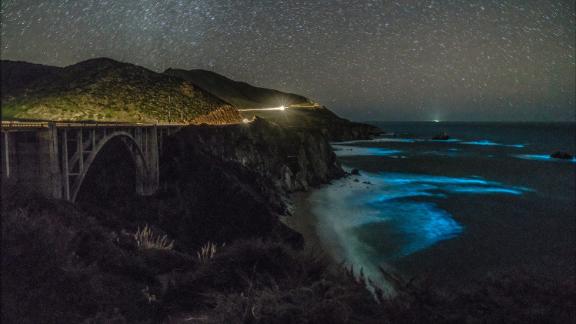 courtesy George Krieger
WHAT'S FOR LUNCH
Prayer breakfast
The National Prayer Breakfast is this morning in Washington, and President Trump will be there.
NUMBER OF THE DAY
10%
The increase in US suicides in the months after the death of Robin Williams, according to a new study
QUOTE OF THE DAY
'I can only say that in the slow waning of my physical forces, inwardly I am on a pilgrimage toward Home.'
Former Pope Benedict, responding to an inquiry from an Italian newspaper's readers on how he's doing
AND FINALLY …
Seeing is believing
It's every Oscar-winning visual effects winner ever – in less than 12 minutes. (Click to view)