Sitting in. Voting through. Running out. It's Thursday, and here are the 5 things you need to know to Get Up to Speed and Out the Door.
1. Harvey
Special counsel Robert Mueller has indicated interest in questioning President Donald Trump about his dismissals of former FBI Director James Comey and former national security adviser Michael Flynn, two sources familiar with the matter told CNN. The sources cautioned against presuming the President would sit down with Mueller in the next few weeks, saying there is still much to be negotiated.
Let's start with the shutdown. Congress is working hard to avoid one – by late tomorrow night. The House passed a short-term bill that funds most of the government through March 23 and the Pentagon for a full fiscal year. It faces a rocky road in the Senate, but everybody's optimistic because Senate leaders are close to a deal on raising budget caps, which is key to getting to a long-term funding agreement. Trump's reaction to all this: He'd "love to see a shutdown" unless the Democrats submit to his immigration demands.
Meanwhile, Trump, who made no secret of how much he loved France's military parade during his visit last summer, ordered the Pentagon to organize one for the good ol' US of A. The top brass is looking into it, but there are concerns about the cost, which could run into the millions. And lots of folks worry about holding a type of parade that would seem more at home in North Korea or Soviet-era Russia than in Washington.
2. President Trump
The end of the government shutdown finds Republicans and Democrats moving even further apart on immigration. Senate Minority Leader Chuck Schumer withdrew an offer that would have approved funding for President Trump's border wall. And the White House indicates it wants more than just the wall and additional resources on the Southern border in exchange for a DACA fix. It wants Homeland Security to have more power to remove undocumented immigrants. These changes in positioning risk losing the support of very conservative and very liberal lawmakers. Which means we'll probably be facing another immigration-fueled shutdown come February 8.
3. North Korea
They're planning prayer vigils today at Marshall County High School in western Kentucky after a shooter killed two students and wounded 16 others. The suspected gunman is a 15-year-old male student who was nabbed on the scene. He'll probably be charged as an adult on murder and attempted murder charges. Shocked students described utter chaos as gunfire broke out in the school's commons area right before classes started. Some kids jumped fences and ran into the woods for safety.
4. North Korea
What does Kim Jong Un really want? CIA Director Mike Pompeo thinks the North Korean leader is developing nukes for more than just preserving his regime. Pompeo says Kim's ultimate goal is to take over the entire Korean Peninsula, and he's prepared to use both nuclear weapons and conventional military forces to do it. So could the US do a limited military strike to stop him without risking a full-scale war? Pompeo wouldn't answer that, but President Trump has said in the past that all options are on the table when it comes to dealing with North Korea.
5. Salmonella outbreak
That. Was. Cool! Rocket launches (which are pretty awesome in their own right) have never looked – or sounded – as cool as the one Elon Musk put on in Florida. His Falcon Heavy rocket, the world's most powerful, blasted off without a hitch, putting Musk's cherry red Tesla roadster in orbit around the sun, with a dummy driver and a David Bowie song along for the ride. And the show wasn't over when the payload reached space. SpaceX then gave us the awe-inspiring sight of the Falcon Heavy's rocket boosters landing back on Earth, part of the company's plan to drive down the cost of launches.
QUOTE OF THE DAY
"I have reached the conclusion I cannot continue to be effective in my current roles."
Casino mogul Steve Wynn, announcing he's stepping down as CEO of Wynn Resorts amid allegations of sexual misconduct
BREAKFAST BROWSE
People are talking about these. Read up. Join in.
Once they're done in Westeros, the creators of "Game of Thrones" head to a galaxy far, far away to write and produce new "Star Wars" movies.
Trouble in the kingdom
King James cursing at team execs in Cleveland? Probably means the Cavaliers won't have their savior around past the end of this season.
'Please pull to your right'
Yes, traffic in California can be crazy. But even commuting by hot air balloon won't save you from getting pulled over by the cops.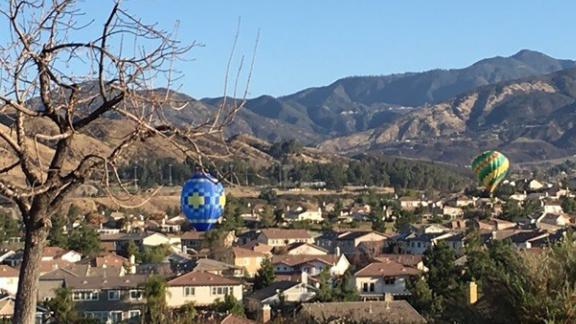 KMIR
What's in a name
Oh, those Kardashians. First Kim K named baby No. 3 Chicago. Now, sister Kylie has one-upped her by naming her new daughter Stormi.
WHAT'S FOR LUNCH
Getting together
The driver suspected of hitting and killing NFL linebacker Edwin Jackson and his ride-share driver on Sunday is due in court today on federal immigration charges. Before the crash, he was deported twice, authorities say.
NUMBER OF THE DAY
1.4 million
That's how many points the Dow jumped as it roared back from Monday's epic nosedive.
3
AND FINALLY …
'I can only say that in the slow waning of my physical forces, inwardly I am on a pilgrimage toward Home.'
Got a burning question about ice dancing? You're in luck! Team USA just happens to have the answers. (Click to view.)