Story highlights
These Valentine's Day gifts range from candy to kitchen appliances
Also on our list: coffee makers, candles and more
CNN —
We can't deny the importance of the women in our lives. They play so many different roles – mom, wife, daughter, sister, friend – and deserve to be treated this Valentine's Day.
Since you know the women in your life best, you'll know which gift will make each one feel appreciated. You know she's on a mission to get healthy this year? Buy her a fitness tracker. Is she spending a lot of time experimenting in the kitchen? How about some fancy new pans? Or maybe she loves lounging around the house – so, cashmere pajamas?
We've seen these products in person, felt and touched most of them and tested our favorites. And we can tell you they're every bit as pretty, functional and gift-friendly as they appear in the photos. To find the perfect match for your favorite females, keep scrolling below. With one of these gifts, she'll surely be feeling the love this Valentine's Day.
Note: The prices below reflect the retailer's listed price at the time of publication.
NEST Candle ($16; sephora.com)
There's just something about receiving a new candle that warms our hearts. This NEST candle, available via Sephora, has notes of grapefruit, lily of the valley, coriander blossom, green nuances and soft woods. Made from wax and with fine fragrance oils, it has an attractive design that will suit most any space. She'll enjoy burning it to unwind after a long day.
Sugarfina Design Your Own "XOXO 4pc Candy Bento Box ($34; sugarfina.com)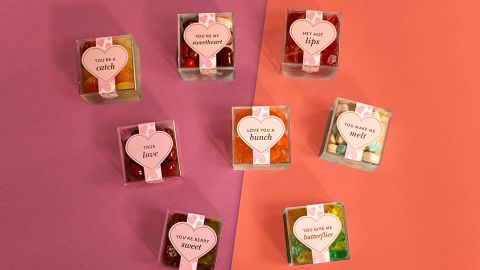 If she has a sweet tooth, she'll love this three-pack of flavoried gummies. Sugarfina has become one of the trendier gourmet candy makers in recent years. And since it's always a good idea to buy from companies that give back, we're fans of the brand, since Sugarfina gives back to female entrepreneurs in developing countries around the world by way of Kiva.
Naadam Cashmere Pajamas ($175; naadam.co)
When on the hunt for high-grade loungewear, look no further than Naadam cashmere. We tested this matching set, and now we can't imagine wearing anything else around the house. Perfect for your mom, sister, friend or anybody, these pajamas are made from medium-weight fabric that's extremely soft to make resting at home feel luxurious.
TRNDlabs Ventura Wireless Headphones ($49; stacksocial.com)
A new pair of headphones could be the most universally appreciated item on this list. We're into these sleek, Bluetooth-enabled Ventura wireless headphones for any lady in your life because of their stylish design, comfortable fit and 10 hours of nonstop playback time. Since they're normally valued at $99, you're getting a major deal on this discounted pair when you buy them via Stack Social.
Hurom Pink Juicer ($299; bedbathandbeyond.com)
For the woman who's trying to get healthy and up her nutrient intake (while still having fun), we think this pink juicer by Hurom will be just the thing for sending a supportive message by way of a festive gift.
While it is done in a delicate shade of pink, this juicer is a powerful tool when breaking down fruits and veggies for a delicious and nutritious beverage. In fact, the 99 Hurom customers who purchased and then reviewed this product gave it an average 4.5 out of 5 stars. Not too shabby.
ThirdLove Organic Dolman Tee & Short Set ($98; thirdlove.com)
We tested these soft jammies and we're telling you, they're so comfortable. On top of being made from the softest organic cotton material, this set's relaxing pink hue makes lounging at home feel like a luxury experience. In short, we want them in every color.
Ninja Coffee Maker ($91.99; amazon.com)
Two people on our team have the Ninja and they're absolutely obsessed. This machine will change how your coffee-lovin' gal pal starts her day. Since it has so many functions, including a milk frother, espresso maker, coffee brewer and more, she'll never grow bored of her morning coffee routine.
T-Fal Rose Gold-Colored Nonstick Fry Pan ($29.99; amazon.com)
The T-Fal brand refers to these pans as having heavy-gauge construction for better durability. They can heat up to 570 degrees, so she can perfectly sear tuna, steak or other kinds of protein. These have a lifetime warranty and they're dishwasher-safe. And the kitchen enthusiast will love that these pans are fashionable in addition to being functional.
Google Home Mini ($49; bestbuy.com)
We've reviewed many smart devices, including the Google Home, over the past few months, but now we're taking a look at the Google Home Mini. This much-talked-about device acts as your hands-free assistant, since it can answer questions and provide information when asked. For the woman in your life who loves tech, she'll find the Google Home Mini to be a fun addition to her already tech-savvy lifestyle.
Bastide Rose Olivier Eau de Toilette, 3.4 oz./ 100 mL ($130; bergdorfgoodman.com)
For the girl who loves a signature scent, this may just be her new go-to. A sophisticated eau de toilette with notes of bergamot, juicy tangerine and lychee, this scent will make an impression without overpowering.
Additionally, if she's a fan of pretty cosmetics, give her a few products from Herbivore Botanicals. Pictured above, we have the Herbivore Botanicals Rose Hibiscus Hydrating Face Mist (starting at $16; nordstrom.com) and the brand's Pink Clay Exfoliating Mask ($22; nordstrom.com). Both products help to improve skin's appearance and condition with nourishing ingredients that are gentle enough for regular use.
Garmin Vívoactive 3 ($269.99; garmin.com)
Sleek and sporty, the Garmin Vivoactive 3 is the perfect gift for those trying to get in shape. It's fun to wear, fits comfortably on your wrist and has oodles of capabilities. There is a Garmin Pay function (sort of like Apple Pay) that allows you to pay with your watch. And for working out, there are more than 15 preloaded GPS and indoor sports apps, including yoga, running, swimming and more.
Andie Swimwear Subscription (Pricing varies [see below]; andieswim.com)
This swimwear subscription provides one-piece swimsuits that are meant to be flattering, provide coverage and allow women to skip the process of trying on suits in the fitting room. With Andie's, you'll receive three suits to your door so that you can try them on at home. Typically, Andie's swimsuits take two to four days to arrive. The pricing goes like this: "One suit costs $125. If you keep two, the suits cost $115 each. If you keep three, they cost $105 each."
Bloomthat The Reese Bouquet (starting at $39; bloomthat.com)
BloomThat is an on-demand flower service that offers same-day delivery for New York City, San Francisco Bay Area and Los Angeles recipients, as well as next-day delivery nationwide. We were extremely impressed with its customer service. When we tested the service, we ordered through the designated app and could choose from a variety of arrangements. If you're looking to send something extra, there are luxurious add-ons like clay facial masks and Sugarfina gummy bears that you can tack onto your gift.