Story highlights
US Vice President Mike Pence had suggested he was open to talks
North Korea says it has no intention of arranging a meeting with the US delegation
(CNN) —
South Korean President Moon Jae-in will lunch with the sister of North Korean leader Kim Jong Un when he meets North Korea's Olympic delegation on Saturday, his spokesman announced.
Kim Yo Jong's trip to the South marks the first time that a member of Kim's ruling dynasty has visited since the Korean war of 1950 to 1953. Such a high-level meeting would have been unimaginable even a few months ago, but Moon sees the Winter Olympics as a chance to make diplomatic inroads with the North.
The apparent thaw has not been reflected in Washington. US Vice President Mike Pence, who is leading the US delegation to the Olympics, has accused Pyongyang of using the event for its own ends. "We will not allow North Korean propaganda to hijack the message and imagery of the Olympic Games," he said in Japan earlier this week.
Pyongyang has ruled out a meeting with the US delegation during the Winter Games. Jo Yong Sam, department director general of North Korea's foreign ministry, said Thursday the country had never "begged the US for dialogue" and wasn't about to start now.
"We have no intention to meet the US side during our visit to South Korea," Jo said in a terse statement reported by state-run news agency KCNA.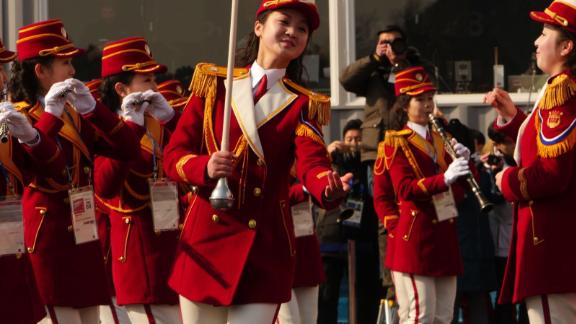 Taehoon Lee/CNN
The US has given mixed signals about its willingness to talk. Pence appeared to leave the door open for negotiations earlier this week when he said, "I haven't requested any meeting. But we'll see what happens."
The vice president followed that with threats to impose some of the "toughest and most aggressive" economic sanctions ever against North Korea in a bid to end its nuclear and ballistic missile program "once and for all."
The diplomatic wrangling came as hundreds gathered in the coastal town of Gangwon to welcome North Korea's delegation to the Olympic Village.
Athletes, surrounded by dozens of cheerleaders, watched as the North Korean national standard was raised alongside the Olympic flag, while band members dressed in red coats and gold trim played traditional music.
North Korea's delegation is being led by Kim Yong Nam, one of North Korea's most powerful politicians.
His presence, along with Kim Jong Un's sister, had caused some observers to hope for a diplomatic breakthrough while the two North Koreans are in close proximity to their US and South Korean counterparts.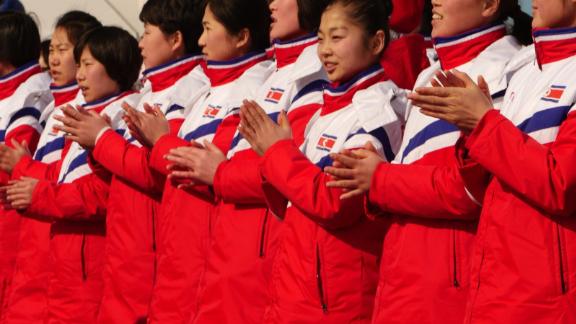 Taehoon Lee/CNN
Dip