Editor's Note: Kathy Carter has played soccer since childhood, including for the College of William and Mary. She was a founding member of Major League Soccer in 1996 and served as vice president of corporate marketing for MLS for six years. She has also been the US representative on FIFA's Committee for Women's Football and the FIFA Women's World Cup. Carter was most recently the president of Soccer United Marketing, where she managed the business operations for MLS' commercial subsidiary. The views expressed here are solely the author's.
Since the first day I walked onto the soccer field, when I was 7 years old, I have been questioned and doubted.
I was asked: Do you have what it takes to play this sport? Are you tall enough to be a goalkeeper? Are you quick enough? Is your skin thick enough for you to take a loss and bounce back stronger?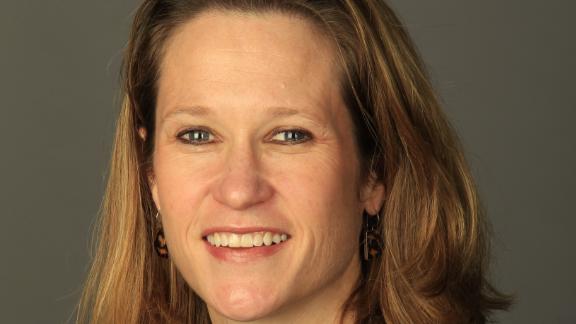 Chris Trotman/Getty Images North America/Getty Images/MLS
At every stage, I heard questions – some spoken aloud, some whispered – about me, my talent, my body, my character. This line of questioning starts at a young age for girls. Unfortunately, it doesn't end when we leave the soccer field, or as we become adults. Just the opposite, in fact. For women, it becomes our norm as we enter the workplace. Soccer gave me the confidence to work through the added pressure, prove the doubters wrong, and resolve to clear a smoother path for future generations of women.
I was fortunate to have played for supportive coaches and with tremendous teammates. Not every young woman is so lucky. My dad was one of my first coaches; he did this job with a "how to" book in his hands and baseball cleats on his feet. In high school, I was named an All-American, and I went on to start for a nationally ranked team at the College of William and Mary.
When I was finishing my final college season in 1990, there was no professional pathway for female players in the United States. No pro leagues to join, no National Women's Soccer League to aspire to, and no post-collegiate female players to look up to. So I continued to play in amateur adult leagues. My career as a soccer player came to an end not because I wanted it to, but because there was no option for women to make a career out of playing the best sport in the world here at home.
I didn't always know my future was in soccer, but what I did know was that I loved the game. Then, good fortune struck when a friend from an opposing team introduced me to members of the 1994 World Cup Organizing Committee and I was given a shot to make the game my profession. I've never looked back.
I'm very proud of my playing career and my career as an executive in the game. But I have news for anyone reading this: The doubting questions have never stopped. As I made the transition from player to executive, the questions just changed.
Would men take a woman as president of US Soccer seriously? Would people listen to her? Could she lead such a large and high-stakes organization?
I've answered these questions in business and plan to do so in a new role: I am now running for another leadership position in soccer, that of president of the US Soccer Federation. Before I began this effort, my journey was, like most people's, outside the glaring lights. Now that I'm in the race, even though I bring both soccer and relevant business experience to the table, questions abound.
Does she have enough soccer experience? Is her business experience the right kind? Is she her own person? Has she done enough as a woman in the game?
In the international soccer community, out of FIFA's 211 member associations, there are only a few female leaders. In the United States, there are several women serving as leaders of their respective sports, but it is not nearly enough.
Kids dream of representing our country on the global stage as players, coaches, referees, executives or administrators. I want to show them, especially young girls, that any of these options are within their grasp.
If elected, I'll be the first female president of US Soccer, but I'll fight for all the things any good leader wants, confronting challenges, such as rebounding from the failure of our men's national team to qualify for the 2018 FIFA World Cup and remedying our confusing youth soccer landscape. I'm optimistic about the future because the American soccer community is talented, committed and ready to deeply assess what's wrong and work together – plus our women's national team is heading to France in 2019 to defend our world championship. It is a time of change and we must focus on unity and collaboration to drive progress.